The global e-learning market reached a value of US$ 253.3 Billion in 2021. E-learning refers to a learning system that utilizes digital resources to deliver educational material and training in text, image, audio, and video format for easy understanding. It relies on electronic devices and information and communications technology (ICT) to provide information via the internet, intranet, satellite broadcast, interactive TV, or CD-ROM. Since e-learning is cost-effective, flexible, and saves time, it is widely used in educational institutions and the corporate sector for training programs and collaborative activities.
As per the analysis by IMARC Group, the top companies in the e-learning industry are heavily investing in product innovations and engaging in collaborations and partnerships to meet the escalating consumer demand. They are launching game-based applications that employ interactive animated videos and images to facilitate better learning. They are also integrating e-learning solutions with sensing and speech recognition technologies. In addition, several key players are focusing on the incorporation of innovative technologies, such as augmented reality (AR), virtual reality (VR), and cloud-based learning management systems (LMS), in their content offerings. Along with this, the introduction of artificial intelligence (AI)-enabled e-learning solutions that provide personalized study guides, smart content, and real-time questioning is propelling the market growth. Looking forward, the market value is expected to reach US$ 521.8 Billion by 2027, growing at a CAGR of 9.9% during the forecast period (2022-2027).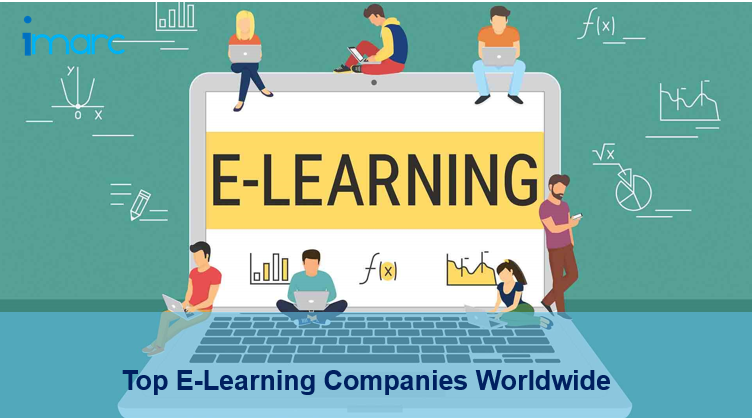 Request Free Sample Report: https://www.imarcgroup.com/e-learning-market/requestsample
List of Top E-Learning Companies Worldwide:
Adobe Inc.
Establishment: 1982
Headquarters: San Jose, United States
Website: https://www.adobe.com/
Adobe Inc. is a global leader in digital media and digital marketing solutions. The company makes software that helps customers create, distribute, and manage digital content from the cloud. It has been known for Acrobat, Photoshop, and Experience Cloud products. It serves customers such as content creators and web application developers with its digital media products and marketers, advertisers, publishers, and others with its digital marketing business. Adobe's business is primarily organized into three segments, namely digital media, digital experience, and publishing. Its digital media unit accounts for about 70% of revenue, including Photoshop and Illustrator, under the umbrella of the Adobe Creative Cloud, a subscription service. The digital experience segment includes tools, such as Adobe Advertising Cloud and Adobe Analytics Cloud, for creating, managing, and measuring digital advertising and marketing initiatives. The publishing unit comprises legacy products and services that address diverse market opportunities, including eLearning solutions, web conferencing, document and forms platform, technical document publishing, and high-end printing. In August 2020, Adobe India and NASSCOM FutureSkills jointly announced the launch of the UX foundation program recognized by the Sector Skills Council, NASSCOM, to bridge the gap between industry and academia.
Aptara Inc. (iEnergizer)
Establishment: 1988
Headquarters: Falls Church, Virginia, United States
Website: https://www.aptaracorp.com/
Aptara Inc. is a subsidiary of London-traded iEnergizer that provides publishing technology for various media formats, such as online, print, databases, wireless devices, and electronic readers. Besides offering content capture, digitization, and distribution, the company sells conversion software. It also delivers digital, financial, educational, and journal publishing services, editing, proofreading, and project management services. Its products and services are divided into five segments. Its e-books and education apps unit focuses on mobile education and e-reader content, while the e-learning segment offers web, computer, and smartphone-based training services. Moreover, Aptara has a segment dedicated solely to legal content and offers content technology consulting and publishing services that cover the entire content lifecycle from creation to delivery. It operates globally and serves some leading publishers worldwide across the educational, financial, technology, legal, and healthcare industries. Some of its prominent clients include Amazon.com, Cisco, Houghton Mifflin, Merck, Microsoft, Reader's Digest, and Wolters Kluwer. Besides the United States, the company has offices in Australia, India, and the UK.
Blackboard Inc.
Establishment: 1997
Headquarters: Washington, DC
Website: https://www.blackboard.com/
Blackboard Inc. is a leading education software provider firm owned by Anthology Inc. The company associates with around 100 million students, administrators, teachers, and parents worldwide. It deals in software development for online learning programs in schools and communities and serves the higher education, K-12, business, and government clients globally. Blackboard has 22 branches across ten countries in Asia-Pacific, Middle East, and Africa, Europe, and Latin America, with more than 1,934 employees across the world. It offers applications, such as web-based digital classrooms, web-based assignments, class websites, and online collaboration with classmates. In April 2020, Blackboard introduced Blackboard Unite for K-12 to enable holistic remote learning across K-12 districts to move quickly to a new teaching and learning model that meets the unique needs amid COVID-19 contingency planning. In July 2020, Blackboard Inc. launched blackboard retention coaching powered by predictive data and equipped higher education institutions with the data, insights, and expertise required to help students. In August 2020, the company announced the blackboard Ally accessibility solution in Arabic to serve learners, educators, and institutions.
Cisco Systems Inc.
Establishment: 1984
Headquarters: San Jose, California, United States
Website: https://www.cisco.com/
Cisco Systems, Inc. is an American multinational technology conglomerate engaged in developing, manufacturing, and selling networking hardware, software, telecommunications equipment, and other high-technology services and products. It also offers security devices, internet conferencing systems, and other networking equipment for businesses and government agencies. The company's primary customers include large enterprises and telecommunications service providers, but it also sells products designed especially for small businesses and the public sector. In 2019, Cisco launched Cognitive Collaboration, integrating AI and machine learning across the Webex portfolio, bringing intelligence and context to help customers work smarter and enhance productivity. The company has also invested in Cisco Networking Academy, allowing countries to meet the industry demand for a digitally skilled workforce by delivering a comprehensive learning experience. As of 2019, 2.15 million students in 180 countries have participated in the Cisco Networking Academy. Cisco also acquired the Fluidmesh network as its technology extends Cisco's Industrial IoT wireless offerings and provides high-bandwidth, low-latency for on-the-move assets and mission-critical applications.
GP Strategies Corporation
Establishment: 1966
Headquarters: Maryland, United States
Website: https://www.gpstrategies.com/
GP Strategies Corporation is a leading global provider that offers customized solutions and assistance to the management of private, non-profit, and public organizations. The company deals in strategic and organizational planning, financial planning, and marketing objectives. It also serves the aerospace, government, oil and gas, manufacturing, and retail sectors. It has a network of around 70 branches spread across 30 countries with 5,000 employees worldwide. In 2018, GP Strategies Corporation acquired TTi Global, which delivers training, staffing, research, and consulting solutions to organizations across various sectors. It also acquired IC Axon, which develops science-driven custom learning solutions for pharmaceutical and life science customers. In 2017, the company acquired certain assets and the business of Emantras, an innovative digital education company that offers engaging learning experiences and effective knowledge delivery through award-winning digital and mobile solutions. This acquisition has strengthened the company's e-learning development capabilities, enabling it to better serve its customer base with the latest digital learning solutions.
Instructure Inc. (Thoma Bravo, LLC)
Establishment: 2008
Headquarters: Salt Lake City, United States
Website: https://www.instructure.com/
Instructure Inc. is a leading education technology company owned by Thoma Bravo LLC. It is the developer and publisher of Canvas, a web-based learning management system, and Canvas Network, a massive open online course (MOOC) platform. The company is primarily engaged in designing, developing, and producing prepackaged computer software. It also deals with software documentation preparation and serves K-12, higher education, and the business sector. Its popular product, Canvas, has over 30 million users worldwide, while its online canvas community boasts more than 500,000 users. Apart from this, the company has several offices in London, Sydney, Sau Paulo, and Budapest. In August 2020, Instructure collaborated with extensive cloud computing resources educators, Amazon Web Services, Inc. (AWS), which helped students prepare for cloud computing, infrastructure, and amazon web services. In the same year, the company also collaborated with Adobe to provide immense creativity and imagination opportunities to students with the help of the Canvas Learning Management System.
Oracle Corporation
Establishment: 1977
Headquarters: Austin, Texas, United States
Website: https://www.oracle.com/
Oracle Corporation delivers products and services that address enterprise information technology (IT) environments. The enterprise software provides a range of cloud-based applications, platforms, hardware, and services for companies to enhance their processes. The company's applications are focused on enterprise resource planning, data management, business analytics, IT operations management, security, collaboration, content and experience, and emerging technologies. In recent years, Oracle has aggressively expanded through acquisitions that have helped build its cloud offerings. Its mainstay product has been Oracle Database, one of the most popular corporate database offerings. More than half of its revenue comes from international customers. In September 2020, Oracle announced the availability of Java 15 (Oracle JDK 15), used by over 69 percent of full-time developers across the globe. The latest Java Development Kit (JDK) delivers new functionality, including Edwards-Curve Digital Signature Algorithm (JEP 339), Hidden Classes (JEP 371), Text Blocks (JEP 378), and ZGC (JEP 377).
Pearson Plc
Establishment: 1844
Headquarters: London, United Kingdom
Website: https://plc.pearson.com/
Pearson Plc is a British multinational educational publisher of textbooks and related material. It delivers learning materials, assessments, and digital services to schools, colleges, and universities, and professional and vocational education. The company has operations in around 70 countries worldwide and generates nearly two-thirds of its revenue in the US from the college education system, and the UK accounts for around 10% of sales. Its courseware segment accounts for about half of the sales, assessments generate 30% of sales, and services nearly 20%. Its courseware brands include Pearson ELT, Revel, MyLab & Mastering, and Bug Club. In the UK, Pearson operates the exam board Edexcel, which offers internationally recognized GCSEs and A-Levels and is the country's only privately-owned exam board. The company recently moved away from other publishing branches like literature to focus solely on education. It has sold its remaining stakes in Penguin Random House, one of the world's major publishing houses, to German conglomerate Bertelsmann in 2020. In November 2019, the company launched Aida, the world's first AI-inspired calculus app, to help math students worldwide to apply calculus in the real world. In July 2019, Pearson announced the launch of the Pearson Revel Skill for Amazon Alexa.
SAP SE
Establishment: 1972
Headquarters: Weinheim, Germany
Website: https://www.sap.com/
SAP SE is a German-based multinational software corporation that creates enterprise software to manage business operations and customer relations. It is renowned for its ERP software. The company's enterprise resource planning software integrates back-office functions, including accounting, analytics, distribution, and human resources, and comes in on-premises and cloud-linked forms. While the sale and servicing of its legacy on-premises offering bring in the majority of its revenue, SAP is going all-in on cloud computing and software-as-a-service with its flagship application suite S/4HANA as an alternative to its legacy SAP Business Suite. Besides enterprise software, SAP Concur offers expenses management, and SAP Fieldglass provides external workforce management. Moreover, the company serves around 440,000 customers in 25 industries in over 180 countries. In 2019, SAP acquired Qualtrics for $7.1 billion, the second-largest acquisition after Concur.
Skillsoft Corporation
Establishment: 1998
Headquarters: New Hampshire, United States
Website: https://www.skillsoft.com/
Skillsoft is an American educational technology company and a subsidiary of Skillsoft Limited. It offers cloud-based training courses and software for business and information technology (IT) professionals. It provides more than 7,000 courses and 65,000 videos on business, compliance, safety, and technology. The company's SkillPort software manages corporate e-learning programs, and its SkillSoft Dialogue portal helps clients create custom learning sessions. It also offers online mentoring for more than 100 IT certification exams, and its Books 24x7 allows customers to search more than 46,000 professional reference reports and books online. SkillSoft is ultimately owned by the investment firm Charterhouse Capital Partners. The company serves customers in over 160 countries in America, Asia-Pacific, and the EMEA region (Europe, Middle East, and Africa). It has trained around 400 million users and distributes one billion learning materials in 29 languages, including English, Korean, Japanese, Mandarin, and Cantonese. Its learning products comprise digital books, content development tools, videos, simulation programs, and a learning management system. Some of its offerings are provided through information technology partnerships with companies such as Oracle, Cisco, and CompTIA. In 2015, SkillSoft acquired Vodeclic, a digital video tools provider for job and software training that enhanced SkillSoft's library of courses and videos.
Thomson Reuters Corporation (The Woodbridge Company)
Establishment: 1997
Headquarters: Toronto, Canada
Website: https://www.thomsonreuters.com/
Thomson Reuters Corporation, a subsidiary of The Woodbridge Company, is a leading provider of answers, helping professionals to make confident decisions and run better businesses. Its customers operate in complex arenas, such as law, tax, compliance, government, professional service firms, corporations, and media, increasing complexity as regulation and technology disrupt every industry. In 2017, the company introduced a suite of e-learning courses to help the financial industry meet MiFID II compliance obligations. These training courses are designed to provide organizations with a clear, concise understanding of the regulatory framework mandated by the European Securities & Markets Authority (ESMA).
About IMARC Group: IMARC Group is a leading market research and consulting company that offers management strategy and market research worldwide. The company has done multiple projects on the e-learning industry and regional GCC, Africa, Saudi Arabia, USA, India, Asia Pacific, and Europe, which has enabled clients to set up and expand their businesses successfully. Some of the company's offerings include:
Market Research
Plant setup
Plant Expansion
Marketing and sales
Procurement and Distribution
Innovation and Product Development