Market Overview:
The global education apps market grew at a CAGR of around 25% during 2014-2019. Education app refers to a software application that includes numerous multimedia tools designed to reinforce virtual teaching and self-learning processes. It offers a digitally interactive learning platform for students and allows parents or teachers to track student's progress flow. Education apps provide a wide range of eBooks, online mock tests, audio notes, etc., along with other miscellaneous features, including online fee payment, teacher-parent interactive sessions, attendance management, etc.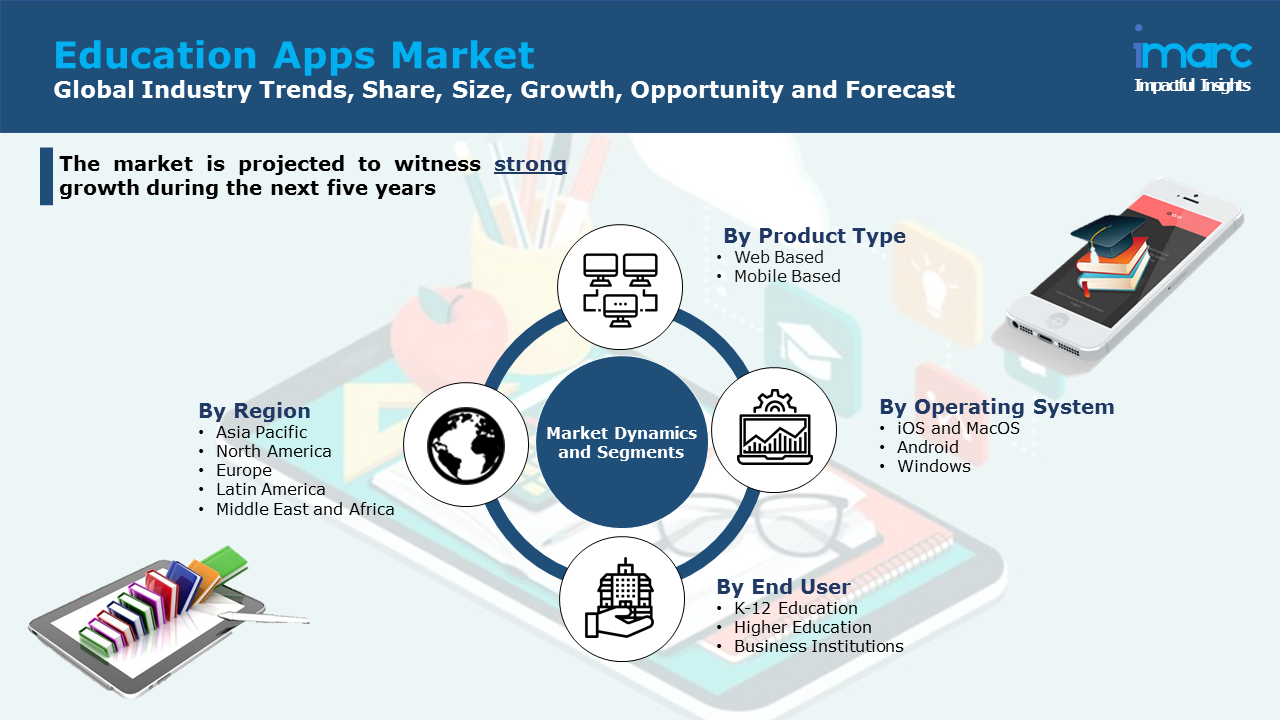 Rising digitization in the education sector along with the increasing penetration of smart devices and high internet connectivity is primarily augmenting the market for education apps. Furthermore, the growing student inclination towards the STEM (Science, Technology, Engineering, and Mathematics) fields based on ample job opportunities has augmented the demand for STEM-based education apps. The app developers are focusing on creating new apps to cater to different aspects of the STEM segment and provide highly-interactive learning modules based on several topics, such as coding, space science, biology, algebra, etc. Apart from this, the increasing penetration of assistive and learning management solutions, particularly for students with special needs, has propelled the demand for education apps with speech recognition and touch-based sensing features. Additionally, the emergence of smart wearable devices in the education sector to improve student's focus on learning and enhance student-teacher interaction is also propelling the market growth. These wearable devices also provide additional benefits, such as language translation, real-time progress tracking, and sensory-based learning experiences. Several technological innovations, such as big data, artificial intelligence, cloud computing, augmented and virtual reality, etc., have led to development of advanced learning apps. These apps aid in the predictive and real-time analysis of student's performance, enhance interactive learning experiences, and increase learners' motivation and engagement.
With the sudden outbreak of COVID-19, the demand for education apps is rising due to the implementation of stringent lockdown regulations across several nations resulting in temporary closures of education institutes. These institutes are getting inclined towards numerous education apps for facilitating remote online classes, online attendance tracking, fun-based learning sessions, parent-teacher interactions, etc. Looking forward, IMARC Group expects the global education apps market to continue its strong growth during the next five years.
Key Market Segmentation:
IMARC Group provides an analysis of the key trends in each sub-segment of the global education apps market report, along with forecasts for growth at the global, regional and country level from 2020-2025. Our report has categorized the market based on region, product type, operating system and end user.
Breakup by Product Type:
Breakup by Operating System:
iOS and MacOS
Android
Windows

Breakup by End User:
K-12 Education
Higher Education
Business Institutions

Breakup by Region:
North America
Asia Pacific

China
Japan
India
South Korea
Australia
Indonesia
Others

Europe

Germany
France
United Kingdom
Italy
Spain
Russia
Others

Latin America
Middle East and Africa

Turkey
Saudi Arabia
UAE
Others

Competitive Landscape:
The competitive landscape of the industry has also been examined with some of the key players being Age of Learning, Inc., Blackboard Inc., BrainPOP LLC, BYJU'S (Think and Learn Pvt. Ltd.), Coursera, Inc., Duolingo Inc., Edmodo, Inc., Educomp Solutions Ltd., Edx Inc., Khan Academy Inc., Lesson Nine GmbH, Lumos Labs, Inc., MyScript, Rosetta Stone Inc., and WizIQ, Inc.
Key Questions Answered in This Report:
How has the global education apps market performed so far and how will it perform in the coming years?
What has been the impact of COVID-19 on the global education apps market?
What are the key regional markets?
What is the breakup of the market based on the product type?
What is the breakup of the market based on the operating system?
What is the breakup of the market based on the end user?
What are the various stages in the value chain of the industry?
What are the key driving factors and challenges in the industry?
What is the structure of the global education apps market and who are the key players?
What is the degree of competition in the industry?