The global electric vehicles market size reached 12.7 Million Units in 2021. An electric vehicle is an automobile that uses one or more electric motors for propulsion and is used for transporting passengers and goods. It relies on energy stored in batteries, which can be powered by a traction battery pack present at charging stations. Electric vehicles have low running costs and are environment-friendly as they use minimal, or no fossil fuels compared to conventional vehicles. Over the years, EVs have gained prominence among the masses as they are more economical to operate, do not emit tailpipe emissions, and reduce oil dependency.
As per the analysis by IMARC Group, the top players in the electric vehicles companies are developing advanced technologies to produce zero- and low-emission vehicles with improved fuel efficiency and soundless operations. They are also making huge investments in research and development (R&D) activities to introduce innovative and advanced product variants. In addition, they are investing to improve the charging infrastructure, which will promote sustainable development. Besides this, several players are expanding their production capacities to meet the growing demand for EVs across the globe. Looking forward, IMARC Group expects the market to reach 106.6 Million Units by 2027, exhibiting a CAGR of 41.8% during the forecast period (2022-2027).
.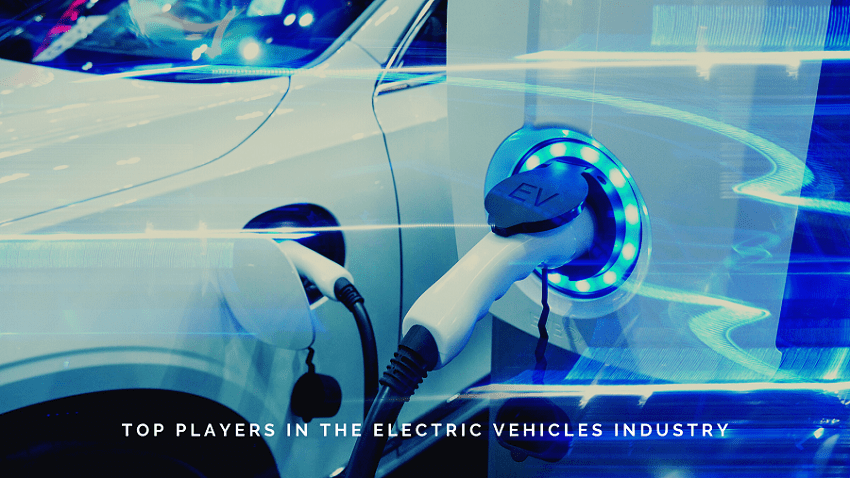 Discover opportunities, challenges, and trends in the global electric vehicles market? Try a free sample
Top Electric Vehicle (EV) Companies Worldwide:
Bayerische Motoren Werke AG
Establishment -1916
Headquarter - Munich, Germany
Website - https://www.bmwgroup.com/en.html
BMW currently represents the world's largest manufacturer of premium automobiles and motorcycles. It focuses on production technology and sustainability with an intelligent mix of materials, digitalization, and resource-efficient production. Today, the company has 31 production and assembly facilities in 15 countries and a global sales network. BMW offers electric vehicles and plug-in hybrid vehicles under the BMW i and X segments.
BYD Auto Company Limited
Establishment - 1995
Headquarter- Shenzhen, China
Website - https://www.byd.com/en/index.html
BYD is a high-tech company devoted to technological innovations in electronics, automobiles, new energy, and rail transit. With over 30 industrial parks worldwide, BYD aims to provide zero-emission energy solutions, energy generation, storage, and application. It is the first automaker worldwide to have complete expertise and intellectual property in three core technologies of electric vehicles, namely batteries, electric motors, and electronic controls. The company is also one of the leading manufacturers of power batteries, the world's first plug-in hybrid compact sedan, and the first generation of BYD's Dual-mode technology.
Chery Automobile Co.
Establishment - 1997
Headquarter- Wuhu, China
Website - https://www.cheryinternational.com/
Chery Automobile Co. is an established automotive company that has successfully created product brands such as Arrizo, Tiggo, and high-end EXEED. It has also become the first passenger car company in China to export complete vehicles, CKD parts, engines, manufacturing technology, and equipment to the global market. Moreover, it has successfully developed the first and second generation of unmanned driving products and has integrated smart transport, intelligent manufacturing, IoT, and blockchain to provide intelligent, interconnected lifestyles for global consumers.
Daimler AG
Establishment - 1998
Headquarter - Stuttgart, Germany
Website - https://group.mercedes-benz.com/en/
Daimler Group is one of the leading global suppliers of premium and luxury cars and one of the world's largest manufacturers of commercial vehicles. The company aims to shape the future of mobility by focusing on innovative and green technologies as well as safe and superior automobiles. Through sustainable strategies, Daimler AG is investing in the development of efficient drive trains and in fields of mobility that go beyond the vehicle itself.
Ford Motor Company
Establishment - 1903
Headquarter - Michigan, United States
Website - https://www.ford.com/
Ford Motor Company is an automotive corporation cofounded by Henry Ford. The company designs manufactures, markets, and services a full line of Ford trucks, utility vehicles, cars, electrified versions, and Lincoln luxury vehicles. The company is also focusing on services, experiences, software, and vehicles. Besides this, it emphasizes improving quality, reducing costs, restructuring underperforming businesses, and modernizing and simplifying their mode of operations. Moreover, Ford is developing electric vehicle platforms by partnering with Volkswagen to reduce vehicular emissions.
Geely Auto Group
Establishment - 1997
Headquarter - Hangzhou, China
Website - http://global.geely.com/
Geely Auto Group is a leading automobile manufacturer founded as a subsidiary of Zhejiang Geely Holding Group. The group employs more than 50,000 people, operates 12 plants and 5 global R&D centers worldwide to retain its position in the global market. The company has done innovative research in new energy, safety, automotive intelligence, and autonomous drive technologies. Over the years, Geely has switched to new energy vehicles as essential to environmental sustainability.
General Motors
Establishment - 1908
Headquarter - Detroit, Michigan
Website - https://www.gm.com/
General Motors' vision is to create a world with zero crashes, zero emissions, and zero congestion. With a diverse team of 155,000 employees, the company brings its collective passion for engineering, technology, and designing an electric vehicle on a scale previously unseen and bringing the world to an all-electric future. Recently, the company has introduced the revolutionary Ultium Platform that is engineered for range, power, and flexibility to charge fast, run long, and fit every type of vehicle.
Honda Motor Co., Ltd.
Establishment - 1948
Headquarter - Tokyo, Japan
Website - https://global.honda/
Honda Motor Co. Ltd. manufactures a broad range of products, including motorcycles, automobiles, and power products. The company is now working on 34 automobile production operations in 18 countries and territories. Moreover, Honda is accelerating initiatives for a zero-emission society by actively promoting renewable energy, releasing Zero-Emission Vehicles (ZEV), and promoting electrification in working.
Hyundai Motor Company
Establishment -1967
Headquarter - Seoul, South Korea
Website - https://www.hyundai.com/worldwide/en/
Hyundai Motor Company has grown into the Hyundai Motor Group, which was ranked as the world's fifth-largest automaker since 2007 and included over two dozen auto-related subsidiaries and affiliates. The company exports over one million high-quality vehicles, ranging from sedan SUVs to trucks and buses. Hyundai Motor is implementing a new global policy aimed at localization, which includes product development, design, sales, marketing, and consumer services to satisfy the tastes of local consumers and the global market. Moreover, the company plays a pivotal role in transitioning to clean energy by making hydrogen, which is an economically viable energy source.
Nissan Motor Company Limited
Establishment - 1933
Headquarter - Kanagawa, Japan
Website - https://www.nissan-global.com/EN/index.html
Nissan is a Japanese automobile manufacturer that deals with manufacturing, sales, and related business of automotive products and services under the brands Nissan, Infiniti, and Datsun. Nissan Energy Share consists of electric vehicles (EVs), which act as mobile storage batteries to supply homes and society with electricity. It also aims to distribute the energy model and stabilize the supply and demand of electricity in the world.
Groupe Renault
Establishment - 1989
Headquarter - Boulogne-Billancourt, France
Website - https://www.renaultgroup.com/en/
Groupe Renault has partnered with Nissan and Mitsubishi Motors to offer unique expertise in electrification. It comprises 5 complementary brands, including Renault, Dacia, LADA, Alpine, and Mobilize, which provide sustainable and innovative mobility solutions. The company has recently unveiled its Morphoz concept car, an electric vehicle connected and equipped with level 3 autonomous driving functions. It is adaptable and can be transformed to fit all uses in everyday life and for short journeys.
SAIC Motor Corporation Limited
Establishment - 1955
Headquarter - Shanghai, China
Website - https://www.saicmotor.com/english/index.shtml
SAIC Motor is the largest auto company listed on China's A-share market that strives to get ahead in industrial development trends, accelerated innovation, and transformation. The company is actively promoting the commercialization of new energy vehicles and connected cars, and exploring the research and industrialization of intelligent technologies such as smart driving. Moreover, it is engaged in research and development (R&D) activities, production, and sales of auto parts such as power drive systems, chassis, interior and exterior trims, and core components.
Tesla, Inc.
Establishment - 2003
Headquarter - Paolo Alto, California, United States
Website - https://www.tesla.com/
Tesla was founded by a group of engineers who believed that electric vehicles are better and quicker to drive than gasoline cars. It focuses on building all-electric vehicles as well as infinitely scalable clean energy generation and storage products. Testa believes in a zero-emission future and has designed the world's first-ever all-electric sedan. The company has also expanded its product line with the safest, quickest, and most capable utility vehicle, and unveiled cutting-edge battery technology and electric powertrain.
Toyota Motor Corporation
Establishment - 1937
Headquarter - Toyota City, Japan
Website - https://global.toyota/en/
Since its foundation, Toyota Motor Corporation has remained a global automotive industry leader that manufactures vehicles in 27 countries or regions. It is producing reliable vehicles and offering sustainable development through ever-changing innovation and the provision of high-quality products and services. Furthermore, the company strives to be a strong corporate citizen, engaging with and earning the trust of its stakeholders to contribute to the creation of a prosperous society through business operations.
Volkswagen AG
Establishment - 1937
Headquarter - Wolfsburg, Germany
Website - https://www.volkswagen.co.in/en.html
The Volkswagen group is one of the leading manufacturers and largest carmakers in Europe. The group comprises twelve brands from seven countries, Volkswagen Passenger cars, Audi, SEAT, ŠKODA, Bentley, Bugatti, Lamborghini, Porsche, Ducati, Volkswagen Commercial vehicles, Scania, and MAN. Since 2019, the company has formed the basis for a global innovation ecosystem for sustainable and customer-oriented innovations. It has innovation centers across Europe, Asia, and California to derive local knowledge and international solutions from regional challenges and needs.
About IMARC Group: IMARC Group is a leading market research and consulting company that offers management strategy and market research worldwide. The company has successfully done multiple projects in the electric vehicles industry, which has enabled clients to set up and expand their businesses. Some of the company's offerings include:
Market Research
Plant setup
Plant Expansion
Marketing and sales
Procurement and Distribution
Innovation and Product Development