Market Overview:
The Europe generic drug market is currently witnessing strong growth. Generic drugs are pharmaceutical drugs with an equivalent therapeutic effect as their branded counterparts. These drugs are also identical to the innovator drug in terms of safety, strength, quality, dosage route of administration and intended usage. Unlike branded drugs, generic drugs are cost-efficient and do not require hefty investments on marketing campaigns or clinical studies.
Governments of various countries in Europe are undertaking initiatives to maintain a stable supply of medicines and support the Supplementary Protection Certificate (SPC) manufacturing waiver. This represents one of the significant factors propelling the growth of the generic drug market in Europe. Other factors driving the market are low production costs of generic drugs compared to their counterparts. This is attracting manufacturers to make capital investments in the industry. However, due to the surge in the coronavirus disease (COVID-19) cases, governing agencies have implemented lockdown restrictions in several countries. This has disrupted the manufacturing of generic drugs in Europe, but the market will experience growth once the cases start subsiding and lockdown restrictions are uplifted. Looking forward, the market is expected to continue its strong growth during the forecast period (2021-2026).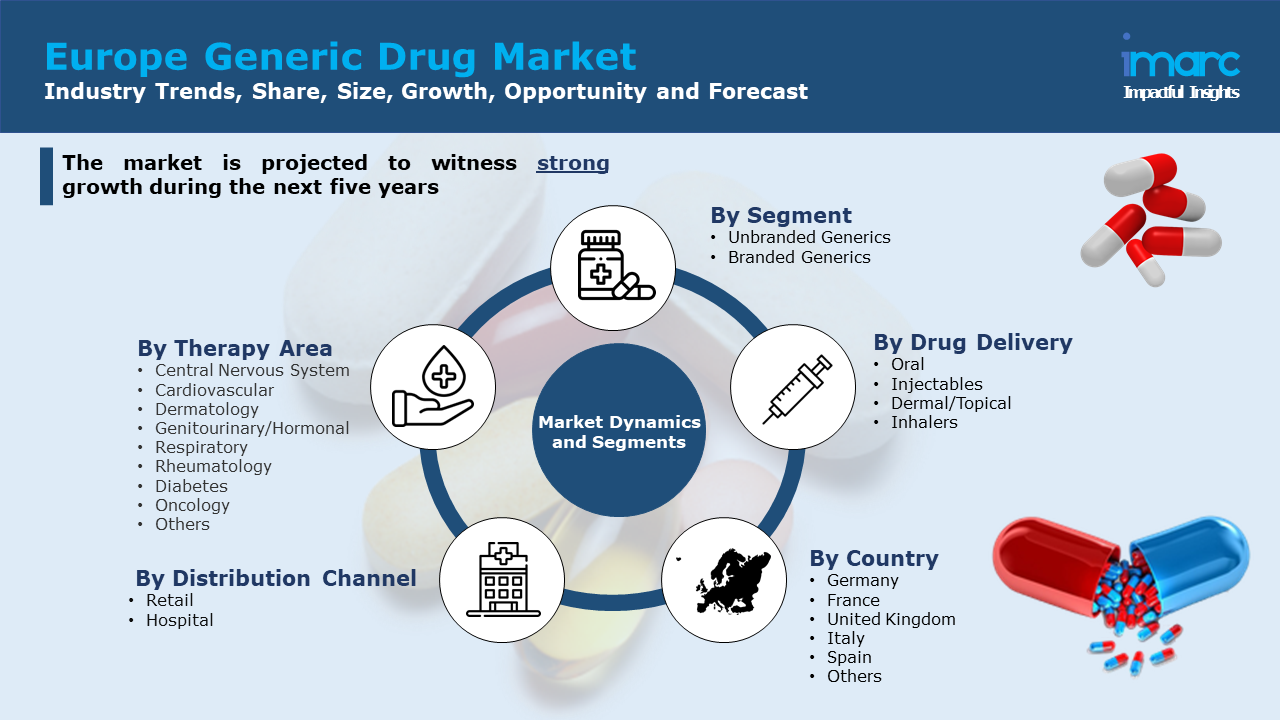 Key Market Segmentation:
IMARC Group provides an analysis of the key trends in each sub-segment of the Europe generic drug market report, along with forecasts for growth at the region level from 2021-2026. Our report has categorized the market based on region, segment, therapy area, drug delivery and distribution channel.
Breakup by Segment:
Unbranded Generics
Branded Generics

Breakup by Therapy Area:
Central Nervous System
Cardiovascular
Dermatology
Genitourinary/Hormonal
Respiratory
Rheumatology
Diabetes
Oncology
Others

Breakup by Drug Delivery:
Oral
Injectables
Dermal/Topical
Inhalers

Breakup by Distribution Channel:
Breakup by Country:
Germany
France
United Kingdom
Italy
Spain
Others

Competitive Landscape:
The competitive landscape of the industry has also been examined along with the profiles of the key players.
Key Questions Answered in This Report:
How has the Europe generic drug market performed so far and how will it perform in the coming years?
What has been the impact of COVID-19 on the Europe generic drug market?
What are the key regional markets?
What is the breakup of the market based on the segment?
What is the breakup of the market based on the therapy area?
What is the breakup of the market based on the drug delivery?
What is the breakup of the market based on the distribution channel?
What are the various stages in the value chain of the industry?
What are the key driving factors and challenges in the industry?
What is the structure of the Europe generic drug market and who are the key players?
What is the degree of competition in the industry?