Market Overview:
The Europe online gambling market is currently witnessing strong growth. Online gambling, also known as virtual gambling, refers to betting on casinos or sports-based activities over the internet. It does not involve physical interaction of players as all sessions are moderated by computer programs. As it offers multiple benefits, including a customizable budget, cashless transactions, accessibility through electronic devices, and real-time gambling experience, online gambling is gaining immense popularity across Europe.
The growing dependence on the internet, in confluence with the rising hardware and software innovations, represents one of the primary factors strengthening the growth of the online gambling market in Europe. Apart from this, the dominant market players are focusing on merger and acquisitions to expand their presence. Besides this, the lockdown restrictions imposed in several European countries to encourage the adoption of social distancing measures on account of the onset of coronavirus disease (COVID-19) has resulted in a sudden surge in the number of visitors to the gambling websites. This has created a favorable outlook for the online gambling market in the region. Looking forward, the market is expected to continue its strong growth during the forecast period (2021-2026).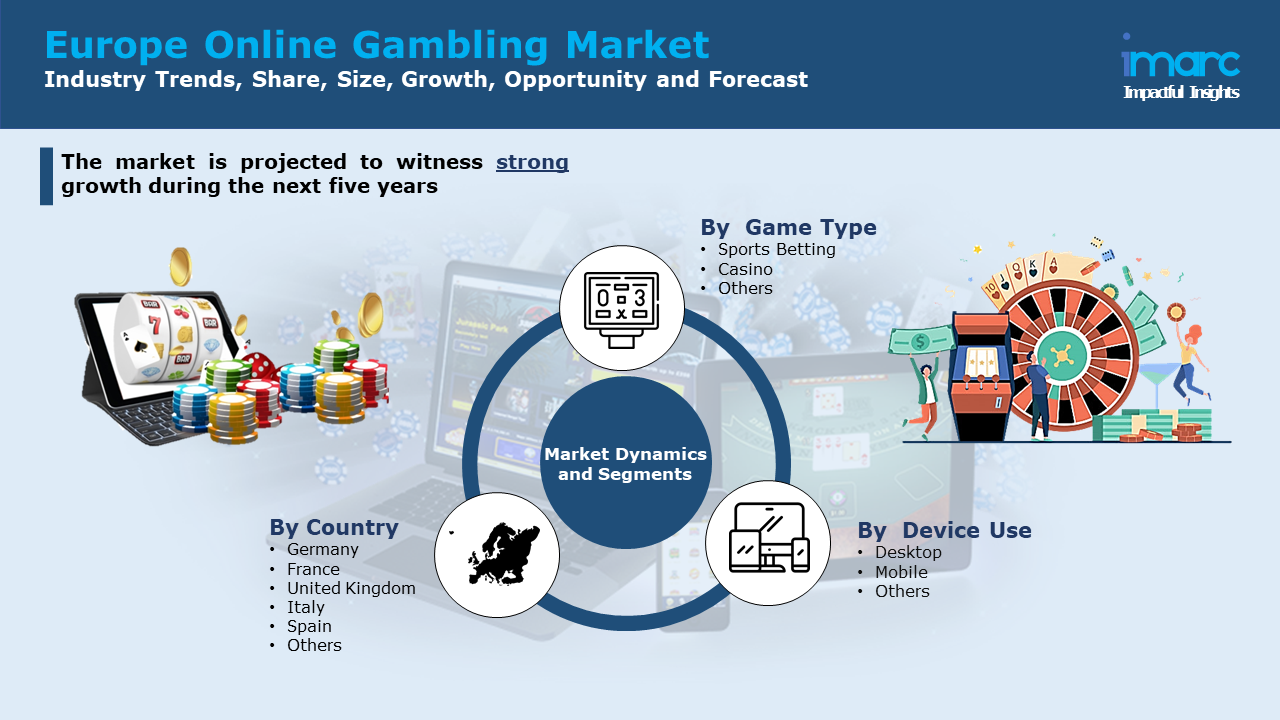 Key Market Segmentation:
IMARC Group provides an analysis of the key trends in each sub-segment of the Europe online gambling market report, along with forecasts for growth at the region level from 2021-2026. Our report has categorized the market based on region, game type and device .
Breakup by Game Type:
Sports Betting

Football
Horse Racing
E-Sports
Others

Casino

Live Casino
Baccarat
Blackjack
Poker
Slots
Others

Others

Breakup by Device:
Breakup by Country:
Germany
France
United Kingdom
Italy
Spain
Others

Competitive Landscape:
The competitive landscape of the industry has also been examined along with the profiles of the key players.
Key Questions Answered in This Report:
How has the Europe online gambling market performed so far and how will it perform in the coming years?
What has been the impact of COVID-19 on the Europe online gambling market?
What are the key regional markets?
What is the breakup of the market based on the game type?
What is the breakup of the market based on the device?
What are the various stages in the value chain of the industry?
What are the key driving factors and challenges in the industry?
What is the structure of the Europe online gambling market and who are the key players?
What is the degree of competition in the industry?