Market Overview 2021-2026:
The global exoskeleton system market exhibited robust growth during 2015-2020. Looking forward, IMARC Group expects the market to grow at a CAGR of 43.3% during 2021-2026. Keeping in mind the uncertainties of COVID-19, we are continuously tracking and evaluating the direct as well as the indirect influence of the pandemic on different end-use industries. These insights are included in the report as a major market contributor.
An exoskeleton system is a wearable man-machine mechanism that utilizes human intelligence and machine power to provide mechanical strength to the user. It consists of a powered wearable suit that is designed to improve user safety and enhance the overall efficiency to perform specific tasks. It uses smart algorithms that adjust and adapt according to the human body motions and is equipped with various sensors and electrical connections to control the components. Exo-suits assist in lifting heavy materials and reduce stress on the user's back muscles and spine. Also, they enable the elderly to walk with ease and prevent fall-related injuries. Currently, these systems find extensive applicability across various sectors including healthcare, military and industrial.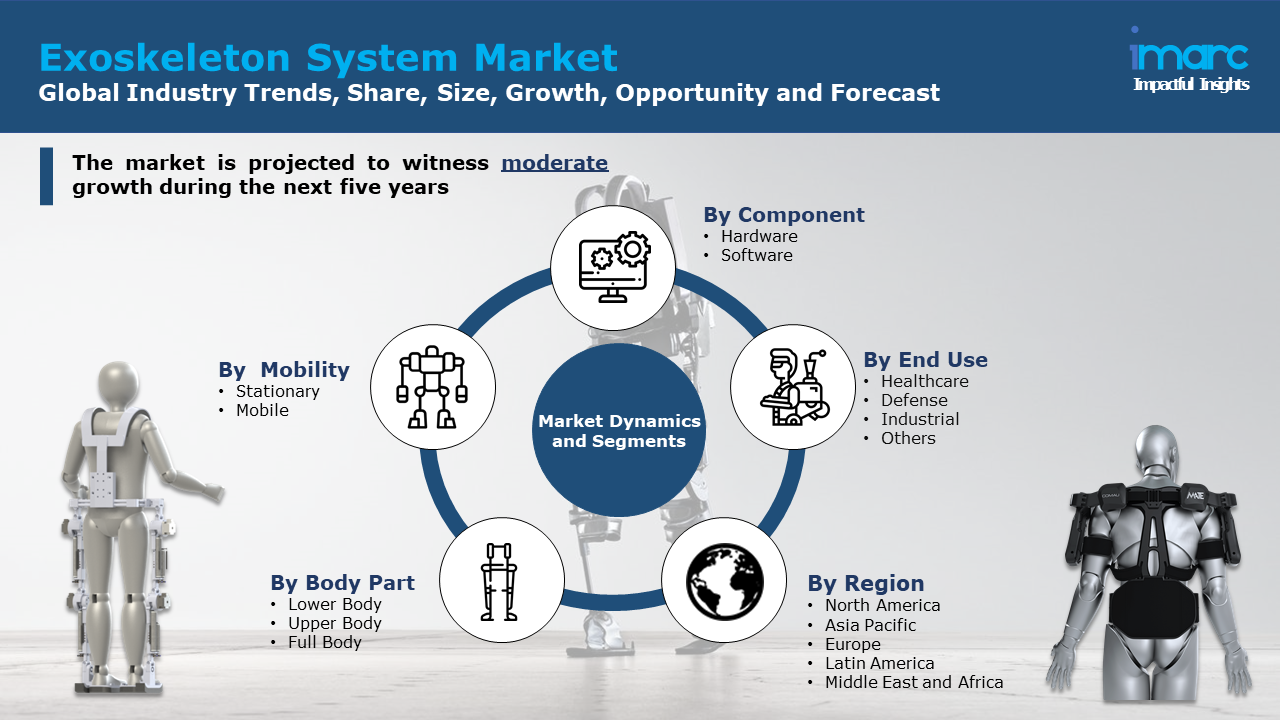 Global Exoskeleton System Market Trends and Drivers:
The growing need for exoskeletons in the rehabilitation centers along with the increasing industrial activities across the globe are the key factors driving the market growth. The development of motor-equipped robots to assist human body mechanics is another factor contributing to the market growth. The growing prevalence of heart strokes, spinal cord injuries and paralysis among patients has also driven the demand for exoskeletons in the healthcare sector.
The rising adoption rates of exoskeletons across military and industrial sectors are providing a boost to the exoskeleton system market growth. In these sectors, the systems are custom-fitted according to body parts and are made using fiberglass, carbon fiber and aluminum depending on the strength required. Moreover, they efficiently provide support to multiple joints and detect human movements to initiate the appropriate responses of the exoskeleton actuators, thus boosting the product demand further in the military and industrial sectors.
Key Market Segmentation:
IMARC Group provides an analysis of the key trends in each sub-segment of the global exoskeleton system market report, along with forecasts for growth at the global, regional and country level from 2021-2026. Our report has categorized the market based on component, type, mobility, body part, end use sector and region.
Market Breakup by Component:

Hardware

Sensors
Actuators
Power Sources
Control Systems
Other Components

Software


Market Breakup by Type:
Market Breakup by Mobility:
Market Breakup by Body Part:

Lower Body
Upper Body
Full Body


Market Breakup by End Use Sector:

Healthcare
Defense
Industrial
Others


Market Breakup by Region:

North America
Europe
Asia Pacific
Middle East and Africa
Latin America


Historical, Current and Future Market Trends

Competitive Landscape:
The global exoskeleton system market is highly fragmented with the presence of several small and large players. Some of the major players in the market are:
Bionik Laboratories
Suitx
Gogoa Mobility Solutions
Exhauss
Atoun
Fourier Intelligence
Honda Motor
Daiya Industry Company
Mitsubishi Heavy Industries
Rex Bionics
Myomo
Gobio Robot
Parker Hannifin
Wandercraft
P&S Mechanics