Market Overview:
The GCC egg powder market is currently witnessing moderate growth. Egg powder is a replacement for regular eggs prepared from dried or powdered eggs. The production of egg powder involves spray drying and the end product is similar in consistency to powdered milk. It is lactose-free; low in carbohydrates, cholesterol and fats; and offers the same amount of protein like whole eggs. Consequently, it represents an excellent dietary supplement for people who want to lose weight. Egg powder also has a longer shelf-life of up to 5 to 10 years when kept in airtight containers and does not require any form of refrigeration for preservation.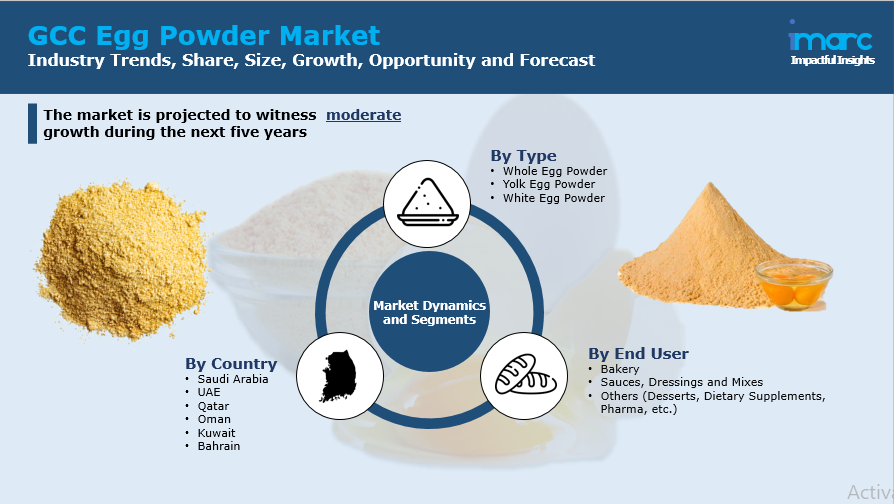 The GCC egg powder market is primarily driven by the involvement of various NGOs and governmental bodies that aim at improving the health conditions of the majority of the rural population. The introduction of egg powder as an integral part of health supplementary diet plans is propelling the market growth. Additionally, there has been an increased dependency on imported products due to the insufficient poultry production in the region, which has increased the sales of egg powder to meet its local demand. Moreover, rapid modernization and technological advancements have resulted in the introduction of high gel and high whip egg yolk powder with excellent binding properties. On account of these factors, the market is expected to continue its steady growth during the forecast growth (2021-2026).
Key Market Segmentation:
IMARC Group provides an analysis of the key trends in each sub-segment of the GCC egg powder market report, along with forecasts for growth at the region level from 2021-2026. Our report has categorized the market based on region, type and end use.
Breakup by Type:
Whole Egg Powder
Yolk Egg Powder
White Egg Powder

Breakup by End Use:
Bakery
Sauces, Dressings and Mixes
Others (Desserts, Dietary Supplements, Pharma, etc.)

Breakup by Country:
Saudi Arabia
UAE
Qatar
Oman
Kuwait
Bahrain

Competitive Landscape:
The competitive landscape of the industry has also been examined along with the profiles of the key players.
Key Questions Answered in This Report:
How has the GCC egg powder market performed so far and how will it perform in the coming years?
What has been the impact of COVID-19 on the GCC egg powder market?
What are the key regional markets?
What is the breakup of the market based on the type?
What is the breakup of the market based on the end user?
What are the various stages in the value chain of the industry?
What are the key driving factors and challenges in the industry?
What is the structure of the GCC egg powder market and who are the key players?
What is the degree of competition in the industry?