Market Overview:
The GCC paper packaging market is currently witnessing moderate growth. Paper packaging is utilized for preserving, protecting and transporting items. It comprises corrugated boxes, paperboard cartons, folding boxes and cases, paper bags and sacks, which are renewable, recyclable and cost-efficient. They are extracted by bleaching fibrous compounds from wood and recycled wastewater pulp. Presently, paper packaging finds extensive application in the packaging of beverages, food products, electronics, glassware, toiletries and medicines across the GCC region.
Rapid urbanization and inflating disposable incomes are among the primary factors strengthening the GCC paper packaging market growth. Moreover, the rising consciousness among individuals about sustainable and eco-friendly packaging is creating a positive outlook for the market. Besides this, the United Arab Emirates (UAE), in collaboration with Saudi Arabia, has invested AED 5 billion towards food security initiatives, which is offering various opportunities to the leading market players. However, the temporary halt in the operations of numerous manufacturing units, along with supply chain disruptions, on account of the coronavirus disease (COVID-19) outbreak has negatively affected the market. It is anticipated to recover once lockdown restrictions are uplifted. Looking forward, the market is expected to continue its moderate growth during the forecast period (2021-2026).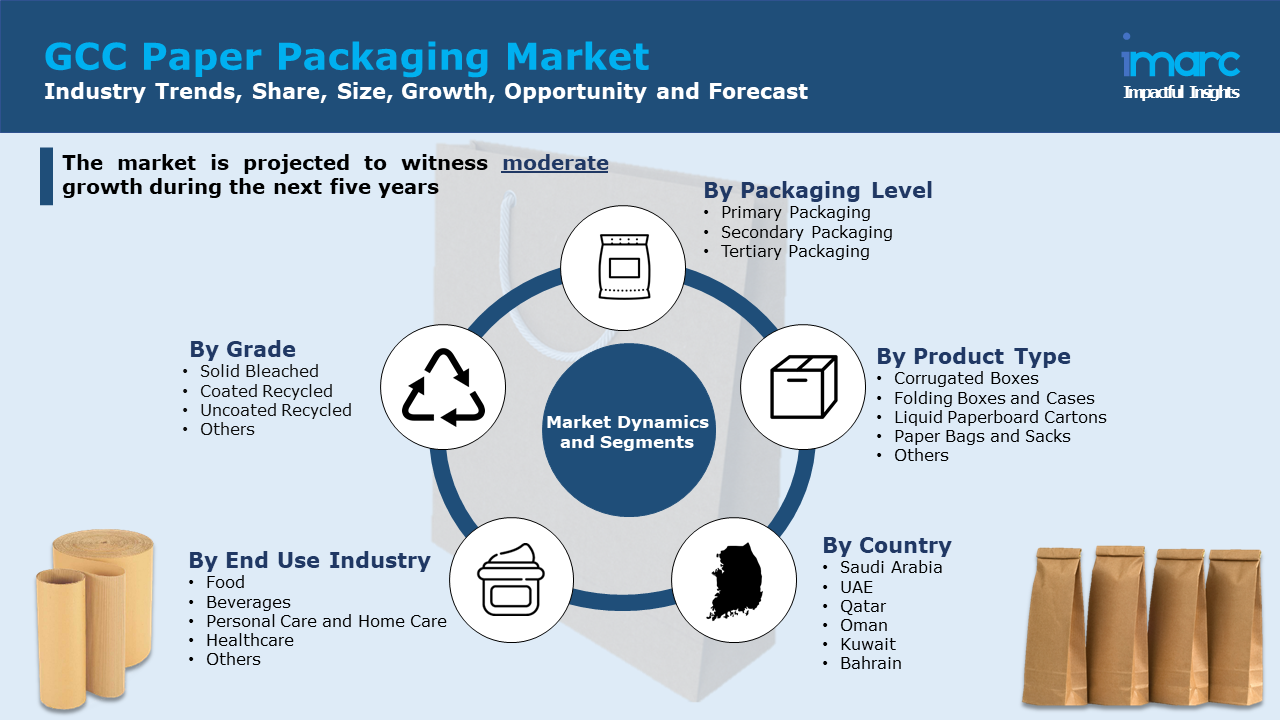 Key Market Segmentation:
IMARC Group provides an analysis of the key trends in each sub-segment of the GCC paper packaging market report, along with forecasts for growth at the region level from 2021-2026. Our report has categorized the market based on region, product type, grade, packaging level and end-use industry.
Breakup by Product Type:
Folding Boxes and Cases
Liquid Paperboard Cartons
Paper Bags and Sacks
Others

Breakup by Grade:
Solid Bleached
Coated Recycled
Uncoated Recycled
Others

Breakup by Packaging Level:
Primary Packaging
Secondary Packaging
Tertiary Packaging

Breakup by End Use Industry:
Food
Beverages
Personal Care and Home Care
Healthcare
Others

Breakup by Country:
Saudi Arabia
UAE
Qatar
Oman
Kuwait
Bahrain

Competitive Landscape:
The competitive landscape of the industry has also been examined along with the profiles of the key players.
Key Questions Answered in This Report:
How has the GCC paper packaging market performed so far and how will it perform in the coming years?
What has been the impact of COVID-19 on the GCC paper packaging market?
What are the key regional markets?
What is the breakup of the market based on the product type?
What is the breakup of the market based on the grade?
What is the breakup of the market based on the packaging level?
What is the breakup of the market based on the end use industry?
What are the various stages in the value chain of the industry?
What are the key driving factors and challenges in the industry?
What is the structure of the GCC paper packaging market and who are the key players?
What is the degree of competition in the industry?