Market Overview:
The global home fitness equipment market reached a value of US$ 10 Billion in 2020. Looking forward, IMARC Group expects the market to grow at a CAGR of 4.8% during 2021-2026. Keeping in mind the uncertainties of COVID-19, we are continuously tracking and evaluating the direct as well as the indirect influence of the pandemic. These insights are included in the report as a major market contributor.
Home fitness equipment includes various devices that are used for monitoring physical exercises at home. These equipment aids in managing weight, improving stamina and developing muscular strength of the body. Some of the commonly used home fitness equipment includes cardiovascular training equipment, such as treadmills, ellipticals and stationary bikes, along with strength training equipment, such as free weight and plate loaded machines. These machines can stimulate the heart rate to burn excess body fat and gain muscular strength.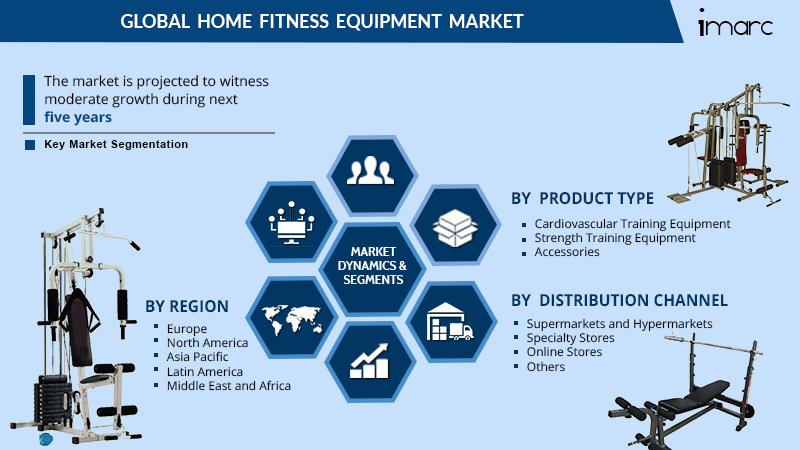 The increasing prevalence of chronic lifestyle diseases, along with rising health consciousness among individuals across the globe, is one of the key factors driving the growth of the market. Owing to various factors, such as rapid urbanization, sedentary lifestyles and hectic schedules of working professionals, there is increasing adoption of fitness equipment that can be used in the comfort of the home for maintaining a healthy lifestyle. In confluence with this, growing preference for these equipment for managing various lifestyle diseases, such as arthritis, diabetes, stroke and cardiovascular disorders, is also providing a boost to the market growth. Furthermore, equipment manufacturers are also investing in research and development (R&D) activities to launch advanced and user-friendly devices for improving the overall consumer's experience. Governments of both the developed and emerging nations are implementing various healthcare initiatives to promote fitness-related awareness among the masses, which is also contributing to the adoption of these equipment, especially by the youth. Other factors, including rising consumer expenditure capacities, the development of wearable devices that can be synchronized with the fitness equipment and the availability of efficient online retail channels, are projected to drive the market further.
Key Market Segmentation:
IMARC Group provides an analysis of the key trends in each sub-segment of the global home fitness equipment market, along with forecasts at the global, regional and country level from 2021-2026. Our report has categorized the market based on product type and distribution channel.
Breakup by Product Type:
Cardiovascular Training Equipment

Air Bike
Elliptical Machines
Punching Bag
Rowing Machine
Treadmill
Others

Strength Training Equipment

Ab Wheel
Adjustable Dumbbells
Adjustable Kettlebell
Medicine Ball
Mini Resistance Bands
Pull Up Bars
Weight-Lifting Bench
Others

Accessories

Foam Roller
Weighted Jump Rope
Others

Breakup by Distribution Channel:
Supermarkets and Hypermarkets
Specialty Stores
Online Stores
Others

Breakup by Region:
North America
Asia Pacific

China
Japan
India
South Korea
Australia
Indonesia
Others

Europe

Germany
France
United Kingdom
Italy
Spain
Russia
Others

Latin America
Middle East and Africa

Competitive Landscape:
The competitive landscape of the industry has also been examined with some of the key players being adidas AG, Amer Sports Corporation, Brunswick Corporation, PureGym, Hoist Fitness Systems Inc., Icon Health & Fitness Inc., Johnson Health Tech. Co. Ltd., Technogym, True Fitness Technology Inc., Vectra Fitness Inc., etc.
Report Coverage:
Report Features
Details
Base Year of the Analysis
2020
Historical Period
2015-2020
Forecast Period
2021-2026
Units
US$ Billion
Segment Coverage
Product Type, Distribution Channel, Region
Region Covered
Asia Pacific, Europe, North America, Latin America, Middle East and Africa
Countries Covered
United States, Canada, Germany, France, United Kingdom, Italy, Spain, Russia, China, Japan, India, South Korea, Australia, Indonesia, Brazil, Mexico
Companies Covered
adidas AG, Amer Sports Corporation, Brunswick Corporation, PureGym, Hoist Fitness Systems Inc., Icon Health & Fitness Inc., Johnson Health Tech. Co. Ltd., Technogym, True Fitness Technology Inc. and Vectra Fitness Inc.
Customization Scope
10% Free Customization
Report Price and Purchase Option
Single User License: US$ 2299
Five User License: US$ 3399
Corporate License: US$ 4499
Post-Sale Analyst Support
10-12 Weeks
Delivery Format
PDF and Excel through Email (We can also provide the editable version of the report in PPT/Word format on special request)
Key Questions Answered in This Report:
How has the global home fitness equipment market performed so far and how will it perform in the coming years?
What has been the impact of COVID-19 on the global home fitness equipment market?
What are the key regional markets?
What is the breakup of the market based on the product type?
What is the breakup of the market based on the distribution channel?
What are the various stages in the value chain of the industry?
What are the key driving factors and challenges in the industry?
What is the structure of the global home fitness equipment market and who are the key players?
What is the degree of competition in the industry?