The global ice cream market size reached US$ 70.6 Billion in 2022. As per the analysis by IMARC Group, the top ice-cream producers are offering a wide range of innovative products to attract consumers from all facets. The current strong competitive conditions have prompted vendors and manufacturers to distinguish their product portfolios by offering innovative and unique concepts. They are introducing vegan, organic, and non-dairy choices with alternate dairy bases, which include almond, oat and coconut milk. Other than this, market players have been adding different functional ingredients, such as fiber, probiotics, protein, and cannabidiol (CBD). At present, there are four prominent manufacturers that dominate the global ice cream market, namely Unilever, Nestle, Inner Mongolia Yili Industrial Group, and General Mills. Looking forward, IMARC Group expects the market to reach US$ 94.3 Billion by 2028, exhibiting a CAGR of 5.14% during 2023-2028. The aforementioned players have been discussed as below: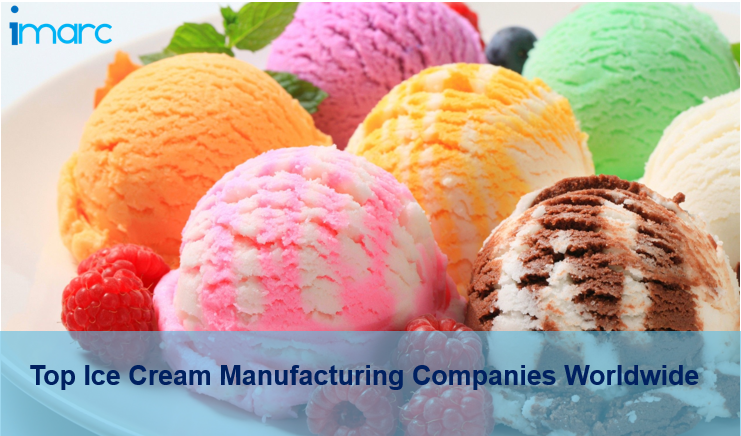 Request Free Sample Report: https://www.imarcgroup.com/ice-cream-market/requestsample
Top Manufacturing Companies and Brands in the Ice Cream Industry:
Unilever
Establishment: 1929
Headquarters: United Kingdom (UK)
Unilever is the largest producer of ice cream across the globe with a workforce of 149,000 employees. With presence in 54 countries, the company sells its products in over 190 countries under the umbrella of over 400 brand names. Amongst these, Unilever mainly markets its ice creams under the branch of Heartbrand, which includes numerous brands with a 'heart'-similar logo. Some of these brands include Good Humor, Aligda Ice Cream, Kwality Wall's Ice Cream, Bresler, Cargills, Eskimo, Lusso, and Miko. Besides this, the company sells ice cream under other brand names, such as Popsicle, Talenti Gelato, Ben and Jerry's, Breyers, and Klondike.
Unilever has been able to maintain its position in the global market with various innovative marketing policies and by introducing innovative products. For instance, in 2018, it embraced the emerging trend of vegan diets by launching Magnum Vegan in almond and classic varieties. Also, in 2019, the company added Magnum Macadamia Salted Caramel to its portfolio to address the escalating demand for desserts with salty and sweet combinations.
Nestle
Establishment: 1866
Headquarter: Switzerland
Established in the mid-1800s, Nestle is the second-largest ice cream manufacturer. It is a food company that operates nearly 418 factories across 86 countries with personnel of approximately 339,000 people. Along with this, the company has established 17 research and development (R&D) testing centers across the globe. Nestle markets its ice creams under different brand names, including Dreyer's, Movenpick, Nestle Ice Cream, and Extreme.
Nestle is consistently investing in improving its standard by expanding its business through merger and acquisitions and novel marketing initiatives. In 2019, it sold its US-based ice cream business to Froneri, which is a joint venture between Nestle and PAI Partners. This shift in ownership enabled Froneri to expand its global ice cream footprint with a broader product portfolio.
Inner Mongolia Yili Industrial Group
Establishment: 1993
Headquarter: China
Inner Mongolia Yili Industrial Group (Yili) is one of the most prominent dairy products manufacturers in the world. It majorly offers ice cream, yogurt, fresh cream, liquid milk, health drinks, and cream and cheese products. The key ice cream products offered by the company include Chocliz and Genomics. Even though it mainly operates domestically in China, Yili has been expanding to international markets by acquiring businesses in Indonesia, Pakistan, and New Zealand. The company has also established its presence through a partnership with Sterilgarda in Europe and Italy. In 2018, Yili took over Chomthana Group, Thailand-based ice cream, and frozen foods manufacturer. The acquisition is a part of the company's efforts to offer global resources and innovations to its consumers.
General Mills
Establishment: 1920
Headquarter: Minnesota, United States
Since its establishment in 1920, General Mills has been a leading player in the consumer food products market. It markets its products across more than 100 countries and operates over 45 facilities that are based in different countries across the globe, including Canada, the US, and Australia. The company mainly sells its ice creams under the name of Haagen-Dazs. The brand sells its ice creams through over 900 shops established in 50 countries.
About IMARC Group: IMARC Group is a leading market research and consulting company that offers management strategy and market research worldwide. The company has done multiple projects (Region wise India, North America) on the ice cream industry, which has enabled clients to set up and expand their businesses successfully. Some of the company's offerings include:
Market Research
Plant setup
Plant Expansion
Marketing and sales
Procurement and Distribution
Innovation and Product Development