Market Overview:
India chocolate market reached a value of US$ 1.9 Billion in 2020 with the country currently representing one of the world's fastest growing markets for chocolates. Looking forward, IMARC Group expects the India chocolate market to exhibit strong growth during the forecast period (2021-2026). Keeping in mind the uncertainties of COVID-19, we are continuously tracking and evaluating the direct as well as the indirect influence of the pandemic on different end-use industries. These insights are included in the report as a major market contributor.
India's strong economic growth over the past decade has catalyzed the country's per capita disposable incomes resulting in the strong growth of the chocolate industry. As a result, consumers are now buying chocolates for everyday consumption rather than just special occasions.
Another major factor driving the chocolate industry is the country's large young population which represents a key consumer segment for chocolates. Currently around half of the total population in India is below the age of 25 years and two thirds are below the age of 35 years. Other factors driving the market include changing lifestyles, westernization, growth of the food services sector, value addition, etc. Driven by these factors chocolates are replacing traditional sweets in the country.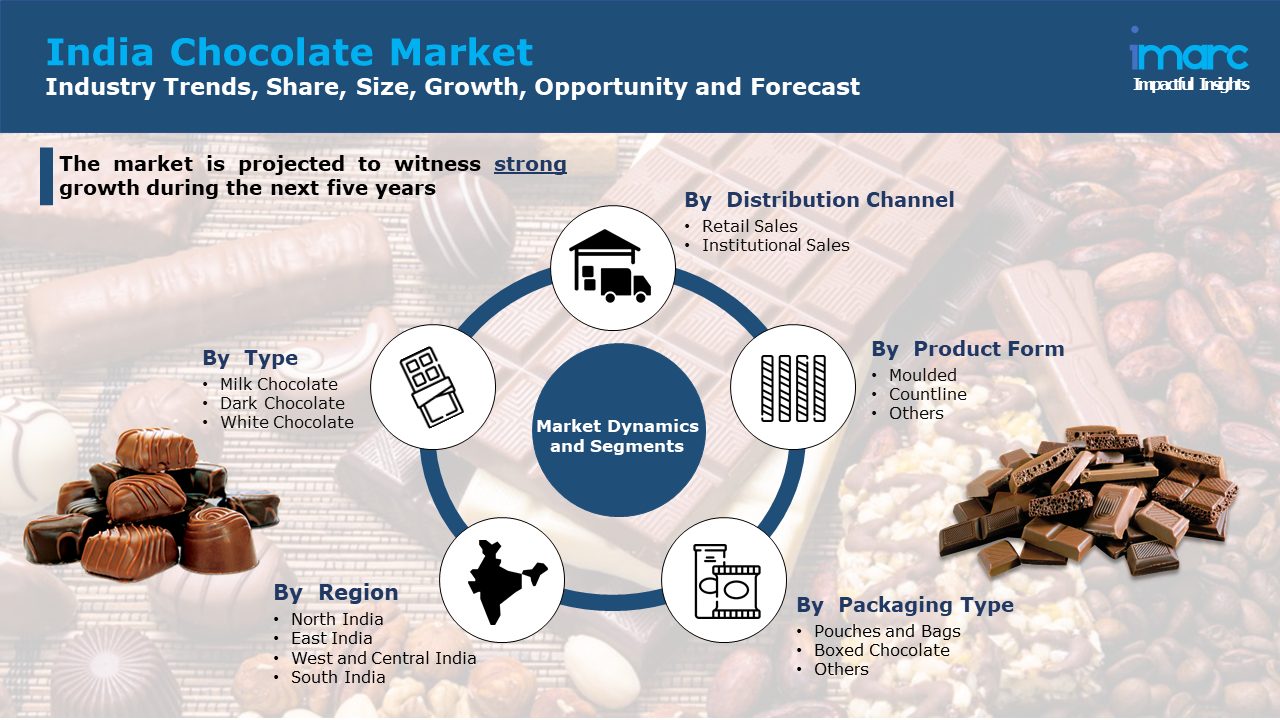 Key Market Segmentation:
IMARC Group provides an analysis of the key trends in each sub-segment of the India chocolate market, along with forecasts for growth at the country and state level from 2021-2026. Our report has categorized the market based on region, chocolate type, product form, packaging type and distribution channel.
Market Breakup by Region
North India
East India
West and Central India
South India

Market Breakup by Type
Milk Chocolate
Dark Chocolate
White Chocolate

Market Breakup by Product Form

Market Breakup by Packaging Type
Pouches and Bags
Boxed Chocolate
Others

Market Breakup by Distribution Channel
Retail Sales
Institutional Sales

This report includes:
Historical, Current and Future Market Trends
Value Chain Analysis
Key Drivers and Challenges
Porters Five Forces Analysis
PESTEL Analysis
Government Regulations

Competitive Landscape:
Indian chocolate industry is highly fragmented with the presence of several small and large players competing in terms of price and quality. Some of the major players in the India chocolate market are:
Mondelez India Foods Private Limited
Ferrero India Private Limited
Nestle India Limited
Mars International India Private Limited
ITC Limited
Gujarat Cooperative Milk Marketing Federation Ltd.
Hershey India Private Limited
Global Consumer Products Private Limited
Surya Food & Agro Ltd.
Lotus Chocolate Company Limited

Report Coverage:
Base Year Considered: 2020
Historical Data Coverage: 2015-2020
Market Forecast: 2021-2026
Currency: US$
Geography Covered: India
Segments Covered: type, product form, packaging type, distribution channel and region

This report provides a deep insight into the Indian chocolate market covering all its essential aspects. This ranges from macro overview of the market to micro details of the industry performance, recent trends, key market drivers and challenges, SWOT analysis, Porter's five forces analysis, value chain analysis, etc. This report is a must-read for chocolate manufacturers, investors, researchers, consultants, business strategists, and all those who have any kind of stake or are planning to foray into the Indian chocolate market in any manner.
Report Customization: Although IMARC has tried to cover everything in the India chocolate market landscape, we believe that every stakeholder may have their own specific needs. In view of this, we provide up to 20 man-hours of free customization for each report.

Key Questions Answered in This Report: