Japan aquafeed market reached a volume of 372,303 Tons in 2019. Aquafeed refers to the food specifically prepared for aquatic animals to fulfill their nutritional requirements. Japan is one of the largest mollusk producers which requires an enormous quantity of high-quality aquafeed and thus serving as a major growth driver of the aquafeed industry in the country.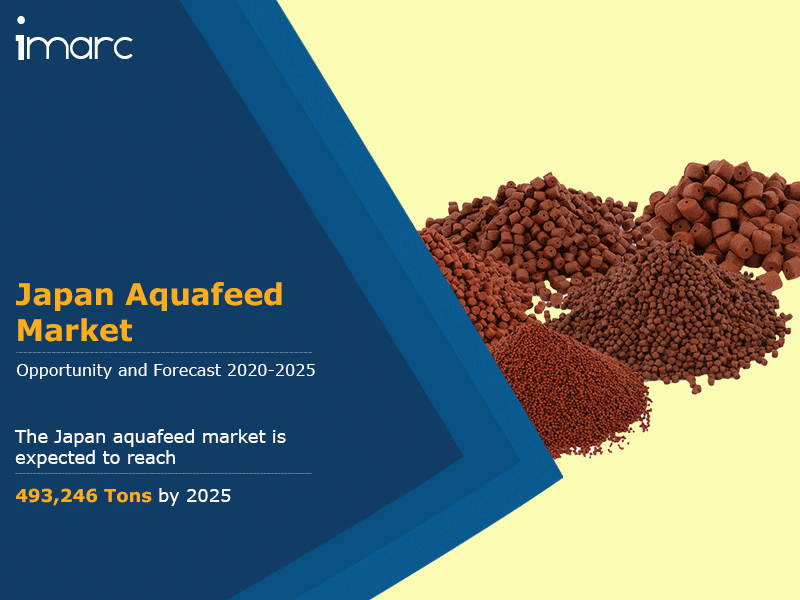 The increasing seafood consumption in Japan coupled with the rising consumer awareness about the seafood health benefits, is escalating the demand for aquafeed in the region. In fact, the government's ongoing attempts to boost aquaculture output are further accelerating the aquafeed industry. For instance, Japan government launched a 'Fast Fish' campaign to encourage further modernization of country's fishing sector and increase the production of certified sustainable seafood. In addition to this, modern feed management techniques in Japan are also becoming responsible for high consumption of feed in the various farming sectors. Moreover, an increase in fish mass production, rising intensive farming, advancements in the stocking and feeding densities, feeding management practices are some of the other factors that have proliferated the market growth in the country. Looking forward, IMARC Group expects the market to grow at a CAGR of 4.8% during 2020-2025 reaching a value of 493,246 Tons by 2025.
Report Coverage
Historical, Current and Future Market Trends
Market Breakup by End-User
Molluscs

Japanese Scallop
Pacific Oyster

Fishes

Yellowtail
Red Seabream
Grater Amberjack
Bluefin Tuna
Others

Crustaceans and Others
Molluscs currently represent the leading segment, holding the largest share.
Market Breakup by Ingredient
Soybean
Fish Meal
Wheat Flour and Wheat Products
Rice Products
Corn
Additives

Vitamins & Minerals
Amino Acids
Feed Acidifiers
Antibiotics
Others

Others
Soybean currently dominates the market, holding majority of the market share.
Market Breakup by Product Form
Pellets
Extruded
Powdered
Liquid
Amongst these, pellets account for the largest market share.

Competitive Landscape:
The report has also examined the competitive landscape of the Japan aquafeed market. Some of the major players include:
Marubeni-Nisshin
Mitsubishi Nosan
Chubu Shiryo
Kyodo Shiryo (Feed One Co., Ltd.)
Itochu
Nutreco Skretti

Key Questions Answered in This Report:
How has the Japan aquafeed market performed so far and how will it perform in the coming years?
What is the breakup of the Japan aquafeed market based on the end-user?
What is the breakup of the Japan aquafeed market based on the ingredient?
What is the breakup of the Japan aquafeed market based on the product form?
What are the various stages in the value chain of the Japan aquafeed market?
What are the key driving factors and challenges in Japan aquafeed market?
What is the structure of the Japan aquafeed market and who are the key players?
What is the degree of competition in the Japan aquafeed market?