The global methanol market size reached a value of US$ 26 Billion in 2020. As per the analysis by the IMARC Group. The depleting fossil fuel resources and continuously degrading environmental conditions due to increasing greenhouse gas (GHG) emissions have led manufacturers to search for alternative energy resources, such as coke oven gas, flue gases, and biogas from fossil fuel power plants. This produces synthesis gas, which acts as a major feedstock for the production of methanol (CH3OH) and can be used as a fuel for internal combustion engines and fuel cells. Additionally, recent developments in catalyst systems utilized for methanol synthesis has also yielded the possibility to combine carbon, nitrogen, and platinum, which is easily recyclable and can be filtered from the acid. In line with this, this chemical product is currently being recognized as a promising base material for obtaining more complex chemical compounds, such as methyl tertiary butyl ether, methylamine, acetic acid, and dimethyl ether. Moreover, the conversion of methane into an easily transportable liquid fuel due to the availability of abundant natural gas is also acting as a major growth-inducing factor. Other than this, the widespread product adoption as a convenient energy carrier for hydrogen production through autothermal reforming, partial oxidation, and methanol decomposition are further creating lucrative opportunities for the market players. Besides this, key leaders are increasingly incorporating new methanol production methods, such as the BASF and ICI processes, which, in turn, is creating a positive outlook for the market. Looking forward, the market is expected to grow at a CAGR of around 9.8% during 2021-2026.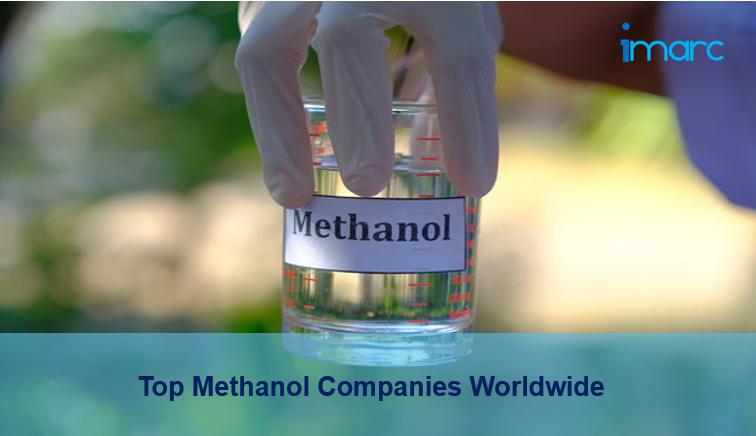 Request Free Sample Report: https://www.imarcgroup.com/methanol-technical-material-market-report/requestsample
Top Methanol Companies in the World:
Methanex Corporation
Establishment: 1968
Headquarter: Canada
Website: https://www.methanex.com
Methanex Corporation is one of the leading suppliers, distributors, and marketers of methanol and petrochemical products worldwide, including North America, Europe, Asia Pacific, and South America. The company's methanol is used to make an array of consumer and industrial products, such as windshield washer fluid, paint, silicone sealants, plywood floors, and synthetic fibers. Apart from this, Methanex owns and manages a fleet of methanol plants in New Zealand, Geismar, Titan, Chile, and Egypt.
LyondellBasell Industries Holdings B.V.
Establishment: 2007
Headquarter: Netherlands
Website: https://www.lyondellbasell.com
LyondellBasell Industries Holdings B.V. is a producer and a distributor of polypropylene and advanced polyolefin products. It also produces propylene, ethylene, polyolefins, and oxyfuels. The company operates in six segments, namely Olefins and Polyolefins-Americas (O&P-Americas), Intermediates and Derivatives (I&D), Olefins and Polyolefins-Europe, Asia, International (O&P-EAI), Refining and Technology, and Advanced Polymer Solutions (APS). Through extensive research and development (R&D), LyondellBasell engineers innovative materials that are key to advancing modern challenges, such as food safety and access, clean water, fuel efficiency, quality healthcare, and sustainable living. Apart from this, the organization sells its product worldwide and is the largest licensor of polyolefin technologies.
Methanol Holdings (Trinidad) Ltd
Establishment: 1997
Headquarter: Trinidad and Tobago
Website: https://www.proman.org
Methanol Holdings (Trinidad) Ltd., a part of Proman Company and completely owned by Consolidated Energy Limited, is engaged in the production, sales, and distribution of methanol, fertilizer, and other natural gas-derived products. It owns five methanol plants and an ammonia, urea ammonium nitrate, and melamine (AUM) complex comprising of seven other individual plants. Methanol Holdings offers a fully integrated approach, which encompasses the entire value chain, from development to operations and logistics.
BASF
Establishment: 1865
Headquarter: Germany
Website: https://www.basf.com
BASF is a Germany-based multinational chemical company offering chemicals, plastics, crop protection, performance-enhancing, and oil and gas products to various industrial verticals, such as construction, coatings, automotive, and health and nutrition. The company's product portfolio is organized into Chemicals, Materials, Industrial Solutions, Surface Technologies, Nutrition and Care, and Agricultural Solutions. BASF has joint ventures in more than 80 countries and operates six integrated production sites across Europe, Asia, Australia, and Africa.
SABIC
Establishment: 1976
Headquarter: Saudi Arabia
Website: https://www.sabic.com
Saudi Basic Industries Corporation (SABIC) is a subsidiary of the Saudi-owned petroleum and gas company Saudi Aramco, is one of the leading leaders in diversified chemicals. Petrochemicals and Specialties, Agri-nutrients, and Hadeed are the primary business segments of the company. An active producer of petrochemicals, chemicals, industrial polymers, fertilizers, and metals, some other products offered by the company includes high-performance plastics, methanol, ethylene, benzene, xylene, industrial gases, thermoplastic resins, melamine, urea fertilizers, and flat hot and cold rolled steel products. SABIC markets its goods worldwide, including America, Europe, Middle East, and Asia Pacific regions.
Mitsubishi Gas Chemical Company
Establishment: 1951
Headquarter: Japan
Website: https://in.mitsubishielectric.com
Mitsubishi Gas Chemical Company primarily produces chemical products and engineered materials. It operates through the natural gas-related chemicals, aromatic-related chemicals, functional chemicals, specialty functional materials, and real estate business units. The natural gas chemicals segment produces methanol, ammonia, and their derivates, whereas the aromatics chemicals division makes xylenes and nylon products that are used in the manufacturing of coatings, plastics, and adhesives. On the other hand, the specialty chemicals unit manufactures hydrogen peroxide and plastic resins. Through its other two segments, Mitsubishi produces materials, such as circuit boards and plastics, for electronics industry.
Metafrax Chemicals
Establishment: 1955
Headquarter: Russia
Website: https://metafrax.ru
Metafrax Chemicals produces methanol-derived products. Its diverse product portfolio includes formalin technical, urotropine, pentaerythritol technical, urea formaldehyde resins, technical pentaerythritol filtrate, and urea-formaldehyde concentrate. These chemicals and feedstock are used in the production of synthetic resins and adhesives, plastics, paints, insulation materials, tanning agents, disinfectants, and organic synthesis processes. Other than this, TD Metafrax OOO and Karbolit OOO are its two main subsidiaries.
Yanzhou Coal Mining Company
Establishment: 1997
Headquarter: China
Website: http://www.yanzhoucoal.com.cn
Yanzhou Coal Mining Company, partially owned by Yankuang Group and Shandong Energy Group Company Limited, is a China-based coal mining company. The company is organized into three operating divisions, namely coal mining, coal railway transportation, and methanol and electrical power. It is engaged in underground mining coal preparation and sales and railway transportation service of coal. Yanzhou also produces coal chemicals, such as liquid wax, methanol, stable light hydrocarbon, acetic acid, thermal, and cooking coal, for electric power, metallurgy, and chemical industries. Apart from this, the organization manufactures, installs, repairs, and sells coal mining and excavation equipment in Japan, South Korea, and Australia. Some of the company's subsidiaries include Auster Coal Mine Lty, Limited., Yancoal Australia Pty, Limited., Shandong Yanmei Shipping Co., Ltd., Yanzhou Coal Yulin Power Chemical Co., Ltd., and Shanxi Neng Hua.
Petroliam Nasional Berhad (PETRONAS)
Establishment: 1974
Headquarter: Malaysia
Website: https://www.petronas.com
PETRONAS is an oil and gas company that is wholly owned by the Government of Malaysia. It is focused on providing sustainable energy solutions through the exploration, development, and production of cleaner conventional and renewable resources, such as crude oil and natural gas. The company has diversified its business operations into marketing, logistics, and property development. Besides this, PETRONAS has over 100 subsidiaries, with some of the prominent ones being PETRONAS Chemicals Group Berhad, PETRONAS Dagangan Berhad, PETRONAS Gas Berhad, MISC Berhad for Logistics and Maritime, and KLCC Property Holdings Berhad.
Celanese Corporation
Establishment: 1918
Headquarter: United States
Website: https://www.celanese.com
Celanese Corporation (CE) is a technology and specialty materials company that manufactures and sells high performance engineered polymers globally. It operates through Engineered Materials, Acetate Tow, and Acetyl Chain segments. The company makes and supplies acetyl products, including anhydride, acetic acid, and acetate esters thar are used as raw materials for paints, colorants, adhesives, coatings, and pharmaceutical applications. CE's other business involvement includes processing chemical raw materials, such as carbon monoxide, methanol, ethylene, and other natural products, into thermoplastic polymers and diverse chemical-based products. The enterprise serves these products to various industry verticals through the Celcon and Hostaform, GUR, Celanex, Ecomid, Nylfor, and Frianyl brands.
About IMARC Group: IMARC Group is a leading market research and consulting company that offers management strategy and market research worldwide. The company has done multiple projects on the methanol market and regional North America, which has enabled clients to set up and expand their businesses successfully.
Some of the company's offerings include:
Market Research
Plant setup
Plant Expansion
Marketing and sales
Procurement and Distribution
Innovation and Product Development