Market Overview:
The North America castor oil market reached a volume of 60,388 Tons in 2019. Looking forward, IMARC Group expects the market to reach a volume of 69,622 Tons by 2025, registering a CAGR of 2.4% during 2020-2025. Keeping in mind the uncertainties of COVID-19, we are continuously tracking and evaluating the direct as well as the indirect influence of the pandemic on different end-use industries. These insights are included in the report as a major market contributor.
Castor oil refers to a thick, pale-yellow colored vegetable oil which is extracted from castor beans that are grown in arid/semi-arid regions. As compared to other vegetable oils, castor oil exhibits high hydroxyl value and is available for consumption in both crude and refined hydrogenated forms. Owing to numerous benefits, it is utilized in the production of pharmaceuticals, soaps, surface coatings, cosmetics, perfumes and toiletries.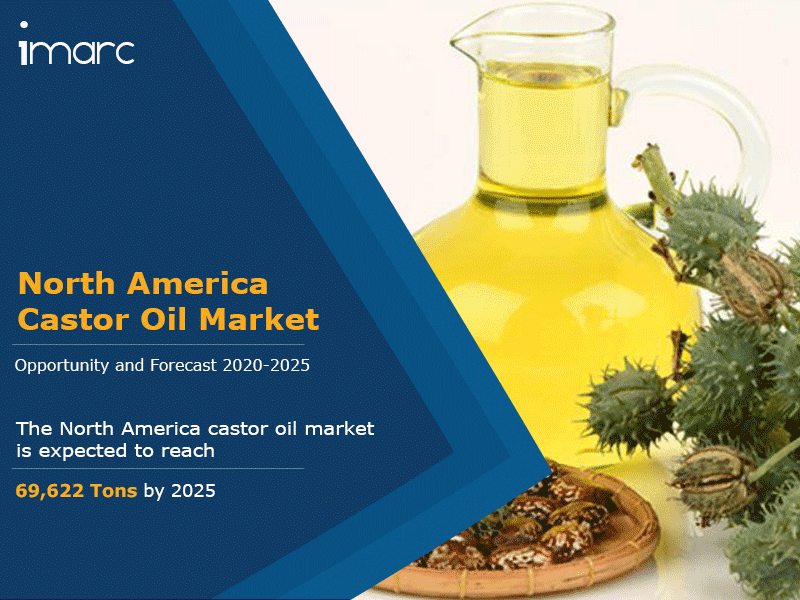 One of the primary factors that are impelling the growth of the market in North America is therapeutic benefits provided by the castor oil. It offers antibacterial and anti-inflammatory properties that aid in relieving sore muscles, arthritic joints and nerve inflammations. Apart from this, aging population, rising healthcare expenditures and increasing focus on healthy and active lifestyles are also boosting the sales of castor oil in the region. Further, the demand for castor oil is rising as it plays a pivotal role in the production of biodiesel, which eliminates the usage of petrochemicals in the region.
Report Scope:
North America Castor Oil Market

Key Regions Analyzed
Analysis for Each Country
Market by End-Use

Pharmaceuticals
Lubricants
Paints
Soaps
Others

Value Chain Analysis
Key Drivers and Challenges
Porters Five Forces Analysis
PESTEL Analysis
Government Regulations
Competitive Landscape

Competitive Structure
Key Player Profiles

Key Questions Answered in This Report:
How has the North America castor oil market performed so far and how will it perform in the coming years?
What are the key regions in the North America castor oil market?
What is the breakup of the North America castor oil market on the basis of end-use?
What are the various stages in the value chain of the North America castor oil industry?
What are the key driving factors and challenges in the North America castor oil industry?
What is the structure of the North America castor oil industry and who are the key players?
What is the degree of competition in the North America castor oil industry?
What are the profit margins in the North America castor oil industry?

Report Coverage:
Base Year Considered: 2019
Historical Data Coverage: 2014-2019
Market Forecast: 2020-2025
Currency: US$
Geography Covered: North America, United States and Canada
Segments Covered: End-Use

IMARC Group's latest report provides a deep insight into the North America castor oil market covering all its essential aspects. This ranges from macro overview of the market to micro details of the industry performance, recent trends, key market drivers and challenges, SWOT analysis, Porter's five forces analysis, value chain analysis, etc. This report is a must-read for industry players, investors, researchers, consultants, business strategists, and all those who have any kind of stake or are planning to foray into the North America castor oil market in any manner.
Report Customization: Although IMARC has tried to cover everything in the North America castor oil market landscape, we believe that every stakeholder may have their own specific needs. In view of this, we provide up to 20-man hours of free customization for each report.