Onion powder is a processed form of dehydrated onion that can add the same flavor as fresh onions in a convenient manner. As a flavoring agent, onion powder is currently being used in a number of food and non-food products like- snacks, sauces, salads, soups, gravies, appetizers, seafood, meats, etc. Although, it is slightly less pungent than fresh onions, even its little amount can replace the chopping of a whole medium-sized onion. Thus, it is quite easier to handle compared to fresh onions and saves a lot of time while cooking as no chopping is required. Onion powder is also easier to pack and unlike fresh onions does not require refrigerated storage.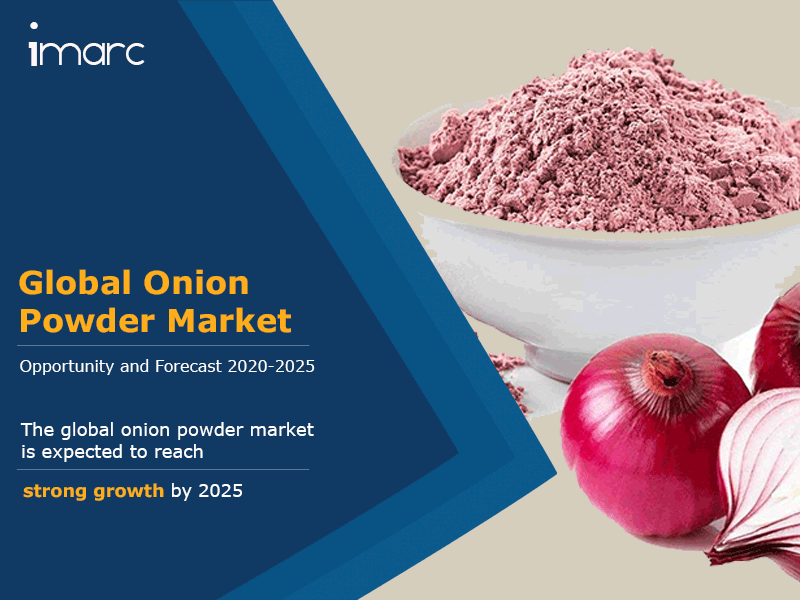 Manufactured by dehydrating fresh onions, onion powder has become a product of choice not only among urban households but also in the global food processing industry. Dehydration reduces the water content of fresh onions without impairing their nutrient content and thus offers a standard quality hygienic product. After dehydration, the dehydrated onion flakes can be crushed and finely grounded to form onion powder. As onions are seasonal and cannot be stored under ordinary conditions, dehydration has become an effective and economical technique for preserving them during seasons of abundance and using them during off seasons. The global onion powder market is currently much smaller than the global onion market but is witnessing a healthy growth rate of 5-6% annually.
IMARC's latest study "Onion Powder Market: Global Industry Trends, Share, Size, Growth, Opportunity and Forecast 2020-2025" provides a detailed insight into the global onion powder market. This ranges from macro overview of the market to micro details of the industry performance, recent trends, key market drivers and challenges, SWOT analysis, Porter's five forces analysis, value chain analysis, etc. The report also provides a comprehensive analysis for setting up a onion powder manufacturing plant. The study analyses the processing and manufacturing requirements, project cost, project funding, project economics, expected returns on investment, profit margins, etc. This report is a must-read for entrepreneurs, investors, researchers, consultants, business strategists, and all those who have any kind of stake or are planning to foray into the onion powder industry in any manner.
Breakup by Product Type:
Breakup by Packaging Type:
Pouches
Cans
Aseptic Cartons
Others
Breakup by Distribution Channel:
Speciality Stores
Supermarkets/Hypermarkets
Convenience Stores
Online Retailers
Others
Breakup by End User:
Home Users
Institutional Users
Breakup by Country:
China
India
United States
Japan
South Korea
Turkey
Iran
Pakistan
Egypt
Others
Key Questions Answered in This Report:
How has the global onion powder market performed so far and how will it perform in the coming years?
What are the key regional markets?
What is the breakup of the market based on the product type?
What is the breakup of the market based on the packaging type?
What is the breakup of the market based on the distribution channel?
What is the breakup of the market based on the end user?
What are the price trends of onion powder?
What are the various stages in the value chain of the industry?
What are the key driving factors and challenges in the market?