Market Overview:
The global plywood market reached a value of US$ 46.5 Billion in 2020. Looking forward, IMARC Group expects the market to exhibit moderate growth during 2021-2026. Keeping in mind the uncertainties of COVID-19, we are continuously tracking and evaluating the direct as well as the indirect influence of the pandemic on different end-use sectors. These insights are included in the report as a major market contributor.
Plywood is a type of manufacturing board, made from thin layers of wood veneers, which are glued together at right angles. A thin outer layer of additional materials like plastic, resin-impregnated paper, fabric or Formica can be added to the face and back veneers to improve the durability. These components also prevent the plywood from moisture, abrasion and corrosion, as well as facilitate better binding of paints and dyes. Nowadays, different types of plywood are available in the market, which are designed with low toxicity, and enhanced durability, aesthetics and environmental sustainability.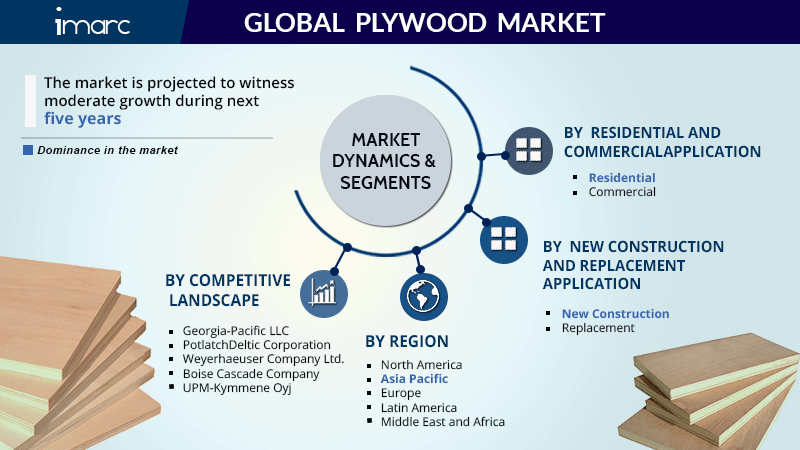 Plywood has high structural strength, flexibility, and resistance against chemicals and fire; and provides insulation against sound and excessive heating. As a result of these properties, it is used in various industries ranging from construction to aircraft to marine. In the construction industry, it is used in the manufacturing of doors, stairs, external cladding, flooring, framing, interior rails and balustrades, internal paneling and timber joinery products. On the other hand, plywood in the marine industry withstands occasional exposure to seawater without decaying or deteriorating. It is utilized in the manufacturing of stringers, floor, transom, boat cabinetry, walls, seating, and other interior fixtures. Besides this, technological advancements by the leading companies have not only reduced manufacturing costs and increased profitability but also enhanced the quality of plywood products. Moreover, the go-green strategy adopted by plywood manufacturers acts as another significant factor which is bolstering the growth of the market.
Key Market Segmentation:
IMARC Group provides an analysis of the key trends in each sub-segment of the global plywood market report, along with forecasts for growth at the global, regional and country level from 2021-2026. Our report has categorized the market based on region and application.
Breakup by Application:
The residential sector currently represents the largest application segment, accounting for the majority of the total global market.
New Construction
Replacement
At present, the new construction segment exhibits a clear dominance in the market due to a rise in infrastructural and housing projects across the globe.
Regional Insights:
Asia Pacific
North America
Europe
Middle East and Africa
Latin America
On the geographical front, Asia Pacific enjoys the leading position in the market.
Competitive Landscape:
The competitive landscape of the market is characterized by the presence of numerous small and large manufacturers. Some of the leading players are:
Georgia-Pacific LLC
PotlatchDeltic Corporation
Weyerhaeuser Company Ltd.
Boise Cascade Company
UPM-Kymmene Oyj
SVEZA Forest Ltd.
Metsä Wood (Metsäliitto Cooperative)
Latvijas Finieris AS
Austral Plywoods Pty Ltd.
Eksons Corporation Berhad (BHD)
Key Questions Answered in This Report: