The global sanitary napkin market size reached a value of US$ 24.04 Billion in 2021. The market to reach US$ 32.8 Billion by 2027, exhibiting a CAGR of 4.92% during 2022-2027. As per the analysis by IMARC Group, the leading sanitary napkin companies are increasingly focusing on product diversification and developing super-absorbent fiber technology to expand their consumer-base. For instance, market players are launching napkins with wings and fragrances while minimizing the pad thickness. They are also inventing non-chlorine bleached party-liners with a higher capacity to absorb odor and provide lesser hazardous impact on vaginal skin than regular panty liners. To further improve the absorbency of the sanitary pads, they have introduced a phase inversion desiccation technique in acetone, which increases the retention and swelling kinetics due to the capillary effect. Moreover, several leading organizations are also emphasizing on developing more sustainable products by choosing raw materials with a low carbon footprint. In recent years, manufacturers have replaced cotton fillers by flax spinning waste to be used as an absorbent core of sanitary pads since they are more affordable, highly absorbent and have natural cellulosic composition.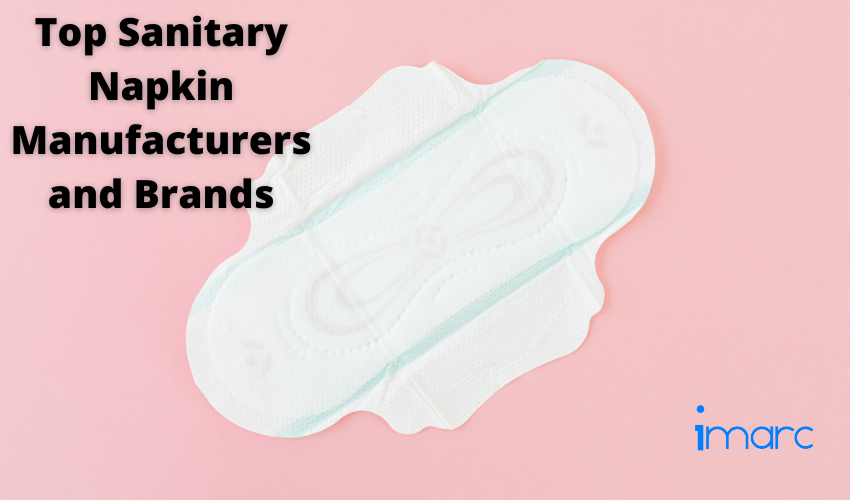 Request Free Sample Report: https://www.imarcgroup.com/sanitary-napkin-market/requestsample
Top Manufacturers, Companies and Brands in the Sanitary Napkin Industry:
Procter & Gamble Company (P&G)
Establishment: 1837
Headquarter: Cincinnati, United States
Website: https://us.pg.com
The Procter & Gamble Company (P&G) was founded over 180 years ago as a pure soap and candle company. Today, it is the world's largest consumer goods company and is home to iconic trusted brands. The company has divided its business into five global segments that comprise its vast portfolio of hair, skin and personal, oral, family, feminine, and baby care product lines. About two dozen brands of P&G are billion-dollar sellers, including Always, Braun, Crest, Fusion, Gillette, Head & Shoulders, Mach3, Olay, Oral-B, Pantene, Bounty, Charmin, Dawn, Downy, Gain, Pampers, and Tide. Some of the other major brands include Febreze, Mr. Clean, Old Spice, and Swiffer.
Johnson & Johnson
Establishment: 1886
Headquarter: New Brunswick, United States
Website: https://www.jnj.com/
Johnson & Johnson is one of the world's largest and most broadly-based healthcare company. It strives to improve access and affordability, create healthier communities, and put a healthy mind, body and environment within reach of everyone, everywhere. As pioneers in medical devices, Johnson & Johnson is focusing on elevating the standard of care, expanding patient access, improving outcomes, reducing health system costs and driving value. The company operates through three business segments, namely, consumer, pharmaceutical and medical devices and markets a broad portfolio of products throughout the world. The diversified health care giant operates in these three segments through more than 250 operating companies located in some 60 countries.
Unicharm Corporation
Establishment: 1961
Headquarter: Japan
Website: www.unicharm.com
Unicharm is one of the leading manufacturers of personal care products in the disposable diaper, feminine hygiene, and adult incontinence markets. The company's other product divisions include feminine, health, pet care, food packaging and household cleaning products. In early 2007, the company began manufacturing sanitary napkins in Saudi Arabia and Vietnam. Later, Unicharm expanded globally across Japan, Asia and worldwide, intending to become a leading company in the absorbent products industry. From its plant in Saudi Arabia, the manufacturers of the sanitary goods sell products in 18 countries in the Middle East and North Africa. In Saudi Arabia itself, Unicharm is gaining on rival Procter & Gamble, which controls 50% of the market vs. Unicharm's 30%.
Kimberly-Clark Corporation
Establishment: 1872
Headquarter: Texas, United States
Website: https://www.kimberly-clark.com/
Kimberly-Clark is one of the world's largest makers of personal care products, which operates through three business segments including personal care, consumer tissue, and K-C Professional. Amongst these, personal care is the largest unit, focussing on developing products like diapers (Huggies, Pull-Ups), feminine care items (Kotex), and incontinence care products (Poise, Depend). Through its consumer tissue segment, the manufacturers offer facial and bathroom tissues, paper towels, and other household items under the brand names Cottonelle, Kleenex, Viva, and Scott. Apart from this, K-C Professional (KCP) partners with businesses and provides supporting products such as wipers, tissue, towels, apparel, soaps and sanitizers sold under the Kleenex, Scott, WypAll, Kimtech, and Jackson Safety brands.
About IMARC Group: IMARC Group is a leading market research and consulting company that offers management strategy and market research worldwide. The company has done multiple projects on the sanitary napkin industry and regional United States, Europe, GCC, Latin America, India, North America, which has enabled clients to set up and expand their businesses successfully.
Market Research
Plant setup
Plant Expansion
Marketing and sales
Procurement and Distribution
Innovation and Product Development