Market Overview:
The Taiwan semiconductor materials market is currently witnessing moderate growth. A semiconductor material has a conductivity bandwidth between conductors and insulators. It can conduct electricity when exposed to heat, light or voltage posts. At present, it finds extensive applications in the manufacturing of electronic components, such as transistors, diodes, and integrated chips across Taiwan.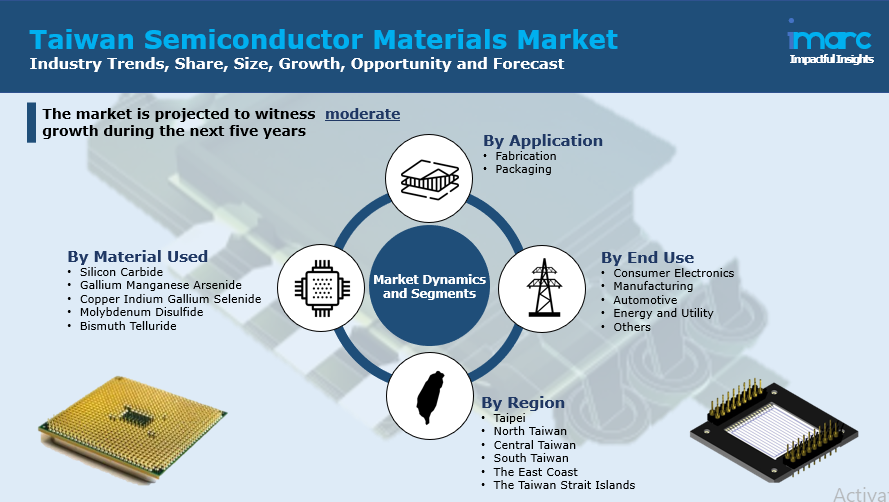 The leading players operating in Taiwan are focusing on the production of chip designing, fabrication from wafer, packaging, and testing. They are also investing significantly in research and development (R&D) activities to provide robust hardware and software integration. This, in confluence with technological advancements and the establishment of new markets, is positively influencing the semiconductor materials market growth in the country. Apart from this, the increasing health consciousness among individuals has boosted the sales of smart bands, which, in turn, is driving the market. However, due to the sudden outbreak of the coronavirus disease (COVID-19), governing agencies in the country have imposed restrictions, which temporarily disrupted the supply chains and operations of various manufacturing firms. This negatively affected the market growth but is anticipated to recover in the upcoming years. Looking forward, the market is expected to continue its moderate growth during the forecast period (2021-2026).
Key Market Segmentation:
IMARC Group provides an analysis of the key trends in each sub-segment of the Taiwan semiconductor materials market report, along with forecasts for growth at the region level from 2021-2026. Our report has categorized the market based on region, material, application and end use industry.
Breakup by Material:
Silicon Carbide
Gallium Manganese Arsenide
Copper Indium Gallium Selenide
Molybdenum Disulfide
Bismuth Telluride

Breakup by Application:
Fabrication

Silicon Wafers
Electronic Gases
Photomasks
Photoresist ancillaries
CMP Materials
Photoresists
Wet chemicals
Others

Packaging

Leadframes
Organic Substrates
Ceramic Packages
Encapsulation Resins
Bonding Wires
Die-Attach Materials
Others

Breakup by End Use Industry:
Consumer Electronics
Manufacturing
Automotive
Energy and Utility
Others

Breakup by Region:
Taipei
North Taiwan
Central Taiwan
South Taiwan
The East Coast
The Taiwan Strait Islands

Competitive Landscape:
The competitive landscape of the industry has also been examined along with the profiles of the key players.
Key Questions Answered in This Report:
How has the Taiwan semiconductor materials market performed so far and how will it perform in the coming years?
What has been the impact of COVID-19 on the Taiwan semiconductor materials market?
What are the key regional markets?
What is the breakup of the market based on the material?
What is the breakup of the market based on the application?
What is the breakup of the market based on the end use industry?
What are the various stages in the value chain of the industry?
What are the key driving factors and challenges in the industry?
What is the structure of the Taiwan semiconductor materials market and who are the key players?
What is the degree of competition in the industry?