Salmon, or Salmoniformes, is an anadromous, saltwater fish native to the northern Atlantic and Pacific oceans. There are different species of salmon, including Atlantic salmon, coho, sockeye, chinook, silverbite, red and pink salmon. Amongst these, Atlantic salmon, also known as 'King of Fish', has black spots on their sides and are directly affected by the health of their ecosystem. The global salmon market reached a volume of 3.33 Million Tons in 2021. Looking forward, IMARC Group expects the market to reach 4.17 Million Tons by 2027, exhibiting a CAGR of 3.77% during 2022-2027. At present, the competitive structure of the salmon market is fragmented in nature, with the presence of numerous small and large manufacturers operating in the market.
Salmon offers various nutrients, such as calcium, iodine, vitamin D, vitamin B3, zinc, protein and omega-3s. The consumption of salmon is associated with several health benefits such as weight management, relieving eye fatigue, reduced risk of cardiovascular diseases, lowered blood pressure, and improved bone and brain health.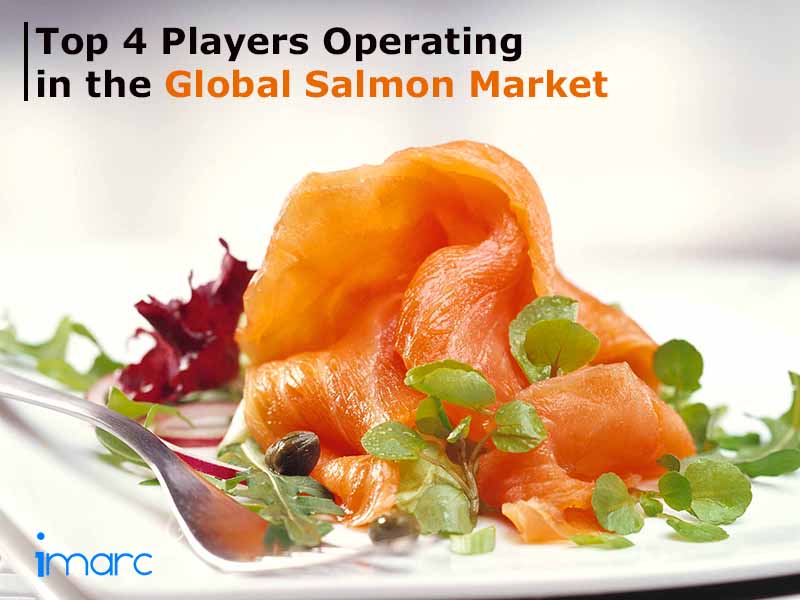 Download your Global Salmon Market Report Sample for FREE!: https://www.imarcgroup.com/salmon-market/requestsample
Largest Salmon Companies in the World:

Mowi ASA
Mowi ASA is a seafood company that operates in Scotland, Canada, Chile, Ireland and the Faroes Islands. It was established in the mid-1960s with its first stocking of salmon smolt in seawater during the late-1960s. Mowi is primarily involved in feed production, farming and primary processing of salmon, and seafood secondary seafood processing activities. It offers whitefish and whole gutted fish, which include organic salmon and Label Rouge. Other than this, the company also sells a range of value-added products, such as steaks, cutlets, portions, loins and kebabs; and breaded, pre-fried, dusted, marinated fish.
In July 2018, Mowi Kristen's smoked salmon processing plant, located in Landivisiau, France, suffered an accidental fire. To replace the damaged site, the company decided to build a highly modern and automated smokehouse at the same location. The construction is set to begin at the end of 2019 with the production starting from 2021. The production volume is expected to reach from 2,000 tons per year in January 2021 to 3,000 tons in January 2022, with the retention of 166 employment jobs.
Cermaq
Cermaq operates from Chile, Norway and Canada, with sale offices situated in the US, France and Japan. The company primarily offers Atlantic salmon, trout and coho. Its product portfolio includes on-growing and breeding, processing, harvesting, distribution, and sale of salmonid species. Along with this, it offers logistics services to players based in Norway; and raw material for fish and animal feed production. Cermaq was founded in the mid-1990s and is now a wholly-owned subsidiary of Mitsubishi Corporation. Recently, the company established its brand platform, called True Arctic Salmon, to closely cooperate with its customers and, in turn, support communications and marketing.
Leroy Seafood Group
Leroy Seafood Group (LSG), a seafood corporation, was founded in the late-1890s. It mainly deals with the catches of whitefish, production of trout and salmon, processing, marketing, product development, distribution and sale of seafood. The packaging and production plants of Leroy Seafood Group are located in Sweden, Finland, the Netherlands, Spain, Norway, Denmark, France, Portugal and Turkey. In the first quarter of 2019, LSG reported a lower revenue of NOK 4,746 Million, compared to the NOK 5,000 Million in the first quarter of 2018. The decrease in operating profit is due to low harvest volume for trout and salmon in Q1 2019.
In Jan 2019, the company suffered a loss of approximately 2.6 million young fish after a fire accident at its salmon hatchery located in Northern Norway. The stock lost was due to be released in April 2019 and weighed nearly 50 to 60 grams each.
SalMar
SalMar is a fish farm company that was established in the early-1990s and, currently owns around 100 licenses related to the marine production of Atlantic Salmon. The product portfolio of the company ranges from roe/broodfish to finished products. It supplies farmed salmon in the US, Norway, Asia, Canada and the rest of Europe. SalMar sells its products to processing companies, retail chains, and importers and exporters through partners or in-house sales force. In Q1 2019, the company's gross operating revenues were NOK 3.0 Billion, increased from NOK 2.5 Billion in Q1 2018.
In April 2019, SalMar completed the acquisition of Arnarlax, the largest farmer and producer of salmon based in Iceland. The company already owned more than 41% of Arnarlax's shares and recently received acceptance to extend the ownership to over 54%. With this agreement, SalMar expects to harvest 155,000 tons of salmon in 2019, with 10,000 tons from Arnarlax, 30,000 tons from its Scottish sea farms and 145,000 tons from the Norwegian segments.
About IMARC Group: IMARC Group is a leading market research and consulting company that offers management strategy and market research worldwide. The company has done multiple projects on the global salmon industry and regional United States, Europe, Latin America, North America, which has enabled clients to set up and expand their businesses successfully.
Market Research
Plant setup
Plant Expansion
Marketing and sales
Procurement and Distribution
Innovation and Product Development