The Indian handicrafts market reached US$ 3,968.0 Million in 2022. As per the analysis by IMARC Group, the top handicrafts companies in India are heavily investing in developing aggressive marketing strategies and promotional campaigns in an attempt to strengthen their market position. Moreover, continual support received by the government of India for handicraft manufacturing through several initiatives and schemes is creating a positive market outlook. For instance, the introduction of the Marketing Support and Services Scheme for funding key manufacturers and sellers to participate in trade fairs across the country and worldwide, as well as providing interventions for domestic marketing events, is anticipated to favorably impact the market.
Continuous improvements in the e-commerce infrastructure and the advent of online delivery models have further encouraged leading players to showcase and sell their products using online platforms. Additionally, the penetration of high-speed internet connectivity across the country and the rising adoption of smartphones and social media among the masses are acting as major growth-inducing factors. Other factors, including the shifting lifestyle preferences of the masses, the increasing demand for handmade decor items, and the inflating disposable income levels of individuals, are also impelling major companies to launch premium quality handicrafts products in the market, thereby favoring the market growth. On account of these factors, the market is expected to reach US$ 6,218.4 Million by 2028, exhibiting a growth rate (CAGR) of 7.7% during 2023-2028.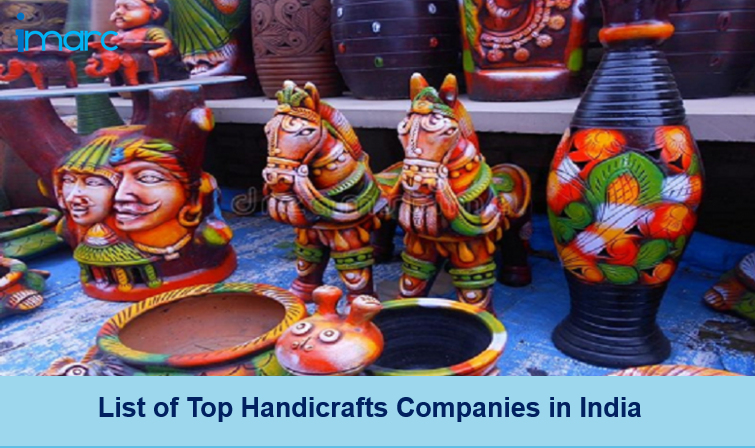 Request Free Sample Report: https://www.imarcgroup.com/india-handicrafts-market/requestsample
Top Handicraft Companies in India:
Asha Handicraft Association
Establishment: 1975
Headquarter: Thane, Maharashtra
Website: https://ashahandicrafts.in/
Asha Handicraft Association is an organization that provides marketing support to Indian artisans in the global market for preserving the art and craft of India. The company has partnered with fair trade importers for selling its wide range of handicrafts products worldwide. Its product offerings include lifestyle accessories, home décor, office stationery, corporate gifts, and toys and games. These products are generally manufactured using wood, textile, and ceramic that reflect the authentic design, style, and colors of the rich Indian heritage. Along with this, it is further involved in regular capacity building and training workshops for improving the skills of artisan communities.
Craft Maestros
Establishment: 2018
Headquarters: Gurugram, Haryana
Website: https://www.craftmaestros.com/
Craft Maestros is primarily involved in selling handlooms and handicrafts designed by highly recognized master artisans, including Padmashree awardees, shilp gurus, and national award winners. It generally offers beaded Jewellery, aari embroidery, bone carving, bone inlay on wood, decorative accents, stationeries, Madhubani painting, thewa, stone art, kilim rugs, and shawls and wraps. The company offers authentic and premium quality products through the company's website across the globe. Along with this, it has also partnered with Teamwork Art, a Delhi-based event management company, to launch an e-commerce platform named Earth Fables for Indian artisans for showcasing their creativity.
Development Commissioner (Handicrafts)
Establishment: 1975
Headquarters: New Delhi
Website: http://www.handicrafts.nic.in/
Development Commissioner (Handicrafts) is a government agency that functions under the administrative control of the Ministry of Textiles, Government of India. The agency is majorly involved in the promotion, development, and export of Indian handicrafts that are manufactured by cluster artisans from across the country. It also provides technical and financial assistance to craftsmen to solve their economic and social problems while uplifting the handicraft sector across India. It has established several field units and regional offices that are situated in Kolkata, Mumbai, Chennai, Lucknow, New Delhi, and Guwahati.
Gaatha Handicrafts Private Limited
Establishment: 2009
Headquarters: Ahmedabad, Gujarat
Website: https://gaatha.com/
Gaatha Handicrafts Private Limited is a non-government company that is majorly involved in the selling of handcrafted products. The products range includes printed chanderi and maheshwari saree, clay dolls, handmade photo frames, moonj grass baskets, wall hanging and fans, leather puppets, and kalamkari durri, which are sold via the company's website. Additionally, the company is also involved in research and archive activities, assisting artisans in creating modern-day relevant designs, and providing elementary training for pricing, packaging, basic banking, and local shipping. Along with this, it also participates in co-creation projects, wherein the company hosts co-creation sessions for craftsmen across the country.
Ramnarayan Blue Art Pottery
Establishment: 1980
Headquarters: Jaipur, Rajasthan
Ramnarayan Blue Art Pottery is an organization established for craftsmen mainly belonging to scheduled castes (SC) and scheduled tribes (ST). The company is generally involved in selling supreme quality inexpensive home décor items, including bowls, trays, planters, and hanging plates. Its products are manufactured using the technique of blue pottery, which is a traditional craft of Rajasthan. The products do not include clay; it is rather produced from quartz, multani mitti, gum, and water that are later colored with blue dye. The company markets its products via online platforms in India and exports to New York, Canada, California, and the Netherlands.
Sasha
Establishment: 1978
Headquarters: Kolkata, West Bengal
Website: https://sashaworld.com/
Sasha is a fair trade organization that is majorly engaged in providing domestic and international market access, design, and technical support to small craft producers and artisan enterprises of India. The company operates two organizations named Sarba Shanti Ayog (SSA) and Sasha Association of Craft Producers (SACP) that work for the well-being of craftsmen communities. Its product portfolios are categorized under festive gifts, bath and wellness, home and living, and fashion. The products are distributed internationally through the company's website across the United States, the United Kingdom, Austria, France, Italy, Japan, and New Zealand. It also sells its products through fair trade shops, which are situated in Delhi and Kolkata.
S. Sundaravadivel and Company
Establishment: 1964
Headquarters: Kumbakonam, Tamil Nadu
Website: http://southindianhandicrafts.co.in/
S. Sundaravadivel and Company is a pioneer in the manufacturing and export of a wide range of handicrafts items that are produced using pure silver, gold, copper, bronze, and brass. Its products include moolavar statues, wooden vahanam, temple jewelries, traditional brass ornamental lamps, pooja items, and paintings for the temple and home pooja purposes. Along with this, the company is also engaged in customized manufacturing of handicrafts products for temples, offices, and hotels. The company's manufacturing facility and business operations are situated in a prominent location in Kumbakonam Ho. It is also involved in the wholesale selling of glass articles, hotel and bars wares, and cutleries.
The India Craft House
Establishment: 2013
Headquarters: Gurgaon, Haryana
Website: https://theindiacrafthouse.com/
The India Craft House is a social enterprise that is majorly engaged in creating a platform and supporting Indian artisans. The company follows an inventory-based model, wherein it buys products directly from craftsmen rather than functioning as a marketplace. It is involved in alliances and engagements with enterprises, artisans, non-governmental organizations (NGOs), and local craft bodies in an attempt to strengthen its market position and reach a wider audience. Apart from this, the company also provides personalized handicrafts products for corporate gifting, weddings, and decors via its online website across the globe.
Tjori
Establishment: 2013
Headquarter: Delhi
Website: https://www.tjori.com/
Tjori is a clothing brand that is primarily involved in manufacturing and selling fusion-based fashion items. The company generally utilizes ethical and authentic raw materials that are sourced directly from weavers. It has collaborated directly with suppliers, manufacturers, craftsmen, and artisans with a vision to improve and preserve the Indian traditional lifestyle. Along with this, the company majorly focuses on introducing sustainable and environment-friendly items. Its products range includes ethnic wear, skin care products, cookware, décor pieces, and living and bedroom products, which the company markets through its website across the globe.
U.P. Handicrafts Development and Marketing Corporations Ltd.
Establishment: 1966
Headquarters: Lucknow, Uttar Pradesh
Website: http://www.uphdmc.in/
U.P. Handicrafts Development and Marketing Corporations Ltd. is a handicraft chamber primarily engaged in the tanning and dressing of leather. Its product range is majorly categorized into metal, wood, leather, carpet, pottery, marble, silk, jewellery, bone, glass beads, patri, block printing, chikankari and zardozi. Its main objective is to promote and sell handicraft items produced by the artisans of Uttar Pradesh. The company generally market its products via its physical retail shop named Gangotri Emporia, which is established in major cities of the country, including Hyderabad, New Delhi, Mumbai, Ahmedabad, Lucknow, Kanpur, Nagpur and Kolkata.
About IMARC Group: IMARC Group is a leading market research and consulting company that offers management strategy and market research worldwide. The company has done multiple projects on the Indian handicrafts market, which has enabled clients to set up and expand their businesses successfully. Some of the company's offerings include:
Market Research?
Plant setup?
Plant Expansion?
Marketing and sales?
Procurement and Distribution?
Innovation and Product Development?