The global mayonnaise market size reached US$ 11.8 Billion in 2021. Mayonnaise is a thick and creamy dressing prepared using egg yolks, oil, vinegar or lemon juice, and various seasonings. It is available in eggless and flavored variants that are widely used as a spread for sandwiches or burgers, dips for snacks, and base for tacos or rolls. It is also utilized as a base for making other sauces, such as tartar sauce and thousand-island salad dressing. Owing to these properties, mayonnaise finds extensive applications in cafes, restaurants, and households.
As per the analysis by IMARC Group, the top mayonnaise companies are introducing egg-less, vegan, low-fat, and organic mayonnaise variants to attract vegan and health-conscious consumers. For instance, in February 2020, Kraft Heinz launched vegan versions of its mayonnaise and salad cream at retail stores in the United Kingdom. Moreover, key players are also producing multiple flavors, including mint, tangy pickle, chipotle, cheese, and tandoori, to cater to the diversified tastes and preferences of an extensive consumer base. Besides this, several leading manufacturers are launching small and affordable packs to compete with the growing competition in the market. Looking forward, IMARC Group expects the market value to reach US$ 15.1 Billion by 2027, expanding at a CAGR of 4.13% during the forecast period (2022-2027).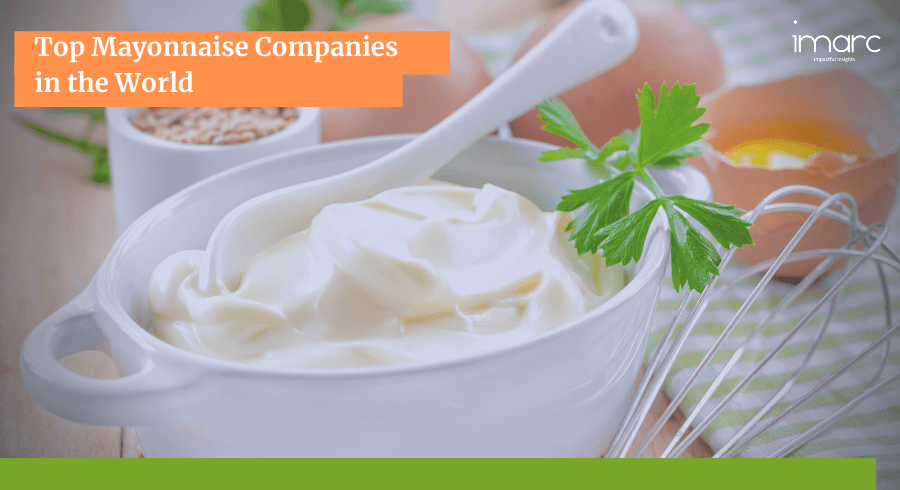 Discover opportunities, challenges, and trends in the global mayonnaise market? Try a free sample
List of Top Mayonnaise Companies Worldwide:
Nestlé SA
Establishment: 1866
Headquarters: Vevey, Switzerland
Website: https://www.nestle.com/
Nestlé SA is a multinational food and drinks processing conglomerate corporation formed by the merger of the Anglo-Swiss Milk Company and Farine Lactée Henri Nestlé, founded by Henri Nestlé. It mainly produces baby food, medical food, bottled water, breakfast cereals, dressings and condiments, coffee and tea, confectionery, dairy products, ice cream, frozen food, pet foods, and snacks. The most famous brands under the company's portfolio are blow:
Nespresso
Nescafé
Kit Kat
Smarties
Nesquik
Stouffer's
Vittel
Maggi
At present, Nestle operates 447 factories across 189 countries employing around 339,000 people.
The Kraft Heinz Company
Establishment: 1869
Headquarters: Pennsylvania, United States
Website: https://www.kraftheinzcompany.com/
Kraft Heinz Company is the third-largest food and beverage company in North America and the fifth-largest company across the globe. It manufactures condiments and sauces, cheese and dairy products, meals, meats, refreshment beverages, coffee, and other grocery products. The company also offers dressings, healthy snacks, spices, and other seasonings. Besides, it owns several iconic brands such as:
Capri Sun
Oscar Meyer
Jell-O
Planters
Ore-lda
Maxwell house
Kool-Aid, Lunchables
Velveeta
The company's major sales come from cheese, condiments, and dairy products, which are extended across 190 countries worldwide.
McCormick and Company, Inc.
Establishment: 1889
Headquarters: Maryland, United States
Website: https://www.mccormickcorporation.com/
McCormick & Company is one of the world's leading spice producers, offering a wide range of spices, seasonings, herbs, sauces, and extracts. It operates under two segments, namely, consumer and flavor solutions. The consumer segment offers spices, herbs, seasonings, condiments and sauces, and desserts. On the other hand, the flavor solutions segment offers seasoning blends, spices and herbs, condiments, coating systems, and compound flavors to multinational food manufacturers and foodservice customers. McCormick also owns various brands such as:
Lawry's
Club House
McCormick
Ethnic Labels Zatarain's
Thai Kitchen
Simply Asia
Ducros and Schwartz
Currently, the company is active across 150 countries in North and Central America, Europe, the Asia/Pacific region, West Africa and South Africa, however, generating around 60% of sales from the United States only.
Ajinomoto Co., Inc.
Establishment: 1925
Headquarters: Tokyo, Japan
Website: https://www.ajinomoto.com/
Ajinomoto Co., Inc. is a multinational food and biotechnology corporation that focuses on foods, bioscience, fine chemicals, and pharmaceuticals. It produces seasonings, cooking oils, frozen foods, beverages, sweeteners, amino acids, pharmaceuticals, and interlayer insulating materials for semiconductor packages for use in personal computers. The company also provides solutions for improved food resources, human health, and global sustainability and is involved in wellness, packaging, logistics, and other services. Presently, the company operates across 20 countries; however, it derives nearly 80 percent of the total revenue in its domestic sphere.

Unilever PLC
Establishment: 1929
Headquarters: London, United Kingdom
Website: https://www.unilever.com/
Unilever PLC is one of the largest consumer goods companies in the world. Its diverse product portfolio includes food, wellbeing vitamins, minerals and supplements, tea, coffee, breakfast cereals, cleaning agents, water purifiers and air purifiers, pet food, toothpaste, beauty products, condiments, ice cream, and personal care. The company also owns over 400 brands, including Hellman's, one of the most popular mayonnaise brands globally. Besides, it operates in over 190 countries and has research and development facilities in China, India, the Netherlands, the United Kingdom, and the United States.
About IMARC Group: IMARC Group is a leading market research and consulting company that offers management strategy and market research worldwide. The company has successfully done multiple projects in the global mayonnaise industry and regional North America, and West Africa, which has enabled clients to set up and expand their businesses. Some of the company's offerings include:
Market Research
Plant setup
Plant Expansion
Marketing and sales
Procurement and Distribution
Innovation and Product Development