Online food delivery refers to the process of ordering food through a webpage or mobile application of a restaurant or food cooperative. The online food portals offer numerous payment gateways like net banking, credit/debit card (contactless payment), online wallets, mobile payment, digital payment, and cash on delivery. These applications and online portals are very convenient for users as they provide them with a vast array of restaurants to choose from. On account of the increasing penetration rate of the internet and lowered average selling prices (ASPs) of smartphones and laptops, the demand for online food delivery is burgeoning across the globe. Additionally, busy schedules, inflating disposable incomes and changing dietary patterns are driving the growth of the market.
According to the latest study by IMARC Group, the global online food delivery market size reached a value of US$ 107.4 Billion in 2020. Looking forward, IMARC Group expects the market to grow at a CAGR of around 11% during 2021-2026. The global online food delivery market is fragmented with several small and large companies currently operating in the market. The top 8 players include: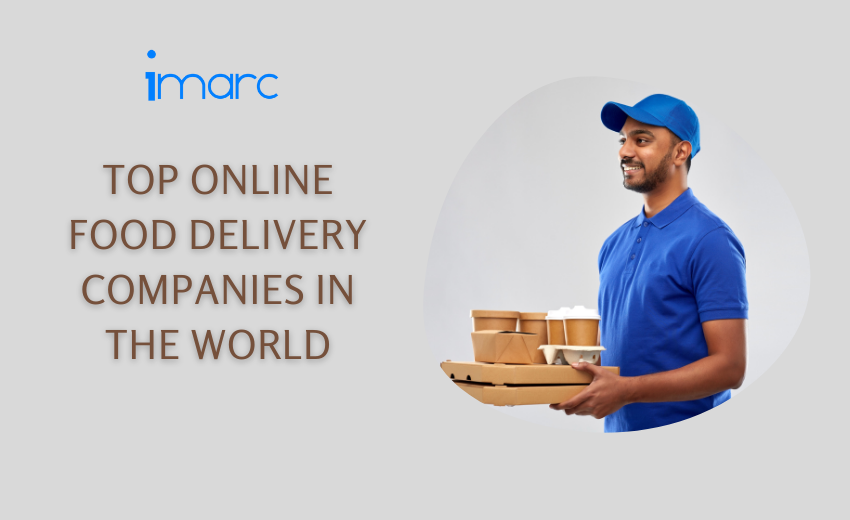 Download your Global Online Food Deliver Market Report Request Sample for Free: https://www.imarcgroup.com/online-food-delivery-market/requestsample
List of Top Online Food Delivery Companies:
Just Eat
Just Eat is a London-based online food ordering and delivering service. Founded in 2001, the company has about 40,000 participating restaurants, a majority of which are situated in the United Kingdom. It operates across 13 countries which include Belgium, Brazil, Canada, Denmark, France, India, Ireland, Italy, the Netherlands, Norway, Spain, Switzerland, and the United Kingdom (UK).
Grubhub
Grubhub Inc., is a Chicago-based online and mobile platform for pick-up and delivery orders. Established in 2013, the company is connected with more than 85,000 local restaurants in the United States (US). It operates in more than 1,600 cities across the region. The company provides delivery services to restaurants that do not have their own delivery operations and also offers a personalized platform to users with information regarding their order and status.
Delivery Hero SE
Delivery Hero SE is an online food ordering and delivery service headquartered in Berlin, Germany. Founded in 2011, the company has more than 290,000 partners with over 19,000 employees. It operates in more than 40 countries across Europe, the Middle East, North Africa, Asia, and the Americas.
RooFoods Ltd. (Deliveroo)
Founded in 2013, Roofoods Ltd. is an online food delivery platform. Based in London, it allows consumers to order food from partner restaurants. It operates under the name Deliveroo and is available in two hundred cities across France, Germany, Belgium, Ireland, Spain, Italy, Australia, Singapore, Hong Kong, Kuwait, Taiwan, the UK, the Netherlands, and the United Arab Emirates (UAE).
Takeaway.com N.V.
Takeaway.com N.V. is a leading food ordering website in continental Europe and Vietnam. Established in the year 2000, it is available for consumers through mobile applications and the website. The company is based in Amsterdam, Netherlands and works across Belgium, Germany, Poland, Austria, Switzerland, Luxembourg, Portugal, Bulgaria, Romania, the Netherlands, and Vietnam.
Foodpanda
Foodpanda is an online food delivery marketplace that was established in 2012. It is headquartered in Berlin, Germany. Users can select from local restaurants and place orders via its mobile application as well as its website. It has partnered with more than 60, 000 restaurants globally and operates in over 40 countries and 500 cities across 5 continents.
ELEME Inc.
ELEME Inc. is an online food delivery service that was founded in 2008. Headquartered in Shanghai, China, the company was acquired by the Alibaba Group in 2018 and it continues to operate independently. This online food ordering platform offers its services across 2000 cities in China and employs more than 15,000 employees.
Meituan Waimai
Meituan Waimai is an online food delivery service located in Beijing, China. Established in the year 2010, it has more than 180 million monthly active users. In 2015, Meituan merged with Dianping to become "Meituan-Dianping", which has now become one of the world's largest online and on-demand food delivery platforms.