The Indian saccharin market size reached a volume of 4,944.3 Metric Tons in 2021. Looking forward, IMARC Group expects the market to reach 5,729.8 Metric Tons by 2027, exhibiting a growth rate (CAGR) of 2.5% during 2022-2027, the leading saccharin companies in India are shifting from hazardous to eco-friendly processes for saccharin production. These technological advancements help in minimizing the adverse effects on both humans and the environment. They are also improving and upgrading the technology systems as well as offering value-added products to sustain the intense competition prevailing in the market. Apart from this, various organizations are taking initiatives to promote the usage of saccharin as an artificial sweetener, which in turn is bolstering the growth of the market in India.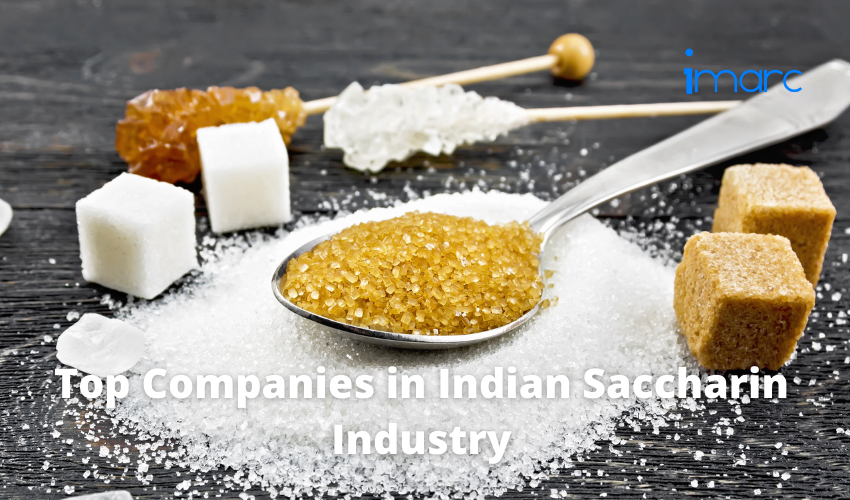 Download your Indian Saccharin Market Report Sample for FREE!: https://www.imarcgroup.com/indian-saccharin-market/requestsample
List of Top Saccharin Companies and Manufacturers in India:
Blue Circle Organics Pvt. Ltd.
Establishment: 1969
Headquarter: Maharashtra
Website: http://www.bluecircle.net.in/
Blue Circle Organics Pvt. Ltd. started its journey with its first facility named Jet Chemicals Pvt. Ltd (JCPL) as a pioneer in manufacturing pharmaceutical excipients (saccharin and its salts) in India. It was established with a vision to provide high-quality intermediates and active pharmaceutical ingredients (APIs) to the global pharma industry. Today, the company is the largest manufacturer and exporter of contrast media intermediates. It is also certified with ISO 9001:2008, ISO 14001:2004, OHSAS 18001:2007, and ISO 22000:2005 and is moving toward regulatory approvals like EU CEP/US FDA, in its endeavor for excellence in quality.
Vishnu Chemicals Limited
Establishment: 1990
Headquarter: Hyderabad
Website: http://www.vishnuchemicals.com/
Vishnu Chemicals has an annual capacity of producing over 70,000 MT of Basic Chromium Sulphate, 70,000 MT of Sodium Dichromate, 1000 MT of Chromic Acid, 1000 MT of Potassium Dichromate, 1200 MT of Sodium Saccharine, and 400 MT of Vitamin K3. The company's products have wide applications across several industries including pharmaceutical, chemical, leather tanning, pigment and dyes, chrome plating, metallurgy, animal feed, artificial sweeteners, adhesives, and ceramics. It has identified Research and Development (R&D) as one of the significant components of its continued growth. It has also established a world-class state-of-the-art research laboratory to offer high-quality and reliable products.
Aviditya Chemicals and Pharmaceuticals
Establishment: 1982
Headquarter: Maharashtra
Website: http://www.avidityachemicals.in/
Aviditya Chemicals & Pharmaceuticals is a quality-driven organization engaged in the production of organic pharmaceutical chemicals. It is a prominent manufacturer and supplier of insoluble saccharin, Para Toluene Sulfonamide (PTS), PTS chloride, and sodium saccharin. The company has invested a substantial amount of capital for the development of state-of-the-art infrastructure at its manufacturing unit. The entire product range of the company has been examined on different physical as well as chemical parameters to ensure their flawless quality. Further, the company has a distribution network spread across different parts of the country to provide maximum satisfaction to its clients through quality products and prompt services.
Salvi Chemicals Industries Limited
Establishment: 1978
Headquarter: Maharashtra
Website: http://www.salvichem.com/
Salvi Chemicals is India's leading manufacturer and exporter of chemical and pharmaceutical products that includes nutritional products, intermediates, bulk drugs, veterinary products, quinolines, triazole, selenium and sweeteners. The growth of the company in the domestic, as well as the overseas markets, is attributed to its strong focus on R&D, state-of-the-art production technology, incessant troubleshooting, customer-friendly work culture, and stringent quality control.
About IMARC Group: IMARC Group is a leading market research and consulting company that offers management strategy and market research worldwide. The company has done multiple projects on the global saccharin industry and regional India, and China, which has enabled clients to set up and expand their businesses successfully. Some of the company's offerings include:
Market Research
Plant setup
Plant Expansion
Marketing and sales
Procurement and Distribution
Innovation and Product Development