Market Overview:
The United States aluminium cans market is currently witnessing steady growth. Aluminium cans are containers used to store and preserve the quality and flavor of the contents. These cans are non-toxic in nature and provide unparalleled safety and require less care for handling and distribution. They provide ease of printing and can be molded in any shape and size. Aluminium cans are lightweight, strong, affordable, easy to handle and provide resistance against air, light, and moisture. As a result, they are extensively used for extending the shelf-life of products like soft drinks, oil, chemicals, perfumes, pharmaceuticals, and cosmetics.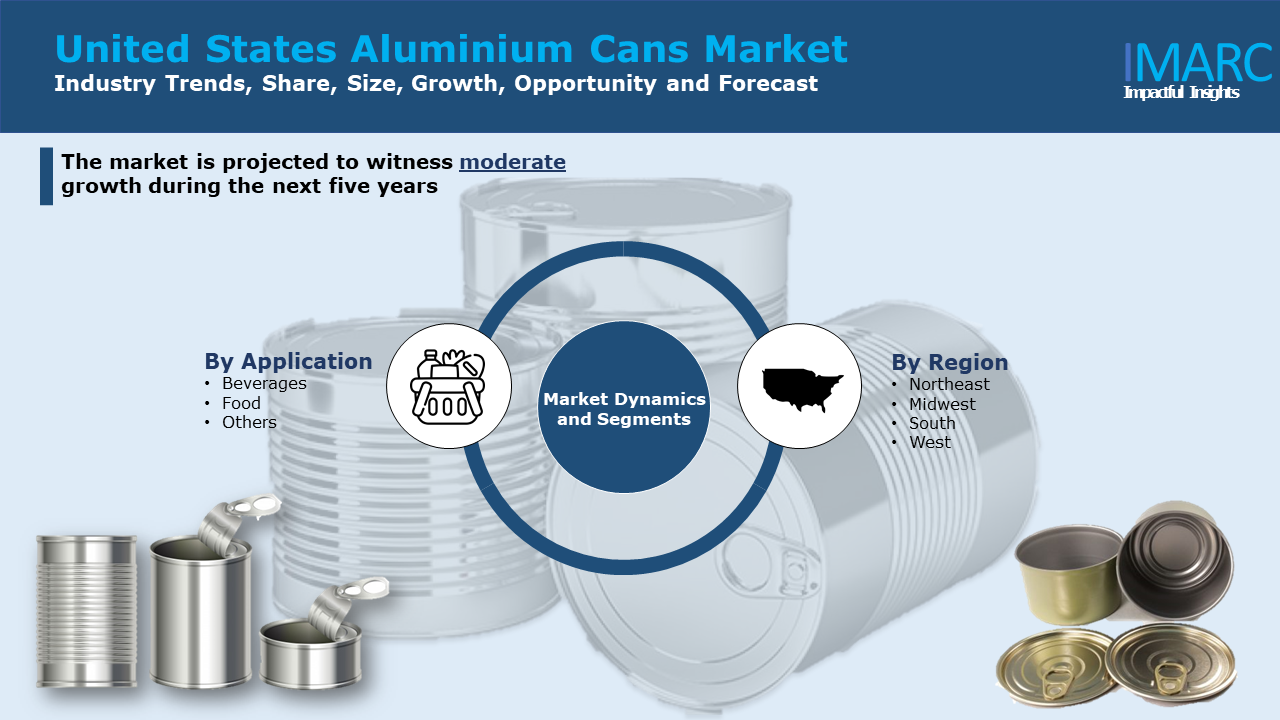 The United States aluminium cans market is primarily driven by the increasing demand for the packaging of processed and ready-to-eat food products, aerated drinks, fruit juices and energy drinks. These cans have also gained immense popularity due to the unprecedented demand for environment-friendly containers highly influenced by their recyclability quotient. Besides this, with the growing environmental concerns, consumers are becoming more conscious about limiting the usage of plastic packaging. Furthermore, the increasing consumption of energy and sports drinks, in confluence with the growing efforts by manufacturers to finance advertising campaigns for these drinks, is increasing the sales of aluminium cans across the country. On account of these factors, the market is expected to continue its steady growth during the forecast period (2021-2026).
Key Market Segmentation:
IMARC Group provides an analysis of the key trends in each sub-segment of the United States aluminium cans market report, along with forecasts for growth at the region level from 2021-2026. Our report has categorized the market based on region and application.
Breakup by Application:
Breakup by Region:
Northeast
Midwest
South
West

Competitive Landscape:
The competitive landscape of the industry has also been examined along with the profiles of the key players.
Key Questions Answered in This Report:
How has the United States aluminium cans market performed so far and how will it perform in the coming years?
What has been the impact of COVID-19 on the United States aluminium cans market?
What are the key regional markets?
What is the breakup of the market based on the application?
What are the various stages in the value chain of the industry?
What are the key driving factors and challenges in the industry?
What is the structure of the United States aluminium cans market and who are the key players?
What is the degree of competition in the industry?