Market Overview:
The United States egg powder market is currently witnessing steady growth. Egg powder is produced from completely dehydrated eggs. It provides the same benefits and composition as regular eggs with a shelf-life of 5 to 10 years. Egg powder is non-perishable when stored in an air-tight container and can also be easily transported as it does not require refrigeration. In the United States, the demand for egg powder has escalated, especially among health-conscious consumers, as it is low in carbohydrates, cholesterol and fats.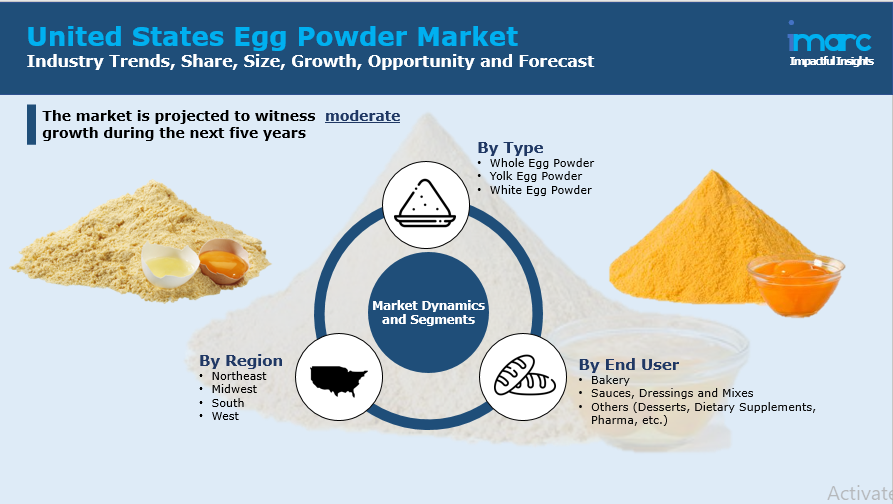 The United States egg powder market is primarily driven by the increase in the prevalence of chronic lifestyle diseases, which has resulted in the growing consumer focus on leading active and healthy lifestyles. This has created a shift toward maintaining healthy diets and exercising regularly. Consumers are incorporating egg powder in their daily diet for the preparation of pancakes, muffins and bread as it is rich in proteins and low in calories, thereby providing a significant impact on the market growth. Moreover, the high consumption of fast food across the country has increased the usage of egg powder for preparing mayonnaise, salad dressings, and sauces. On account of these factors, the market is expected to continue its steady growth during the forecast period (2021-2026).
Key Market Segmentation:
IMARC Group provides an analysis of the key trends in each sub-segment of the United States egg powder market report, along with forecasts for growth at the region level from 2021-2026. Our report has categorized the market based on region, type and end use.
Breakup by Type:
Whole Egg Powder
Yolk Egg Powder
White Egg Powder

Breakup by End Use:
Bakery
Sauces, Dressings and Mixes
Others (Desserts, Dietary Supplements, Pharma, etc.)

Breakup by Region:
Northeast
Midwest
South
West

Competitive Landscape:
The competitive landscape of the industry has also been examined along with the profiles of the key players.
Key Questions Answered in This Report:
How has the United States egg powder market performed so far and how will it perform in the coming years?
What has been the impact of COVID-19 on the United States egg powder market?
What are the key regional markets?
What is the breakup of the market based on the type?
What is the breakup of the market based on the end use?
What are the various stages in the value chain of the industry?
What are the key driving factors and challenges in the industry?
What is the structure of the United States egg powder market and who are the key players?
What is the degree of competition in the industry?