Market Overview:
The global vegan food market was worth US$ 15.6 Billion in 2019. Vegan food consists of various products that are derived or processed from plant-based sources and are commonly consumed as a substitute for regular meat and meat-based products. They are majorly produced using vegetarian ingredients, such as almonds, soy, oats, wheat, tofu, rice, and coconuts, and lack animal-derived products, including milk, eggs, honey and gelatin. A balanced diet with vegan food products is a rich source of vitamins B1, C and E, folic acid, magnesium, and iron while being low in cholesterol and saturated fats.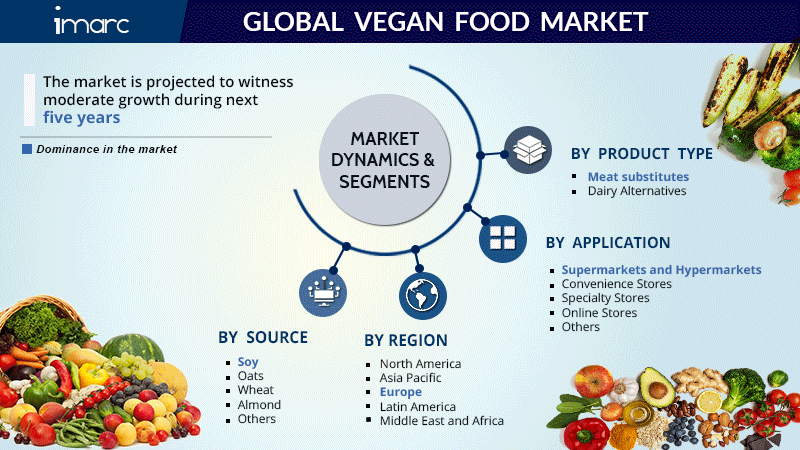 The rising incidences of chronic lifestyle diseases represent the primary factor boosting the sales of vegan foods as they help in maintaining the blood glucose levels and minimizing the risks of stroke, obesity, cholesterol and cancer. Besides this, various non-government organizations (NGOs) are spreading awareness regarding the nutritional benefits of an animal-free diet and promoting farm animal welfare. This, along with the increasing consciousness among individuals about animal health and cruelty against animals in the food industry, is positively influencing the sales of vegan food products worldwide. Moreover, market players are launching a variety of premium-quality vegan food items in numerous flavors and attractive packaging solutions to attract a wider consumer base and expand their product portfolio. Other factors, such as the availability of ready-to-eat (RTE) and packaged vegan products, coupled with extensive promotional activities by celebrities and athletes encouraging their consumption to maintain a healthy lifestyle, are projected to drive the market further. Looking forward, IMARC Group expects the market to reach a value of US$ 25.3 Billion by 2025, exhibiting a CAGR of around 8% during 2020-2025.
Key Market Segmentation:
IMARC Group provides an analysis of the key trends in each sub-segment of the global vegan food market report, along with forecasts for growth at the global, regional and country level from 2020-2025. Our report has categorized the market based on region, type, service, organization size, and verticle.
Breakup by Product:
Breakup by Source:

Almond
Soy
Oats
Wheat
Others
At present, soy accounts for the majority of the overall market share.
Dairy Alternatives

Cheese
Dessert
Snacks
Others

Meat Substitutes

Tofu
TVP
Seiten
Quorn
Others

Others
Meat substitutes currently represent the most popular type of vegan food around the world.
Breakup by Distribution Channel:
Supermarkets and Hypermarkets
Convenience Stores
Specialty Stores
Online Stores
Others
Amongst these, the majority of vegan food is distributed through supermarkets and hypermarkets.
Breakup by Region:
North America
Asia Pacific

China
Japan
India
South Korea
Australia
Indonesia
Others

Europe

Germany
France
United Kingdom
Italy
Spain
Russia
Others

Latin America
Middle East and Africa
Competitive Landscape:
The competitive landscape of the market is characterized by the presence of numerous small and large manufacturers who compete in terms of prices and quality. Some of the leading vegan food manufacturers operating in the market are Amy's Kitchen, Inc., Beyond Meat, Inc., Daiya Foods, Inc., Danone SA, Eden Foods, Inc., Plamil Foods Ltd., Archer Daniels Midland Company, Tofutti Brands, Inc., VBites Foods Limited, and Vitasoy Australia Products Pty Ltd.
Key Questions Answered in This Report: