Market Overview:
The global voltage regulators market exhibited moderate growth during 2015-2020. Looking forward, IMARC Group expects the market to grow at a CAGR of around 5% during 2021-2026. Keeping in mind the uncertainties of COVID-19, we are continuously tracking and evaluating the direct as well as the indirect influence of the pandemic on different end use industries. These insights are included in the report as a major market contributor.
A voltage regulator refers to a mechanical device that provides fixed and constant voltage output despite fluctuating load or input voltage. Two of the most commonly used voltage regulators include linear and switching regulators. Linear regulators, such as series and shunt regulators, automatically adjust the resistance through a feedback loop to maintain the output voltage. On the other hand, switching regulators, such as step-down and inverter voltage regulators, use a switching element to transform the current into a pulsed voltage. These regulators offer various advantages, such as low output ripple voltage, fast response time to load or change lines and minimal magnetic interference and noise. As a result, they find extensive applications in the manufacturing of computers, alternators, power generators and alternate or direct (AC/DC) regulators.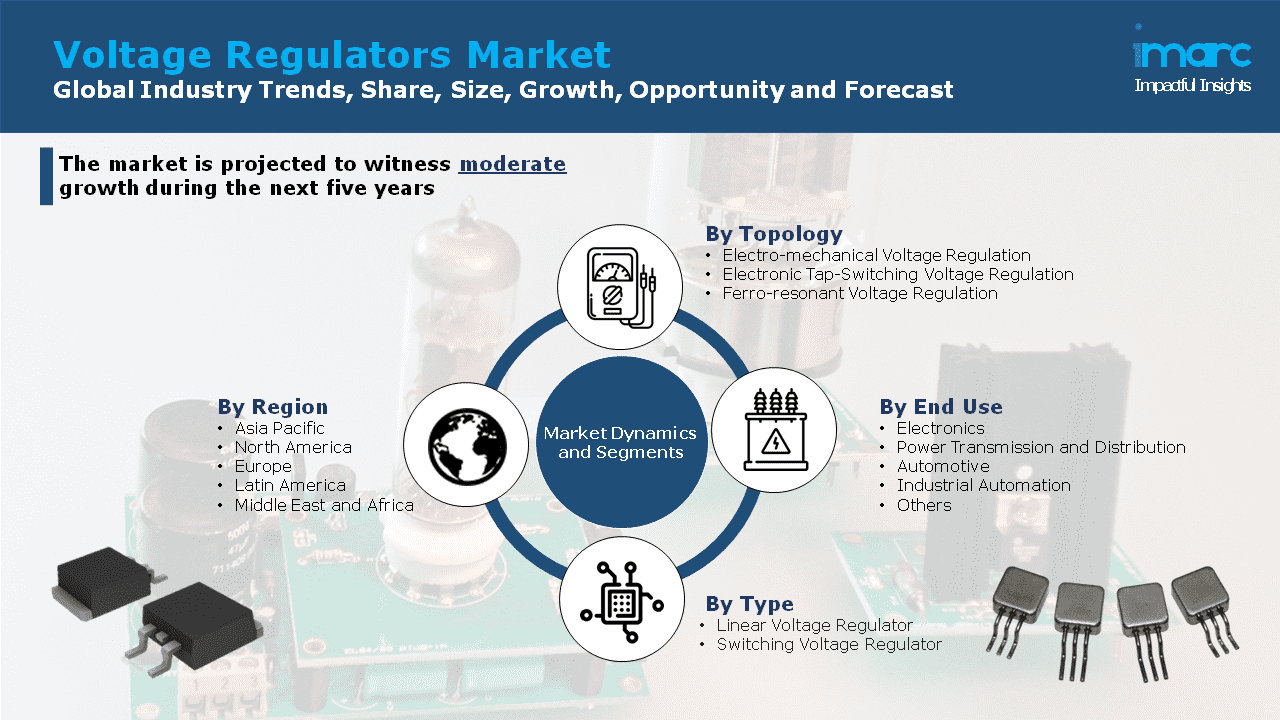 Rapid industrialization, especially in developing economies, and the increasing demand for power and electricity from the residential and commercial sectors, represent as the key factors driving the growth of the market. Voltage regulators are installed in substations and distribution lines to provide steady voltage and ensure uninterrupted power supply. Furthermore, the increasing demand for consumer electronics and automobiles that use voltage regulators in smart electronic devices is also driving the market growth. Additionally, various technological advancements, such as the development of electronic voltage regulators, are acting as other growth-inducing factors. Electronic variants have a stable voltage source that blocks the ripple voltage and consist of additional circuits for protection from short circuits, thermal shutdowns and overvoltage. Other factors, including the installation of new and upgradation of existing energy transmission and distribution (T&D) networks, along with the implementation of favorable government policies for voltage regulation, are anticipated to drive the market further.
Key Market Segmentation:
IMARC Group provides an analysis of the key trends in each sub-segment of the global voltage regulators market report, along with forecasts for growth at the global, regional and country level from 2021-2026. Our report has categorized the market based on topology, type and end use industry.
Breakup by Topology:
Electro-mechanical Voltage Regulation
Electronic Tap-Switching Voltage Regulation
Ferro-resonant Voltage Regulation

Breakup by Type:
Linear Voltage Regulator

Breakup by Connection Type
Breakup by Product Type

Low Drop Out (LDO)
Standard

Switching Voltage Regulator

Breakup by Product Type

Step-Down (Buck)
Step-Up (Boost)
Step-Down/Step-Up (Buck-Boost)
Inverting

Breakup by End Use Industry:
Electronics
Power Transmission and Distribution
Automotive
Industrial Automation
Others

Breakup by Region:
North America
Asia Pacific

China
Japan
India
South Korea
Australia
Indonesia
Others

Europe

Germany
France
United Kingdom
Italy
Spain
Russia
Others

Latin America
Middle East and Africa

Competitive Landscape:
The report has also analysed the competitive landscape of the market with some of the key players being ABB Ltd., Analog Devices Inc., Eaton Corporation Inc., General Electric Company, Howard Industries Inc., Infineon Technologies AG, J. Schneider Elektrotechnik GmbH, NXP Semiconductors NV, Schweitzer Engineering Laboratories Inc., Siemens AG, STMicroelectronics SA, Texas Instruments Incorporated and Toshiba Corporation.
Report Coverages:
Report Features
Details
Base Year of the Analysis
2020
Historical Period
2015-2020
Forecast Period
2021-2026
Units
US$ Billion
Segment Coverage
Topology, Type, End Use Industry, Region
Region Covered
Asia Pacific, Europe, North America, Latin America, Middle East and Africa
Countries Covered
United States, Canada, Germany, France, United Kingdom, Italy, Spain, Russia, China, Japan, India, South Korea, Australia, Indonesia, Brazil, Mexico
Companies Covered
ABB Ltd., Analog Devices Inc., Eaton Corporation Inc., General Electric Company, Howard Industries Inc., Infineon Technologies AG, J. Schneider Elektrotechnik GmbH, NXP Semiconductors NV, Schweitzer Engineering Laboratories Inc., Siemens AG, STMicroelectronics SA, Texas Instruments Incorporated and Toshiba Corporation
Customization Scope
10% Free Customization
Report Price and Purchase Option
Single User License: US$ 2299
Five User License: US$ 3399
Corporate License: US$ 4499
Post-Sale Analyst Support
10-12 Weeks
Delivery Format
PDF and Excel through Email (We can also provide the editable version of the report in PPT/Word format on special request)