The global cheese market reached a value of US$ 72.26 Billion in 2020. As per the analysis by IMARC Group, manufacturers are introducing novel varieties of cheese in attractive packaging to maintain their standing in the market. The increasing competition in the market has led producers to improve brand recognition across their customer base. Besides this, to address packaging, sanitation, wastewater discharge and processing concerns and tackle moisture control, cheese packaging and production companies have been developing novel machinery. This advanced equipment can handle whey co-product utilization, clean label opportunities, and maintain consistent cheese quality. Major operators are offering mobile applications with user-friendly interfaces to positively influence the purchasing decisions of their consumers. In addition to this, they are operating open knowledge databases with information on the availability of different varieties of cheese or the appropriate meal or wine to suit their individual choices. They are also launching diversified variants, including camembert, feta, Emmental, mozzarella, halloumi, vegan yogurt and vegan cheese, to cater to the emerging demand for vegan food items. Looking forward, the market is further anticipated to reach US$ 105.93 Billion by 2026, exhibiting a CAGR of 6.81% during 2021-2026.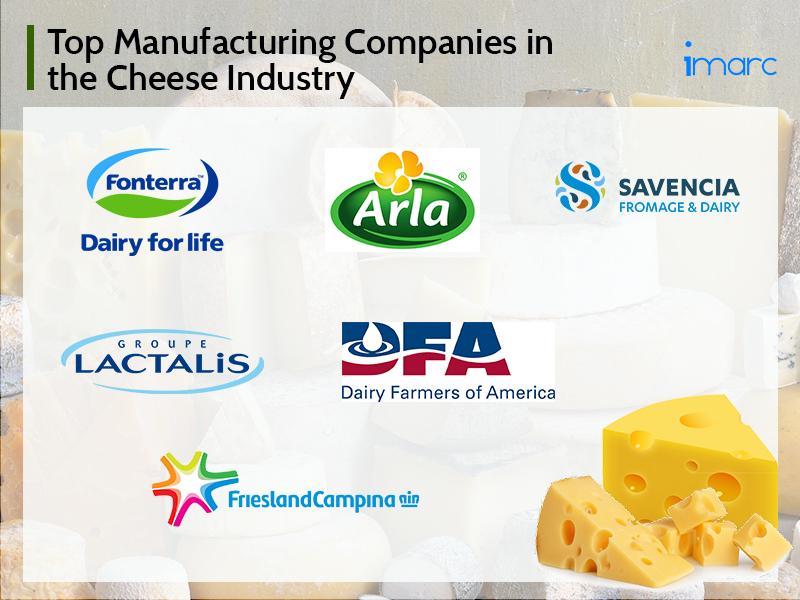 Request Free Sample Report: https://www.imarcgroup.com/cheese-manufacturing-plant/requestsample
Top Manufacturing Companies in the Cheese Industry Worldwide:
Lactalis Group
Establishment: 1933
Headquarter: Mayenne, France
Website: https://www.lactalis.fr/en/
Lactalis Group is a France-based dairy products company that operates through 250 production sites established in 50 countries. It is the largest producer in the world with a personnel of 80,000 employees. The cheese portfolio of the company includes mozzarella, Emmental, and cheddar. These can be used in different applications, such as ready meals and pizza. Some of the brands operating under the umbrella of Lactalis include Societe, Seriously, Bridel, Santal, Pride, Valbreso, and Smeds. Besides these, the company has been working toward acquiring other titles to target a broader customer base, and in turn, maintain its position in the global market. For instance, in 2020, Lactalis acquired grated, specialty, natural and grated cheese brands of Kraft Heinz, a US-based food company. These brands include Breakstone's, Polly-O, Hoffman's, Cracker Barrel, Knudsen, and Athenos.
Fonterra
Establishment: 2001
Headquarter: New Zealand
Website: https://www.fonterra.com/nz/en.html
Fonterra is the second largest producer of cheese across the globe that also sells milk, butter and ice cream. It currently employees more than 22,000 people, operates over 50 manufacturing sites, and markets products in 140 countries in the world. The company mainly sells its cheese and cheese products under the brand names of Mainland, Bega, Galaxy, NZMP, Kapiti, and Perfect Italiano. Some of the popular forms of cheese offered by these brands include cream, cheddar, frozen mozzarella, and parmesan cheese. Fonterra is making several efforts to promote the sales of its products in the market. For instance, NZMP caters to the escalating demand for organic and natural products by manufacturing natural cheese, which does not include any artificial additives for processing.
Friesland Campina
Establishment: 1871
Headquarter: the Netherlands
Website: https://www.frieslandcampina.com/
Friesland Campina is one of the largest dairy companies in the Europe, which offers a wide range of cheese, dairy-based beverages, infant nutrition, ingredients, cream and butter, and half-finished products. Besides this, the company's subsidiaries sell their products in Asia Pacific and Africa. It mainly serves the food, infant nutrition, and pharmaceutical markets. The company currently employees 23,783 employees across the globe. Some of the popular cheese brands of Friesland Campina include Frico, Friesland Campina Ingredients, A Dutch Masterpeice, Landliebe, Milner, Napolact, Noynoy, North Holland Gouda Cheese, Parrano, Royal Hollandia, and Tuffi.
Over the years, Friesland Campina has been making several efforts to maintain its standing in the global market for cheese. In 2020, the company redesigned its cheese brand, A Dutch Masterpiece, with respect to new packaging and refurbished website. The brand has redesigned its packaging by including identifiable works of popular Dutch painters with informative labeling on tasting notes. Other than this, the brand started offering a new selection of cheese to its consumer base, such as Rembrandt, Vincent, Frans Hals, and Vermeer.
Dairy Farmers of America
Establishment: 1998
Headquarter: the United States
Website: www.dfamilk.com
Dairy Farmers of America (DFA) is a prominent dairy cooperative based in the United States (US). With personnel of 18,000 employees, the company mainly operates in seven areas in the country, including the Southeast, Southwest, Mountain, Central, Mideast, Western and Northeast Area. It produces and markets a wide range of butter, sweetened condensed milk, cheese, and powders for retail, wholesale and industrial purposes. DFA sells its collection cheese through various brands, which include Cache Valley, Borden Cheese, and La Vaquita.
Arla Foods
Establishment: 1881
Headquarter: Denmark
Website: https://www.arla.com/
Arla Foods is Denmark-based international cooperative company that manufactures and supplies numerous dairy products across the globe. It primarily offers cream, cheese, spreads, milk powders, milk, yogurt, butter, proteins, and beverages. Other than these, the company also sells cooking products, which include sauces, salad, fermented cooking products, soups, cooking fats, and cooking ingredients. Arla produces and markets its selection of cheese under various names, including Arla Cheese, Arla Cream Cheese, Castello, Apetina, Arla Buko, Arla Cheasy, Keso, and Puck. Arla Foods currently sells its cheese across all major regions, namely Asia Pacific, South and Latin America, North America, and the Gulf Cooperation Council (GCC) and North Africa.
In order to sustain its position in the global cheese market, Arla foods has been making several efforts. In 2019, the company started testing a new preservative-free, natural technology to improve the international movement of its products. Besides this, it has been expanding its production capacity across the globe. For instance, in 2019, Arla Foods inaugurated its new cheese manufacturing plant in Bahrain to address the escalating demand across the Middle East and North Africa (MENA).
Savencia SA
Establishment:
Headquarter: France
Website: https://www.savencia-fromagedairy.com/en/
Savencia SA, otherwise known as Savencia Fromage and Dairy, offers numerous cheese specialties and dairy ingredients. It operates in 31 countries with a workforce of more than 21,000 employees and sells its portfolio across over 120 countries. Savencia supplies its products in North and South America, Africa, and Central and Eastern Europe. In the retail sector, the company offers high quality cheeses, cream and butter. For the food service sector, it sells cream and technical butter and develops cheese sauces and cheese in portions, particularly for pastry cooks and chefs. Besides this, the company supplies milk-based nutritional and functional ingredients to the pharmaceutical, infant formula, and feed industries.
About IMARC Group: IMARC Group is a leading market research and consulting company that offers management strategy and market research worldwide. The company has done multiple projects on the Indian and global cheese industry, which has enabled clients to set up and expand their businesses successfully. Some of the company's offerings include:
Market Research
Plant setup
Plant Expansion
Marketing and sales
Procurement and Distribution
Innovation and Product Development