Market Overview:
The Europe egg powder market is currently witnessing moderate growth. Egg powder is obtained by dehydrating fresh eggs using the spray-drying process. This reduces weight per volume of whole eggs while preserving the nutritional content. Egg powder is lactose-free, low in carbohydrates, cholesterol and fats. It offers a similar amount of protein as regular eggs and has a longer shelf-life as it can be stored without refrigeration. Egg powder is utilized in various food industry applications due to its exceptional binding and emulsion capabilities.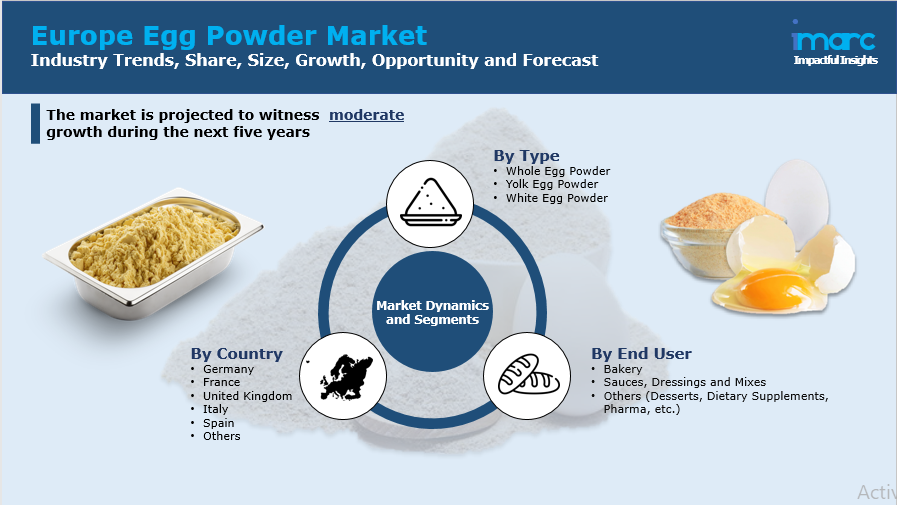 The Europe egg powder market is primarily driven by the escalating demand from foodservice establishments. Besides this, the high-protein content and presence of amino acids in egg powder have increased its demand among health-conscious consumers. Apart from this, egg powder is widely employed in the preparation of salad dressings, pizza crusts, sauces and mayonnaise. It is also used as a protein source in pet food, animal feed and nutraceuticals. The growing demand for these products is further driving the market growth. Furthermore, the market is being bolstered by the increasing utilization of egg powder in the cosmetics industry due to its numerous benefits for the skin and hair. On account of these factors, the market is expected to continue its moderate growth during the forecast period (2021-2026).
Key Market Segmentation:
IMARC Group provides an analysis of the key trends in each sub-segment of the Europe egg powder market report, along with forecasts for growth at the region level from 2021-2026. Our report has categorized the market based on region, type and end use.
Breakup by Type:
Whole Egg Powder
Yolk Egg Powder
White Egg Powder

Breakup by End Use:
Bakery
Sauces, Dressings and Mixes
Others (Desserts, Dietary Supplements, Pharma, etc.)

Breakup by Country:
Germany
France
United Kingdom
Italy
Spain
Others

Competitive Landscape:
The competitive landscape of the industry has also been examined along with the profiles of the key players.
Key Questions Answered in This Report:
How has the Europe egg powder market performed so far and how will it perform in the coming years?
What has been the impact of COVID-19 on the Europe egg powder market?
What are the key regional markets?
What is the breakup of the market based on the type?
What is the breakup of the market based on the end use?
What are the various stages in the value chain of the industry?
What are the key driving factors and challenges in the industry?
What is the structure of the Europe egg powder market and who are the key players?
What is the degree of competition in the industry?