The global food texture materials market is currently witnessing a healthy growth. Food texture refers to an index of food quality that can be sensed through the fingers, tongue, palate and teeth. This includes various parameters, such as chewiness, adhesiveness, cohesiveness, crispiness, elasticity and firmness. These attributes are measured using texture analysis tests to evaluate the response of food products when they are subjected to a force, such as shearing, cutting, chewing, compressing and stretching. These tests also assist in analyzing the mechanical and physical properties of the raw ingredients, food structure and designs for pre- and post-production quality checks. Apart from this, various food texture additives are also used to improve the overall taste and feel of the products.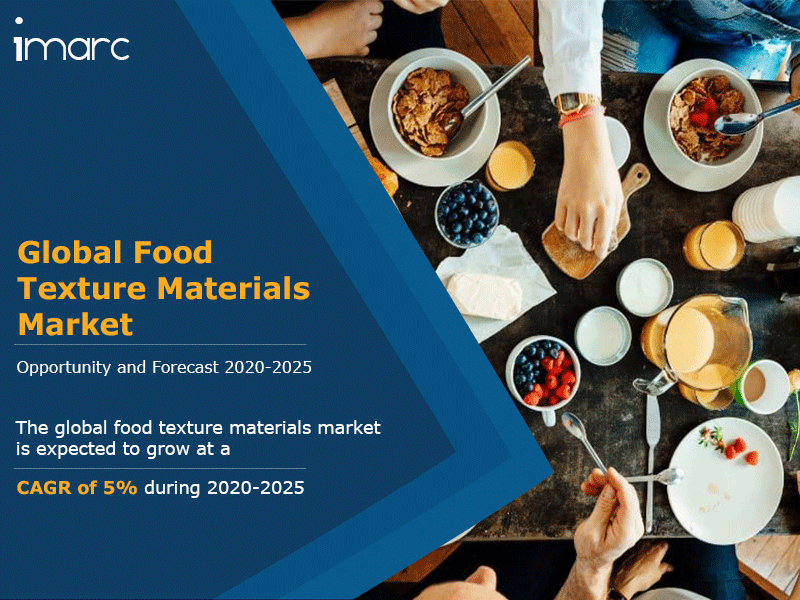 Significant growth in the food and beverage industry is one of the key factors driving the growth of the market. Manufacturers of food and beverage products are increasingly utilizing texturizing agents in the production of processed foods to retain the nutrients and prevent microbial growth, thereby enhancing the product's shelf life. Furthermore, growing consumer preference for convenience and packaged food products is also providing a boost to the market growth. Products, such as bread, confectioneries, soups, sauces, beverages and dressing, are manufactured using texturizing agents to enhance their color, appeal and palatability. The development of customized formulations that provide a combination of desired qualities, including flavor and fragrance, to a food product, is acting as another growth-inducing factor. Other factors, including rapid urbanization, increasing consumer expenditure capacities and extensive research and development (R&D) activities, are projected to drive the market further. Looking forward, IMARC Group expects the market to register a CAGR of around 5% during 2020-2025.

Breakup by Functionality:
Thickening
Gelling
Emulsifying
Stabilizing
Others

Breakup by Application:
Bakery
Dairy
Meat & Poultry
Beverages
Snacks
Others

Breakup by Region:
North America
Asia Pacific

China
Japan
India
South Korea
Australia
Indonesia
Others

Europe

Germany
France
United Kingdom
Italy
Spain
Russia
Others

Latin America
Middle East and Africa

Competitive Landscape:
The competitive landscape of the industry has also been examined with some of the key players being Ajinomoto, Archer Daniels Midland Co., Ashland Inc., Avebe, Cargill Inc., CP Kelco, E.I. Dupont DE Nemours & Company, Estelle Chemicals, Fiberstar Inc., FMC Corporation, Fuerst Day Lawson, etc.
Key Questions Answered in This Report:
How has the global food texture materials market performed so far and how will it perform in the coming years?
What are the key regional markets?
What is the breakup of the market based on the functionality?
What is the breakup of the market based on the application?
What are the various stages in the value chain of the industry?
What are the key driving factors and challenges in the industry?
What is the structure of the global food texture materials market and who are the key players?
What is the degree of competition in the industry?