Market Overview:
The Indian dietary supplement market exhibited strong growth during 2015-2020. A dietary supplement is a concentration of essential nutrients that are either extracted from food sources or are artificially synthesized. The major function of dietary supplements is to fulfill the nutritional requirements of the human body and is usually consumed in the form of a pill, capsule, tablet, or liquid. A supplement can provide nutrition either individually or in combination, depending upon the requirements of the consumer's body. Dietary supplements are rich in vitamins, minerals, herbs, enzymes, amino acids, and various other ingredients. The primary goal of consuming supplements is to fulfill the nutritional gap in the body in order to prevent diseases and other lifestyle related problems. Looking forward, IMARC Group expects the Indian dietary supplement market to grow at a CAGR of around 18% during the forecast period (2021-2026).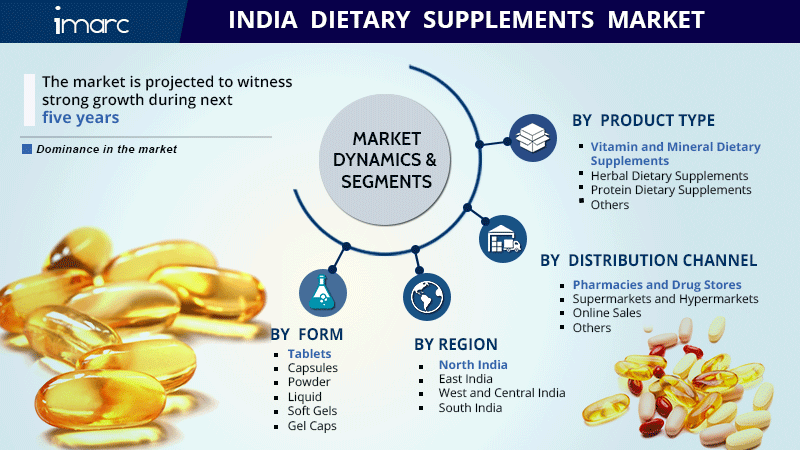 India Dietary Supplements Market Trends and Drivers:
The primary factor driving the Indian dietary supplements market is the increasing health consciousness among the consumers. Factors such as changes in eating habits, absence of physical activity and rising sedentary life styles have increased the occurrences of various lifestyle diseases such as diabetes, blood pressure, obesity, cardiovascular problems, etc. Moreover, improving awareness levels have also made consumers more aware on their nutritional requirements. With consumers unable to fulfil their nutritional requirements through their regular diets, they are now recognizing the importance of nutritional supplements to fulfill their nutritional gaps. Other factors driving this market include, rising disposable incomes, upgradation of the healthcare infrastructure, improving distribution networks, etc.
IMARC Group's latest report provides a deep insight into the Indian dietary supplements market covering all its essential aspects. This ranges from macro overview of the market to micro details of the industry performance, recent trends, key market drivers and challenges, SWOT analysis, Porter's five forces analysis, value chain analysis, etc. This report is a must-read for entrepreneurs, investors, researchers, consultants, business strategists, and all those who have any kind of stake or are planning to foray into the Indian dietary supplements market in any manner.
Key Market Segmentation:
IMARC Group provides an analysis of the key trends in each sub-segment of the India dietary supplement market report, along with forecasts for growth at the regional level from 2021-2026. Our report has categorized the market based on product type, form, distribution channel, application, end use and region.
Market Breakup by Product Type

Vitamin and Mineral Dietary Supplements
Herbal Dietary Supplements
Protein Dietary Supplements
Others


Market Breakup by Form

Tablets
Capsules
Powder
Liquid
Soft Gels
Gel Caps


Market Breakup by Distribution Channel

Pharmacies and Drug Stores
Supermarkets and Hypermarkets
Online Sales
Others


Market Breakup by Application

Additional Supplements
Medicinal Supplement
Sports Nutrition


Market Breakup by End-Use

Infant
Children
Adults
Pregnant Women
Old-Aged


Market Breakup by Region

North India
East India
West and Central India
South India


Historical, Current and Future Market Trends

Value Chain Analysis

Key Drivers and Challenges

Porters Five Forces Analysis

PESTEL Analysis

Government Regulations

Competitive Landscape:
The report has also analysed the competitive landscape of the market with some of the key players being Amway India Enterprises Private Limited, Herbalife International India Private Limited, Dabur India Limited, Abbott India Limited, Kraft Heinz India Private Limited, Himalaya Drug Company, Sun Pharmaceutical Industries Limited, GlaxoSmithKline Consumer Healthcare Limited, Danone Nutricia International Private Limited, Patanjali Ayurved Limited, etc.
Report Coverage:
Base Year Considered: 2020
Historical Data Coverage: 2015-2020
Market Forecast: 2021-2026
Currency: US$
Geography Covered: India
Segments Covered: Product Type, Form, Distribution Channel, Application, End-Use, and Region

Report Customization: Although IMARC has tried to cover everything in the dietary supplements market landscape, we believe that every stakeholder may have their own specific needs. In view of this, we provide up to 20 man-hours of free customization for each report.
Key Questions Answered in This Report: