Bakery products are food items which generally include biscuits, cakes, pastries, flat-bread, tortilla, chapati, bun, croissant, etc. These products are rapidly gaining popularity owing to their pleasant taste and health-benefits as they are made from a variety of grains such as rye, maize, wheat, and oats among others. The other ingredients used for baking include water, eggs, baking soda and powder, nuts, and additives. As bakery products provide both convenience and affordability to the consumers, their consumption level has witnessed a rise in the past few years. According to the latest report by IMARC Group, titled "Indian Bakery Market: Industry Trends, Share, Size, Growth, Opportunity and Forecast 2019-2024", the Indian bakery market reached a value of US$ 7.22 Billion in 2018.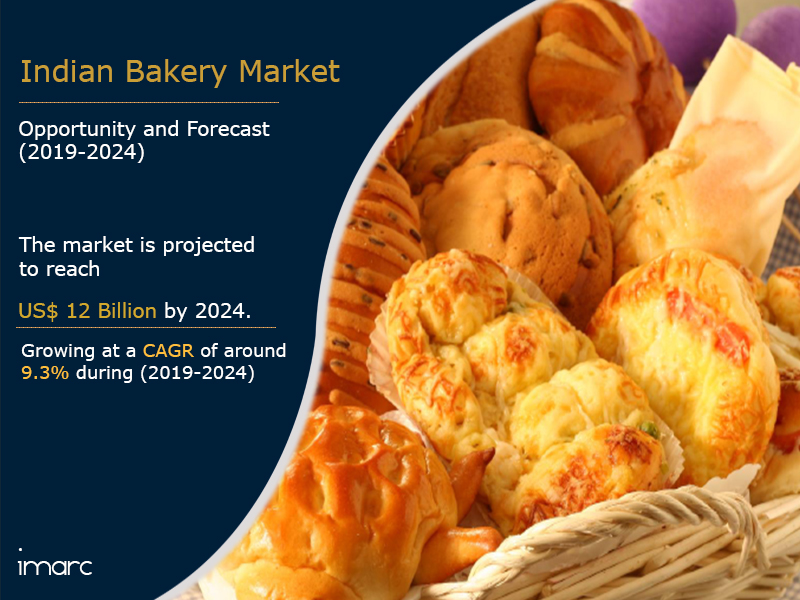 As breads and biscuits are fast-moving consumer goods (FMCG), they are consumed on a daily basis by the consumers which increases the sales of these products in India. In addition to this, growth in the fast-food chains further stimulates the demand for breads as they are used in sandwiches, burgers, soups, snacks, etc. Moreover, introduction of value-added bakery products is giving an impetus to the market growth. Apart from this, busy lifestyles, changing eating habits and western influence has reflected in a strong demand for bakery products in India. Looking forward, the market value is projected to exceed US$ 12 Billion by 2024, expanding at a CAGR of 9.3% during 2019-2024.
Market Summary: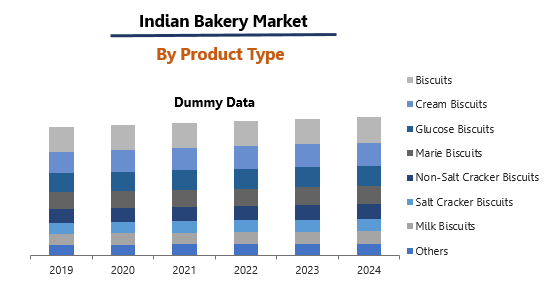 Based on product type, the market has been segmented in breads and rolls, cakes and pastries, rusks and biscuits. Currently, biscuits dominate the Indian bakery market, holding the largest share.
On the basis of distribution channel, convenience stores represent the largest segment, followed by supermarkets and hypermarkets, independent retailers and artisanal bakeries.
The competitive landscape of the market has also been examined with some of the key players being Britannia, ITC and Parle.

This report provides a deep insight into the Indian bakery market covering all its essential aspects. This ranges from macro overview of the market to micro details of the industry performance, recent trends, key market drivers and challenges, SWOT analysis, Porter's five forces analysis, value chain analysis, etc. This report is a must-read for entrepreneurs, investors, researchers, consultants, business strategists, and all those who have any kind of stake or are planning to foray into the Indian bakery market in any manner.
Key Questions Answered in This Report:
How has the Indian bakery market performed so far and how will it perform in the coming years?
Which are the popular product types in the Indian bakery market?
What are the major distribution channels in the Indian bakery market?
What are the various stages in the value chain of the Indian bakery market?
What are the key driving factors and challenges in the Indian bakery market?
What is the structure of the Indian bakery market and who are the key players?
What is the degree of competition in the Indian bakery market?