Water plays a crucial role in nourishment as it provides nutritional elements including minerals and vitamins to the cells. It also helps in regulating body temperature, enhancing absorption in the gastrointestinal tract and eliminating waste from the body. Countries in the Middle East, particularly the Gulf Cooperation Council (GCC), face severe water scarcity. To meet the water demand, governments in the region have invested heavily in desalination projects to provide clean water to their citizens. However, most people in these countries consider tap water to be unsuitable for drinking, despite the availability of potable water produced in line with international standards. As a result, they prefer bottled water which is packed in food-grade plastic or glass bottles and has undergone special treatments such as distillation and ozonation. Owing to this, various cafes, hotels and restaurants in the Middle East also serve packaged drinking water to their customers. According to IMARC Group, the Middle East bottled water market size reached US$ 101.2 Billion in 2018.
Middle East Bottled Water Market Trends
With growing awareness about the health hazards of consuming polluted water, many consumers have started opting for bottled water. Apart from drinking, some consumers even use bottled water for preparing beverages and cooking food. Besides this, the inflating incomes and thriving expatriate community in the region have contributed to the growing demand for bottled water. Additionally, a rapid increase in the number of tourists and pilgrims in the region has resulted in high sales of bottled water as these countries have extremely hot and dry climatic conditions. Moreover, packaged water is readily available in supermarkets and grocery stores and comes in a variety of sizes, giving consumers more choices depending on their requirements.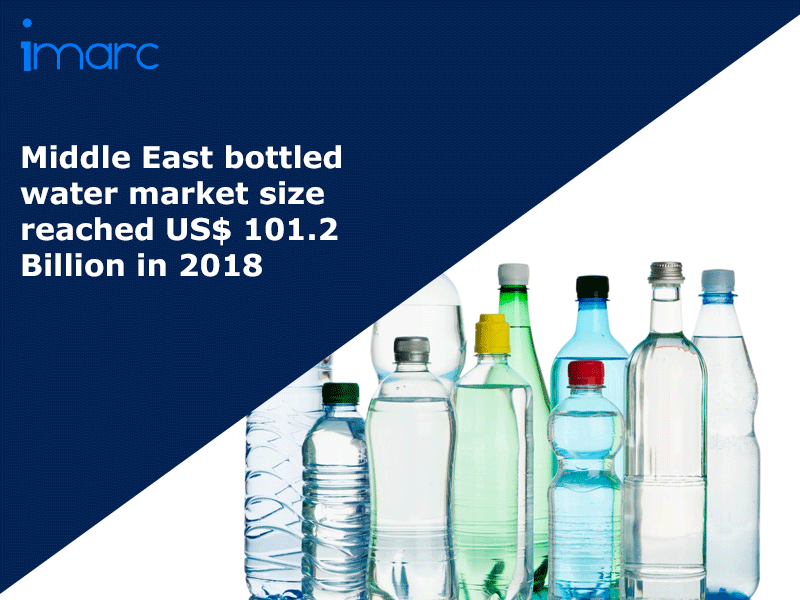 Several bottled water companies in the region are providing water with added minerals, vitamins and new flavors or with different pH and sodium levels to attract consumers. They are also acquiring other firms to expand their consumer base. For instance, Agthia Group, a leading food and beverage company in the UAE, signed an agreement to purchase 100 percent of the shares in the water business of Delta Marketing Company, based in Saudi Arabia producing Al Ain brand water. On the other hand, the alliance between Al Manhal Water Factory with Nestlé SA and Nestlé Waters has facilitated them to distribute the Nestle Pure Life brand across the region. Owing to these factors, the Middle East bottled water market is expected to reach a value of US$ 145.94 Billion by 2024, exhibiting a CAGR of 6.2% during 2019-2024.
Saudi Arabia Enjoys the Leading Position in the Market
Currently, Saudi Arabia exhibits dominance in the Middle East bottled water market. As water scarcity will continue to be a problem due to low rainfall and limited groundwater sources along with increasing hygiene-consciousness among consumers in the country, the water bottled market is projected to exhibit sustained growth. Other major regions include the UAE, Kuwait, Iran and Lebanon.
Get a PDF Sample for more detailed market insights: https://www.imarcgroup.com/gcc-bottled-water-market/requestsample
GCC Bottled Water Market – Current Scenario
According to the IMARC Group, the GCC bottled water market reached a volume of nearly 19 Billion Liters in 2018, growing at a CAGR of 5.9% during 2011-2018. The improving standards of living and high incomes of consumers in the region have resulted in increased sales of bottled water, especially still bottled water. Along with this, rapid urbanization has led to an increase in the number of supermarkets and hypermarkets in the region. These stores provide larger shelf space, wider availability of different brands and the convenience of choosing the product to consumers. Owing to this, the majority of the bottled water is distributed through supermarkets and hypermarkets across the GCC countries. Moreover, advancements in user-friendly packaging, portability of bottled water, western influences and aggressive marketing by manufacturers are some of the other factors which are playing a crucial role in the growth of the bottled water market in the region. As a result, the market is further expected to reach a volume of 25.4 Billion Liters by 2024.
About IMARC Group: IMARC Group is a leading market research and consulting company that offers management strategy and market research worldwide. The company has done multiple projects on the GCC bottled water industry, which has enabled its clients to set up and expand their businesses successfully. Some of the company's offerings include:
Market Research
Plant Setup
Plant Expansion
Marketing and Sales
Procurement and Distribution
Innovation and Product Development
For more information, please visit: https://www.imarcgroup.com/gcc-bottled-water-market