The Middle East region has a rich history and passion for fine fragrances and specializes in integrating perfumery with tradition, research and creativity. A wide variety of scents ranging from floral to fruity attracts the consumers in the region and signify freshness, softness and help in altering the mood. Fragrances form an integral part of the traditional and cultural heritage of the people in Middle Eastern countries due to which they are very selective in choosing scents and spend a significant amount of their incomes on these products. Today, several manufacturers in the region are launching innovative and premium fragrances by blending oriental archetypes with European signatures.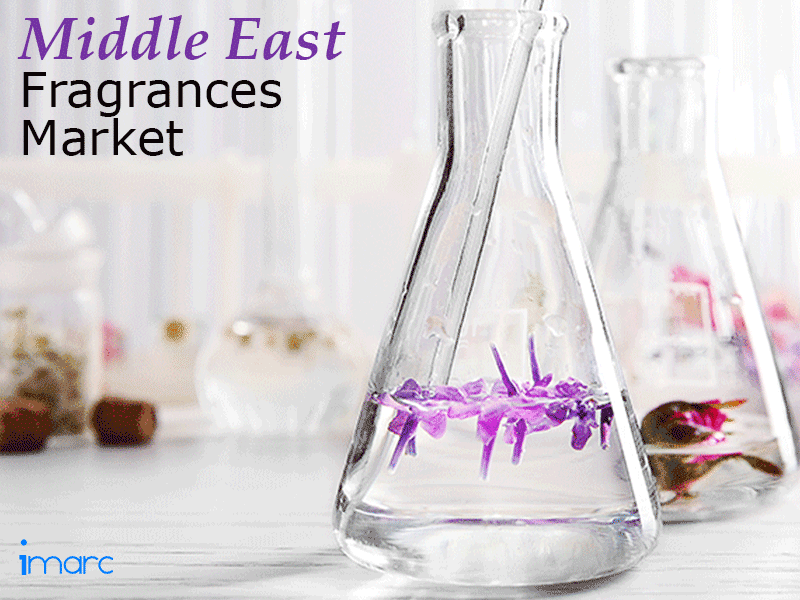 Middle East Fragrances Market Trends
The emergence of aromachology and the use of fragrances in therapeutic applications for improving mood and reducing stress have provided a positive thrust to the market growth. Furthermore, as the Middle Eastern region has a sizable Muslim population, there is a high demand for halal products which consist of natural, organic and ethically sourced ingredients with proven credentials. In addition to this, manufacturers are also infusing fragrances with natural essences which are perceived to be safer, healthier and more therapeutic as compared to their synthetic variants.
In line with the increasing expatriate population in the region, as well as the launch of exotic and unisex fragrances, the Middle East perfume houses are diversifying their product portfolio and targeting the affluent consumers. The high market potential has also attracted international perfume brands to foray into the region. Other factors, such as the emergence of the internet as a significant advertising platform, innovative marketing strategies, urbanization and proliferation of shopping centers, have led to a shift in the consumer preferences for luxury goods, like perfumes, in the region.
Saudi Arabia Enjoys the Leading Position in the Market
Currently, Saudi Arabia exhibits a clear dominance in the Middle East fragrances market as a large number of companies are expanding their product lines by creating a range of customized perfumes and traditional all-natural scents. The Saudi Arabia perfume market value reached US$ 1.73 Billion in 2018 and is further projected to reach US$ 2.64 Billion by 2024, registering a CAGR of 7.1% during 2019-2024. The thriving tourism and e-commerce industry, along with increasing expenditure capacity of consumers in Saudi Arabia, is positively influencing the market growth. Apart from this, the establishment of duty-free sales counters at international airports in the region is spurring the exports of fragrances to other countries.
GCC Fragrances Market Scenario
According to IMARC Group, the GCC fragrances market size reached US$ 2.44 Billion in 2018. The market is further expected to reach a value of nearly US$ 3.87 Billion by 2024, expanding at a CAGR of around 8.9% during 2019-2024. Current trends in the major regional markets are discussed below:
In the United Arab Emirates (UAE), people are shifting from traditional oud fragrances toward the blend of oriental and French perfumes. Dubai, a global city and the business center of the Middle East, has become an olfactive hub of different cultures where both men and women approach fragrances as a ritual and layer on multiple products for a unique blend. On account of these factors, the UAE perfume market value reached US$ 440 Million in 2018. By 2024, it is projected to reach US$ 750 Million, exhibiting a CAGR of 9.3% during the forecast period.
Kuwait represents one of the fastest-growing markets for premium products, including perfumes, since its inhabitants enjoy a very high per capita income. The perfume industry in Kuwait reached a value of US$ 113 Million in 2018. It is further projected to grow at 9.5% during 2019-2024, with the market value reaching US$ 196 Million by 2024. A significant rise in the number of tourists and the construction of new malls in the region are anticipated to create growth opportunities for both the international and regional perfume brands in the country.
In Oman, Qatar and Bahrain using fragrances is considered sacred. As a result, consumers prefer oil-based fragrances owing to their exceptional staying power and strong scent. Moreover, the leading companies in these regions are offering highly personalized fragrances, which are made using a wide variety of ingredients, including musk, exotic flowers, spices, myrrh, amber and oud.
Contact Us

IMARC Group
USA: +1-631-791-1145
Email: sales@imarcgroup.com
Website: https://www.imarcgroup.com
Follow us on twitter: @imarcglobal