The global mobile payment market size reached US$ 1.43 Billion in 2020. As per the analysis by IMARC Group, the top mobile payment companies are integrating payment options with cutting-edge innovations as they enable secured bank-to-bank transfers with reduced transaction time. They are also introducing easy payment options, such as smart cards that allow contactless payment by scanning a unique barcode or QR code displayed on a banner or smartphone screen. Looking forward, the market value is further is anticipated to witness strong growth during the forecast period (2021-2026).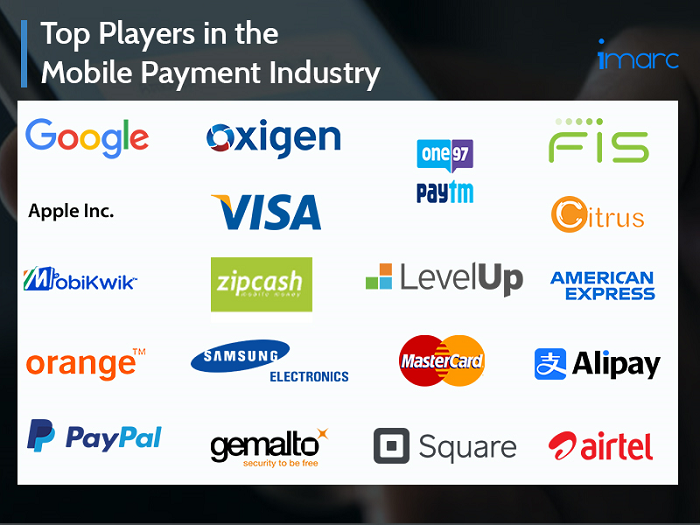 Request Free Sample Report: https://www.imarcgroup.com/mobile-payment-market/requestsample
Top Service Provider and Companies in the Mobile Payment Industry:
FIS (Fidelity National Information Services)
Establishment: 1968
Headquarter: Jacksonville, Florida, United States
Website: https://www.fisglobal.com/en/
FIS (Fidelity National Information Services) FIS is a provider of financial services technology. The company is focused on retail and institutional banking, payments, asset and wealth management, risk and compliance, consulting and outsourcing solutions. It offers payment processing, financial software, and banking solutions. FIS employs around 55,000 people across more than 50 countries. Moreover, the company has been focusing on introducing new services, which could attract customers. In this direction, in FY2018, it launched Digital One, which is an integrated digital banking platform designed for community banks. The new platform allows community banks to provide an omnichannel experience to their customers across self-service channels such as mobile and online banking.
Gemalto N.V.
Establishment: 2006
Headquarter: Amsterdam, Netherland
Website: https://www.thalesgroup.com/en/
Gemalto N.V. designs and manufactures security software for e-identity documents, chip payment cards, network authentication devices, and wireless modules. The Company also provides and operates systems to manage confidential data and secure transactions. Gemalto serves the telecommunications, financial services, e-government, and information technology security markets. The company is employing around 15,000 professionals across 47 countries.
MasterCard Incorporated
Establishment: 1966
Headquarter: Harrison, New York, United States
Website: https://www.mastercard.com/global/en.html
MasterCard Incorporated is a technology company in United States that connects consumers, financial institutions, merchants, governments and businesses across the world, enabling them to use electronic forms of payment. The company operates through the payment solutions segment. It allows users to make payments by creating a range of payment solutions and services using its brands, which include MasterCard, Maestro and Cirrus. The company also provides a range of products and solutions that support payment products, which customers can offer to their cardholders across North America. The company's services facilitate transactions on its network among cardholders, merchants, financial institutions and governments. It offers commercial payment products and solutions, which helps large corporations, mid-sized companies, small businesses and government entities streamline their procurement and payment processes, manage information and expenses (such as travel and entertainment) and manage administrative costs.
PayPal Holdings, Inc.
Establishment: 1998
Headquarter: San Jose, California, United States
Website: https://www.paypal.com/in/
PayPal Holdings, Inc. is a technology platform and digital payments company that enables digital and mobile payments on behalf of consumers and merchants. The company's combined payment solutions, including its PayPal, PayPal Credit, Braintree, Venmo, Xoom and Paydiant products, compose its payments platform. It also operates a two-sided global technology platform that links its customers, both merchants and consumers, around the globe to facilitate the processing of payment transactions, allowing it to connect merchants and consumers. Besides this, the company allows its customers to use their accounts for both purchases, as well as to transfer and withdraw funds. Moreover, the company enables consumers to exchange funds with merchants using a range of funding sources, which include a bank account, a PayPal account balance, a PayPal Credit account, credit and debit card or other stored value products, such as coupons and gift cards.
Alipay
Establishment: 2004
Headquarter: Pudong, Shanghai
Website: https://intl.alipay.com/
Alipay is a third-party mobile and online payment platform established by Alibaba Group and its founder Jack Ma. In 2015, Alipay moved its headquarters to Pudong, Shanghai, although its parent company Ant Financial remains Hangzhou-based. The company provides in-store payment and online payment methods including, barcode payment, merchant QR code payment, web-payment and in-app payment.
Visa Inc.
Establishment: 1958
Headquarter: California, United States
Website: https://www.visa.co.in/
Visa Inc. is a global payments technology company working to enable consumers, businesses, banks and governments to use digital currency. It facilitates global commerce through the transfer of value and information among the global network of consumers, merchants, financial institutions, businesses, strategic partners, and government entities. It also offers debit cards, credit cards, prepaid products, commercial payment solutions, and ATMs across 200 countries and territories worldwide.
Apple Inc.
Establishment: 1976
Headquarter: Cupertino, California, United States
Website: https://intl.alipay.com/
Apple Inc. designs, manufactures and markets mobile communication and media devices, personal computers and portable digital music players. It sells a range of related software, services, accessories, networking solutions and third-party digital content and applications across the Americas, Europe, Greater China, Japan and the Rest of Asia Pacific. Moreover, the company offers Apple Pay, a mobile payment and digital wallet service by Apple Inc. that allows users to make payments in person, in iOS apps, and on the web, which is supported on the iPhone, Apple Watch, iPad, and Mac.
Google LLC
Establishment: 1998
Headquarter: California, United States
Website: https://www.google.com/
Google LLC is an American multinational technology company that specializes in Internet-related services and products, which include online advertising technologies, search engines, cloud computing, software, and hardware. The company also offers Google Pay, which is a digital wallet platform and online payment system developed by Google to power in-app and tap-to-pay purchases on mobile devices, enabling users to make payments with Android phones, tablets or watches.
Samsung Electronics Co., Ltd.
Establishment: 1969
Headquarter: Suwon-si, South Korea
Website: https://www.samsung.com/semiconductor/
Samsung Electronics Co., Ltd. is one of the world's largest semiconductor manufacturers and South Korea's top electronics company. Along with other deliveries by Samsung, it also offers Samsung Pay which is a mobile payment service to make smart, quick, easy and secure payments from mobile devices. It is accepted at more locations than most other methods of mobile payment. It makes a wide variety of consumer devices, including TVs, LCD panels, and printers; semiconductors such as DRAMs, static RAMs, flash memory, and display drivers; and communications devices ranging from smartphones to networking gear.
Bharti Airtel Limited
Establishment: 1995
Headquarter: New Delhi, India
Website: https://www.airtel.in/
Airtel is an Indian multinational telecommunications services company that generates most of its revenue from its mobile segment. Bharti Airtel, which operates in South Asia and Africa as well as India, also offers broadband, telephone, and digital television services. It has 240 million customers in India and 328 million overall. It operates in 18 countries across South Asia and Africa, also in the Channel Islands. Moreover, Airtel payments, a subsidiary of Bharti Airtel, operates in the payment areas and is differentiated from other banks proving financial services.
American Express Company
Establishment: 1850
Headquarter: New York City, United States
Website: https://www.americanexpress.com/en-in/
The American Express Company, popularly known as Amex, is a multinational financial services company. Its travel agency operations have thousands of locations worldwide. American Express boasts $190 billion in assets and $1.2 trillion in annual billed business and has about 114 million cards in circulation in 140-plus countries. About three-quarters of the company's total sales come from the US. The main products of Amex are credit cards, charge cards and traveler's cheques.
The Bank of America Corporation
Establishment: 1968
Headquarter: New York City, United States
Website: https://www.bankofamerica.com/
The Bank of America Corporation (abbreviated as BofA) is an American multinational investment bank and financial services company, with central hubs in New York City, London, Hong Kong, Minneapolis, and Toronto. It is a public company operating as one of the country's most extensive branch networks with some 4,300 locations and 16,600 ATMs. Its online banking operation counts more than 37 million active users and 28 million mobile users.
Citrus Payment Solutions Pvt. Ltd.
Establishment: 2011
Headquarter: New York City, United States
Website: https://consumers.citruspay.com/
Citrus Payment Solutions Pvt. Ltd. provides payment processing services. The company offers a checkout service through mobile devices that will make online transactions quicker for customers. Citrus conducts business in Santacruz, India and partners with the top airlines, utilities, marketplaces, and 10000 other merchants to enable seamless, secure payments for 25 million consumers. Moreover, a few of the credible merchants associated with Citrus are Pune Municipal Corporation, Delhi Metro, Delhi Jal Board, PVR, INOX, BookMyShow, ShopClues, Jet Airways, Indigo, GoAir, Runnr, Faasos, Grofers, ZoomCar and Airtel.
LevelUp
Establishment: 2011
Headquarter: Boston, Massachusetts, United States
Website: https://www.thelevelup.com/
LevelUp is building next-generation mobile experiences for over 200 brands nationwide, empowering businesses to engage customers, grow sales and build a long-term scalable mobile strategy. LevelUp's platform offers a broad range of customized functionality mobile rewards, payments, native online ordering, customer relationship management, a campaign creator with custom messaging, loyalty and gifting. LevelUp integrates with most point-of-sale and online ordering systems in the food-service industry. Moreover, the company was acquired by Grubhub in 2018.
MobiKwik Systems Limited
Establishment: 2009
Headquarter: Gurgaon, Haryana, India
Website: https://www.mobikwik.com/
MobiKwik is one of the largest issuer-independent digital financial services platforms, leveraging sophisticated product and merchant acquisition capabilities Founded by Bipin Preet Singh & Upasana Taku, MobiKwik is backed by marquee investors including Sequoia Capital, American Express, Tree Line Asia, MediaTek, GMO Payment Gateway, Cisco Investments, Net1 and Bajaj Finance. It has a network of over 3 million direct merchants, 140+ billers and 107 million-plus users. It records over 1 million transactions/ day. Moreover, the company is primarily engaged in furnishing telephone voice and data communications, except radiotelephone and telephone answering services.
One97 Communication Limited
Establishment: 2000
Headquarter: New Delhi, India
Website: https://www.one97.com/
One97 Communication Limited runs Paytm, which delivers mobile content and commerce services to millions of mobile consumers through India's most widely deployed telecom applications cloud platform. It is more than 4,500 people strong with regional offices in Mumbai, Bengaluru, Pune, Chennai and Kolkata, with a global presence in Africa, Europe, Middle East and Southeast Asia. The company is backed up by marquee investors like Alibaba Group, Ant Financial (AliPay), SAIF Partners, Mediatek, Sapphire Venture and Silicon Valley Bank.
Orange S.A.
Establishment: 1988
Headquarter: Paris, France
Website: https://developer.orange.com/
Orange S.A., formerly France Télécom S.A., is a French multinational telecommunications corporation that provides telecommunications services to residential, professional, and large business customers. The company offers public fixed-line telephone, leased lines and data transmission, mobile telecommunications, cable television, Internet and wireless applications, and broadcasting services, as well as telecommunications equipment sales and rentals.
Oxigen Services India Pvt Ltd.
Establishment: 2004
Headquarter: Gurgaon, Haryana, India
Website: http://myoxigen.com/
Oxigen business involves service aggregation and distribution utilizing mobile, PoS and web for online payment processing and money transfer services. The company also offers service for easy merchant payments at bank portals, retail chains, telecom & bank-led mobile wallets and government portables. Moreover, the company provides its services to leading providers across industries, like, Telecom, Direct?to?home TV, Internet Broadband, Travel (Railways/Airlines/Bus), Cinema/Movie Tickets, Utility Bill Payments, Gaming, Music & Movie Downloads and more.
Square, Inc.
Establishment: 2009
Headquarter: San Francisco, California, United States
Website: https://squareup.com/us/en
Square, Inc. provides mobile payment solutions, hardware (a square-shaped card reader) and software to merchants and other service providers that enable them to accept credit card payments. The company develops point-of-sale software that helps in digital receipts, inventory, and sales reports, as well as offers analytics and feedback. Square also provides financial and marketing services. Square charges a per-transaction fee a standard rate of 2.75%. An early provider of mobile payment equipment and software, the company faces competition from established financial and technology companies.
Venmo
Establishment: 2009
Headquarter: New York, the United States
Website: https://venmo.com/
Venmo offers an app that allows users to share and make payments with friends for a variety of services from. It is a private company that provides payment services to its customer. It helps in people connecting with each other, transferring money and payouts to any bank. The mobile payment service is owned by PayPal. Paying with debit card or bank account is free, and one can transfer money from your Venmo account balance to bank account overnight.
ZIpCash
Establishment: 2007
Headquarter: Mumbai, India
Website: https://www.zipcash.in/
ZIpCash is a digital currency powering the online wallet service in India. ZipCash have been licensed by RBI to issue semi-closed payment instruments to customers. The company offers its customers to use ZipCash to send money to friends, family members or merchants; shop online on leading websites such as eBay, Bookmyshow, HomeShop18 or top up their mobile/ DTH services and pay utility bills.
About IMARC Group: IMARC Group is a leading market research and consulting company that offers management strategy and market research worldwide. The company has done multiple projects on the Japan, Latin America, GCC and global mobile payment industry, which has enabled clients to set up and expand their businesses successfully. Some of the company's offerings include:
Market Research
Plant setup
Plant Expansion
Marketing and sales
Procurement and Distribution
Innovation and Product Development