The global seaweed market reached a production value of US$ 11.5 Billion in 2020 and is further expected to exhibit strong growth during the next five years 2021-2026. As per the analysis by IMARC Group, major seaweed companies are focusing on research and development (R&D) activities to improve and advance their energy efficiency and environmental sustainability directives by creating more efficient seaweed processing and manufacturing technologies. For instance, Acadian Seaplants Limited has designed a harvesting tool for manual and sustainable harvesting of indigenous seaweed resources.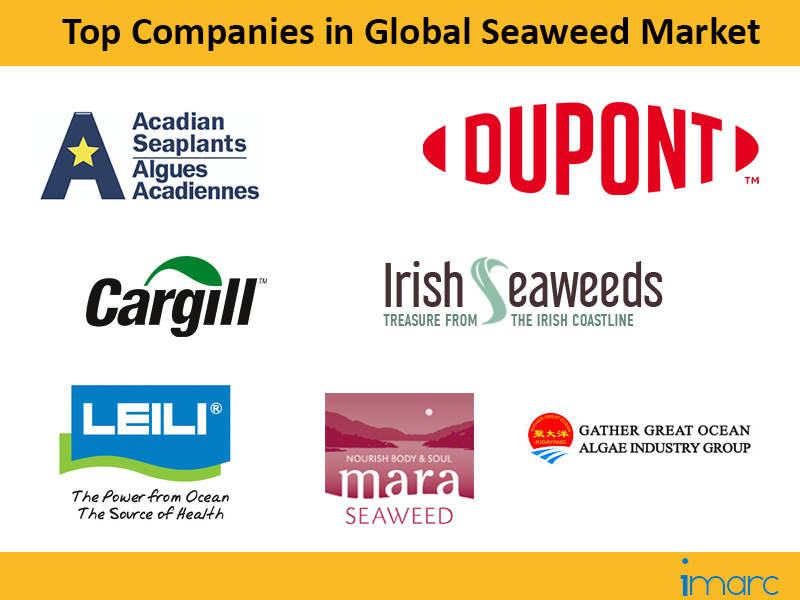 Download your Global Seaweed Market Report Sample for FREE!: https://www.imarcgroup.com/seaweed-market/requestsample
Acadian Seaplants Limited
Establishment: 1981
Headquarter: Nova Scotia, Canada
Acadian Seaplants Limited (ASL) is a globally recognized industry leader in the processing of seaweed-based products for food, biochemical, agricultural and agri-chemical markets worldwide and the cultivation and processing of unique seaweeds for Asian and global food markets. It is a fully-integrated, research-driven biotech manufacturer of exclusively cultivated sea-vegetables; and animal feed supplements, crop biostimulants and nutritional products derived from Ascophyllum nodosum.
Acadian Seaplants invests a significant portion of its annual revenues in research and development. The science, technology and research programs of the company focus on product and process development, product application research, marine resource management, marine plant cultivation and research, and technical support for customers. The company has also developed unparalleled expertise in a wide range of seaweed processing and product manufacturing technologies. These low impact processes ensure the complex marine plants are handled in a manner that preserves the valuable characteristics and bioactive components of fresh seaweed.
Cargill Incorporated
Establishment: 1865
Headquarter: Minnesota, United States
Cargill Inc., established in the mid-1860s, is a US-based food, agriculture, nutrition and risk management company. It currently has a workforce of around 155,000 employees in nearly 70 countries. Under its seaweed segment, the company offers one of the widest ranges of commercially available carrageenans. It uses a large variety of red seaweeds (Rhodophyceae) from the Gigartinales group, which are marketed under the Satiagel, Satiagum, Aubygel and Seabrid brands. The main seaweed varieties used by the company include Gigartina, Chondrus, Iridaea, and Eucheuma.
Cargill has launched the Red Seaweed Promise to help ensure a long-term sustainable red seaweed supply chain. The program is specifically designed to address key sustainability challenges for the harvesting and cultivation of red seaweed, while enhancing producer livelihoods, supporting local communities and conserving the marine environment. Furthermore, the company has the mission to enable seaweed producers and their communities to achieve better incomes and living standards. This can be done in a way that will accelerate progress towards a sustainable and transparent global seaweed supply chain by emphasizing on their investments and efforts.
DuPont de Nemours, Inc.
Establishment: 1897
Headquarter: Delaware, United States
DuPont is a multi-industry specialty company that deals in dietary supplements, nutrition and biosciences, construction materials, pharmaceuticals, biomaterials and water solutions. DuPont Nutrition & Biosciences is one of the world's largest buyers of seaweed for hydrocolloids. It provides unique carrageenan products tailored to targeted applications in beverages, confectionery, dairy, frozen desserts, fruit, and meat, poultry and seafood segments. DuPont is committed to being a world leader in sustainable environmental solutions. The seaweed initiative of the company is a part of its strategy to develop and implement a sustainable sourcing program for 90% of all bio-based raw materials. Today, DuPont Nutrition & Biosciences is leading in seaweed management through its collaboration with the Anderson Cabot Center for Ocean Life at the New England Aquarium.
Irish Seaweeds
Establishment: 1990
Headquarter: Northern Ireland
Irish Seaweeds, previously Dolphin Sea Vegetable Company, is a small family run and orientated business. It harvests Irish seaweeds from around the shores or coast of Ireland in a sustainable manner and has developed and progressed the sea vegetables and seaweed industry within Ireland. Irish seaweeds mainly hand-harvest various Irish seaweeds/macroalgae, such as Palmaria palmata, Saccharina latissimi- Laminaria saccharina, Ulva lactuca, Himanthalia elongate and Alaria esculenta. The company has also initiated research and development (R&D) projects, with major universities within Ireland and Northern Ireland, for the drying and cultivation techniques of sea veg-edible seaweeds.
Beijing Leili Marine Bioindustry Inc. (Leili Group)
Establishment: 1993
Headquarter: Beijing, China
Beijing Leili Marine Bioindustry Inc. is the founder of China seaweed biological product for the agricultural use industry. Leili Group is also the pioneering and leading enterprise of the seaweed biostimulants industry in China. The company provides five main products, which include seaweed fertilizer, humic acid, amino acid, potassium humate and microelement. Beijing Leili Marine Bioindustry Inc. has developed more than 100 varieties of products in 10 different categories based on ocean resources. With high quality and excellent service, it has become one of the leading enterprises in Asia and one of the top 5 seaweed fertilizer manufacturers in the world.
Mara Seaweed
Establishment: 2011
Headquarter: Edinburgh, Scotland
Mara Seaweed (Celtic Sea Spice Company) is one of the UK's most innovative seaweed brand. Since 2011, the company has been pioneering developments in harvesting, sourcing and processing seaweed. Mara Seaweed is harvested sustainably from the pure, wild waters around Scotland and Ireland. The company carries Soil Association Organic Certification for its harvesting and processing process. Furthermore, the goal of the organization is to bring the health benefits of seaweed and to deliver natural flavor enhancement and essential nutrition every day in a delicious as well as easy-to-use format.
Qingdao Gather Great Ocean Algae Industry Group (GGOG)
Establishment: 2000
Headquarter: Qingdao, China
Qingdao Gather Great Ocean Algae Industry Group Co., Ltd. is a marine biological enterprise integrating domestic seaweed breeding, foreign acquisition, comprehensive processing and comprehensive utilization. The product portfolio of the company includes carrageenan, agar, propylene glycol alginate, alginic acid, iodine, compound seaweed protein feed, hypromellose vacant capsules and alginate.
For more information, please visit: https://www.imarcgroup.com/seaweed-market