The global DevOps market exhibited strong growth during 2015-2020. As per the analysis by the IMARC Group, the developers and DevOps professionals are focusing on innovating and improving the existing IT infrastructure to meet the evolving need to work, learn, receive services, and socializes, especially during the coronavirus disease (COVID-19) pandemic. As a result, they are adopting cloud management platforms (CPMs) to support cloud-based applications and digitization. Cloud technology, with its agility and scalability, is enabling companies to consume services over the network instead of on-premises installations. Additionally, key players are aiming to automate the workflow by integrating artificial intelligence (AI) and machine learning (ML), which will allow organizations to anticipate problems, provide potential solutions, mitigate blockages quicker, and minimize human error, thereby making the operations more cost-efficient. A related trend to cloud adoption is the infrastructure as a code (IaC), which involves converting all operations, including servers, networks, databases, and storage into lines of code. This, in turn, allows for easy rollback and recovery and simple monitoring and analytics (KPIs). Moreover, with a majority of employees working from home, there has been a surge in the need to prioritize security in the software supply chain. Furthermore, the current COVID-19 situation has also facilitated the organizational need to work together with employees as equals, which has prompted them to adopt the hybrid work model. This includes the management of flexible working schedules, irrespective of geographical barriers. Other than this, key leaders are migrating from monolithic to microservice architecture, which involves cutting complex applications into small, independent services, units, and entities that are flexible and scalable. This, in turn, allows the applications to be built, tested, and deployed on its own, resulting in overcoming operational complexity, allowing more flexible cycles, providing customizable capabilities, and offering scaling options. Looking forward, the market is expected to grow at a CAGR of around 21% during 2021-2026.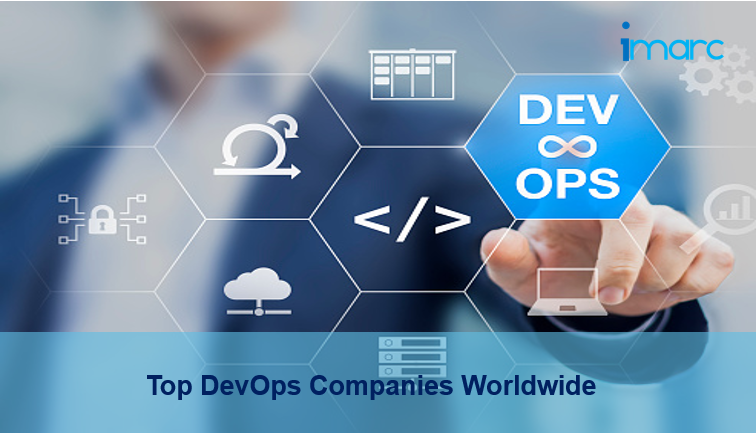 Request Free Sample Report: https://www.imarcgroup.com/devops-market/requestsample
Top DevOps Companies in the World:
Amazon Web Services
Establishment: 2006
Headquarter: United States
Website: https://www.amazon.com
Amazon Web Services (AWS), a subsidiary of Amazon, is focused on providing digital streaming and on-demand cloud computing platforms to individuals, enterprises, and governments on a subscription basis. Its products and solutions include website hosting, backup, digital marketing, application integration, analytics, blockchain, storage and content delivery, deployment and management, and other related services. The company also provides AWS management console, documentation, software development kit (SDK) and tools, forums, JavaScript, Ruby, Python, and training and certification for developers. In addition to this, AWS offers a variety of technical infrastructure and distributed computing tools, such as the Amazon Elastic Compute Cloud (EC2), which enables the user to operate a virtual cluster of computers that are accessible through the internet.
International Business Machines Corporation (IBM)
Establishment: 1911
Headquarter: New York, United States
Website: https://www.ibm.com
IBM is a multinational technology corporation that has operations in over 171 countries. It produces and markets computer hardware, middleware, and software for various industry verticals. The company is known for several inventions, including floppy disk, hard disk drive, relational database, universal product code (UPC) barcode, and dynamic random-access memory (DRAM). IBM includes artificial intelligence (AI)-powered software that is pre-integrated with data, automation, and security applications, which accelerates application modernization. Its design principles involve hybrid cloud platforms, open and secure network, and efficient management, which enables enterprises to access data across diverse environments, offer flexibility to customers, and provide a reliable and secure data domain
Oracle Corporation
Establishment: 1977
Headquarter: California, United States
Website: https://www.oracle.com
Oracle Corporation is one of the global leaders in enterprise software and information technology (IT) solutions. It develops and sells tools for database software and technology, enterprise resource planning (ERP), cloud engineered systems, human capital management (HCM), and supply chain management (SCM). The company markets its products through third-party applications and enterprise management software, such as Oracle Enterprise Manger (OEM), which provides web-based monitoring and cloud-enabled product management. Oracle is aiming to design database solutions that automate business processes, decrease operational costs, monitor key business metrics, and deliver data-driven decisions.
Google LLC
Establishment: 2002
Headquarter: United States
Website: https://www.google.co.in
Google LLC is a US-based multination technology corporation that offers inter-related services and products. These include online advertising technologies, web-based search, cloud computing, software, and hardware. The company has grown exponentially since its inception due to its acquisitions and partnerships beyond Google's core engine, which is Google Search. It offers services designed for email, work and productivity, time management, cloud storage, language translation, navigation, blog publishing, and photo organizing and editing through its Google Slides, Docs, Sheets, Gmail, Translate, Maps, Earth, Street View, Podcasts, Jam board, Calendar, and Drive.
CA Technologies
Establishment: 1976
Headquarter: New York, United States
Website: https://www.broadcom.com
CA Technologies, acquired by Broadcom in 2018, operates as an IT management software and solutions company. It designs, develops, markets, and licenses automation, security, cloud solutions, service management, training, agile planning, and test data management software that operate on a range of hardware platforms and operating systems. CA is focused on helping clients build and grow successful businesses in a constantly evolving environment by combining global aspects, engineering depth, broad product portfolio diversity, superior execution, and category-leading semiconductors and infrastructure software solutions. Some of the best know products offered by CA include ACF2, TopSecret, Datacom IDMS, InterTest, TLMS, and Panvalet.
Hewlett-Packard
Establishment: 1939
Headquarter: California, United States
Website: https://www.hpe.com
Hewlett-Packard (HP), now operating as HP Inc. after the split of the company into two enterprises in 2015, is the second largest computer company. It is a manufacturer of software and computer services, hardware, and other informational technology (IT) infrastructure. The company operates through three business segments, including personal systems, printing, and corporate investments. Within these, it provides imaging and printing systems, mobile devices, personal digital assistants, servers, workstation computers, and related technologies and solutions to various small and medium-sized businesses (SMBs), and large enterprises. HP is also integrating edge-to-cloud and platform-as-a-service solutions within their business model to help clients transform, connect, protect, and analyze data applications across the virtual environment.
Red Hat
Establishment: 1993
Headquarter: Connecticut, United States
Website: https://www.redhat.com
Red Hat, a subsidiary of IBM, provides open-source software products by using a community-powered approach to offer high-performance technologies. These include middleware, application development, operating system, virtualization, management, Linux, container, cloud, Kubernetes, and other storage technologies in the field of hybrid cloud infrastructure, automation, IT optimization, integration, and digital transformation. Along with this, Red Hat provides management solutions, support, training, and consulting services to the financial, healthcare, public, and telecommunications industries.
Docker, Inc.
Establishment: 2008
Headquarter: California, United States
Website: https://www.docker.com
Docker, Inc. is technology company that designs and develops application software. It provides programmers with various platforms, such as Docker Desktop and Docker Hub, which simplifies application development. Docker incorporates an integrated dev pipeline that automatically handles code building, scaling, deployment, application runtime, packaging tools, cloud service, and load-balancing, thereby enabling program developers to create and run applications as a collection of containers accessible across different computing devices The company provides these products and solutions to government, education, finance, and healthcare sectors.
Atlassian
Establishment: 2002
Headquarter: Sydney, Australia
Website: https://www.atlassian.com
Atlassian is a holding company that designs, develops, licenses, and maintains an array of software and provision software hosting services. The organization operates through four business segments, namely subscriptions, maintenance, perpetual license, and other. Some of its products include align, core, Jira software, Service Desk, Confluence, Trello, Sourcetree, and Bitbucket, which is primarily targeted at software developers, project managers, and IT teams. In addition to this, the company provides project planning and management software, collaboration tools, and IT help desk solutions.
VersionOne
Establishment: 1999
Headquarter: California, United States
Website: https://www.collab.net
VersionOne is a software company that develops and provides SaaS-based project and life cycle management tools to simplify software delivery process. It belongs to the value stream management industry category that is focused on offering end-to-end enterprise agile software solutions, which, in turn, helps organizations to scale their agility and DevOps initiatives faster, easier, and smarter, while reducing risks. VersionOne supports various methodologies, such as Enterprise Scrum, Scaled Agile Frameworks, Kanban, DAD, LeSS, and hybrid approach. In line with this, the company offers market leaders with a cohesive solution for automating, orchestrating, and visualizing the flow of change throughout their application development lifecycles.
About IMARC Group: IMARC Group is a leading market research and consulting company that offers management strategy and market research worldwide. The company has done multiple projects on the DevOps market, which has enabled clients to set up and expand their businesses successfully. Some of the company's offerings include:
Market Research
Plant setup
Plant Expansion
Marketing and sales
Procurement and Distribution
Innovation and Product Development