The global halal food market reached a value of US$ 1,978 Billion in 2021. Looking forward, IMARC Group expects the market to reach US$ 3,907.7 Billion by 2027, exhibiting a CAGR of 11.24% during 2022-2027. As per the analysis by IMARC Group, the top companies are increasingly focusing widening their product portfolio by introducing several value-added food items, including hot dogs, soups, candies, burgers, sandwiches, cookies, creams and pizzas. They are also expanding their distribution network and making their products available in supermarkets and hypermarkets as well as online channels. In addition to this, various governments are implementing stringent regulatory frameworks to attract entrants into the market, which are successful in building consumer trust and pushing penetration of products to higher levels.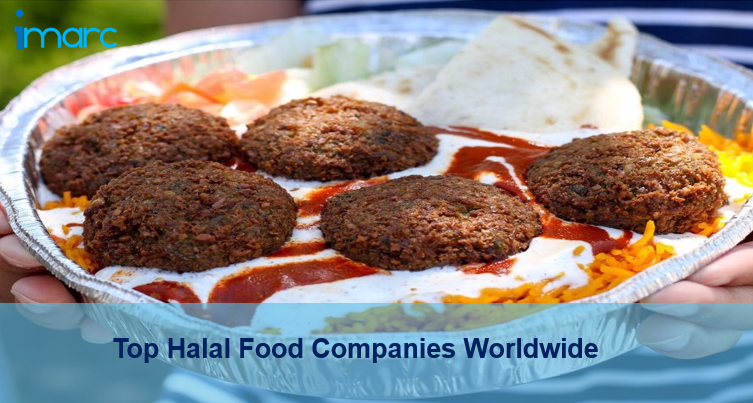 Request Free Sample Report: https://www.imarcgroup.com/halal-food-market/requestsample
Top Companies, Manufacturers, Brands in the Halal Food Industry:
QL Foods Sdn Bhd
Establishment: 1994
Headquarter: Malaysia
Website: https://www.qlfoods.com/
QL Foods Sdn Bhd is a halal food company that manufactures and exports products to countries in different regions around the world. The company adheres to strict Halal and European (EU) standards in their processes. It is certified Halal by the Department of Islamic Development Malaysia (JAKIM) and is at par with EU standards to be exported to Europe. Moreover, QL Foods Sdn Bhd makes use of advanced technology and experience to produce their products with Good Manufacturing Practice (GMP) and Hazard Analysis and Critical Control Points (HACCP) standards.
Al Islami Foods Corporation
Establishment: 1981
Headquarter: Dubai, UAE
Website: https://alislamifoods.com/
Al Islami Foods supplies superior halal meat and quality frozen food to consumers across the UAE. It provides delicious, quick, and easy-to-make products to meet the needs of customers. The company also offers whole chicken, chicken parts, and convenient items such as burgers, nuggets and franks, along with seafood, vegetables, French fries, and fruits. Al Islami Foods corporation consist of a team of 400 employees across two warehouses and manufacturing facilities. Moreover, it makes use of cutting-edge technology to create healthy and nutritious products, standing the test of time.
Dagang Halal Group
Establishment: 2007
Headquarter: Kuala Lumpur, Malaysia.
Website: https://www.daganghalalgroup.com/v2/
Dagang Halal Group aims at promoting halal businesses globally, facilitating certification, community information sharing and business transactions processes. It offers solutions that are suited for everyday consumers of halal products. It provides an all-inclusive business service assistance to companies with the sole objective of extending the market reach of their products within the Halal sector.
Saffron Road
Establishment: 2010
Headquarter: Connecticut, United States
Website: https://www.saffronroad.com/
Saffron Road is an American food brand that is a subsidiary of American Halal Company, Inc. The company has deployed ethical consumerism through clean foods, a device for cultural harmony, to bring the world together. Saffron Road's premium food products are ethically made and of the highest quality that are aimed to deliver on superior taste profiles.
Kawan Food Berhad
Establishment: 1960
Headquarter: Malaysia
Website: http://kawanfood.com/
Kawan Food Berhad is an investment holding company that aims at providing authentic products of the highest quality. The Company's subsidiaries include Kawan Food Manufacturing Sdn. It is engaged in the manufacturing, sale, trading and distribution of frozen food products. It also supplies quality, convenient, and affordable frozen food to customers worldwide in branded retail and wholesale packaging. Moreover, it also offers innovations in recipes, backed by a strong R&D team, making their products widely acceptable among consumers locally and worldwide.
Janan Meat Limited
Establishment: 1992
Headquarter: Kingswinford, United Kingdom
Website: https://www.janan-meat.co.uk/
Janan Meat Limited is one of the leading providers of British quality lamb and mutton across Europe. It is known to select best quality British livestock and provide a fast and efficient service from its premises based in the West Midlands. It also caters to customers across the UK, EU, Canada, UAE, Middle East and beyond.
Prima Agri-Products Sdn Bhd
Establishment: 1987
Headquarter: Malaysia
Website: www.primahalal.com
Prima Agri-Products Sdn Bhd is a manufacturer of premium quality halal frozen meat and non-meat-based products. It is one of the major key players in the food service industry, offering an array of high-quality products in four main categories. It consists of frankfurters & sausages, cold-cuts, gourmet soups and sauces, meatballs and patties. The company has set up a fully-integrated food park that includes prefabricated factory, storage, and distribution center, administrative office, and refrigerated waste material center.
Cargill, Inc.
Establishment: 1865
Headquarter: Minnesota, United States
Website: https://www.cargill.com/
Cargill, Inc. is a major supplier of halal meat in the UK and overseas. It specializes in products that are marketed and sold around the world. They are federally regulated by the Canadian Food Inspection Agency (CFIA) and adhere to the highest integrity and investment into food safely and quality, animal health and safety, corporate responsibility and employee safety. In Guelph, Ontario, Dunlop is the only large-scale Halal facility in Canada that offers 100% Halal quality beef.
BRF S.A.
Establishment: 1934
Headquarter: Sao Paulo, Brazil
Website: https://brf-me.com/
BRF S.A. is one of the biggest food companies in the world with over 30 brands in the portfolio. It consists of more than 100,000 employees. The company is driven by innovations and focuses on meeting the needs of the consumers through new products, practical packaging, new research and technologies that bring health, quality, and flavor. It also invests in feed manufacturing, animal husbandry, and food production.
Nestle S.A.
Establishment: 1866
Headquarter: Vevey, Switzerland
Website: https://www.nestle.com/
Nestlé S.A. is a Swiss multinational food and drink processing conglomerate corporation. It is one of the largest food companies in the world. Nestle products have halal certification as independent confirmation to meet the standard of their food. Some of the products that have been certified by independent, accredited Halal certification bodies include noodles, beverages, chocolates, sauces, milk modifiers and milk.
Tahira Foods Limited
Establishment: 1994
Headquarter: London, United Kingdom
Website: https://www.tahira.com/
Tahira Foods Limited is a line of business that includes prepared foods and miscellaneous food specialties. Tahira is the premier brand for halal products in Western Europe and is found across independent ethnic stores in the UK, France, Belgium, Holland, Germany, Denmark, and Sweden. The company prides in innovative products designed to cater to the modern Muslim community. It also provides a fast and convenient alternative for lunch, dinner, or snacks.
Al-Falah Halal Foods Limited
Establishment: 1866
Headquarter: Uttar Pradesh, India
Website: http://www.alfalah.in/
Al-Falah Frozen Foods manufactures, supplies and exports frozen finest quality Halal buffalo, sheep, and goat boneless meat and meat product and also bovine offal. Moreover, the company has a large range of meat products produced using ethical and eco-friendly processes and operations as per international market standard.
About IMARC Group: IMARC Group is a leading market research and consulting company that offers management strategy and market research worldwide. The company has done multiple projects on the global halal food market and regional GCC, which has enabled clients to set up and expand their businesses successfully. Some of the company's offerings include:
Market Research
Plant setup
Plant Expansion
Marketing and sales
Procurement and Distribution
Innovation and Product Development