The leading Indian toys manufacturers are focusing on adapting to the dynamic market scenario characterized by a substantial shift towards innovative and hi-tech electronic toys. Moreover, as the e-commerce sector is flourishing due to rapid urbanization, rising internet penetration, and the boosting sales of smartphones, the key players are resorting to online distribution channels to increase their market share. Apart from this, the Government of India has announced stricter quality testing regulations for imported toys and is considering imposing further curbs. It has also increased the import duty by 60%, over 100% that was already raised in the earlier budgets. Furthermore, with the introduction of the Make in India Programme, the Government is urging start-ups and entrepreneurs to develop innovative games and toys for meeting the domestic demand and increasing their share in the global toy industry. According to IMARC Group, the Indian toys market reached a value of US$ 1.35 Billion in 2021. Looking forward, IMARC Group expects the market to reach US$ 2.73 Billion by 2027, exhibiting a CAGR of 12.6% during 2022-2027.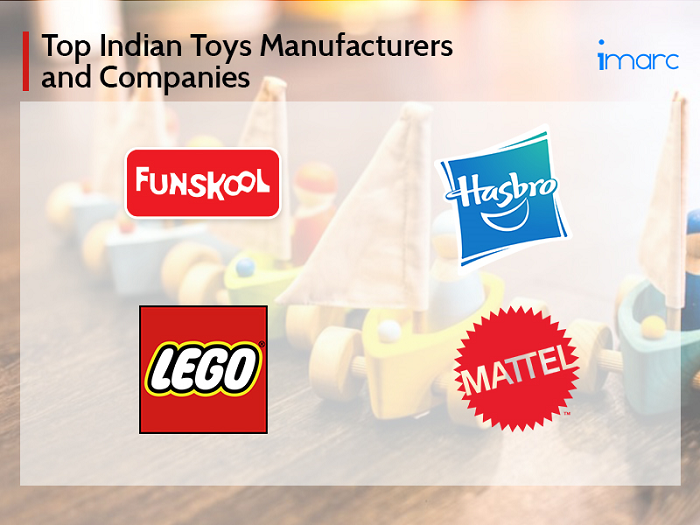 Request Free Sample Report: https://www.imarcgroup.com/indian-toys-market/requestsample
Top Indian Toys Manufacturing Companies:
Funskool (India) Ltd.
Establishment: 1986
Headquarters: Chennai, India
Funskool (India) Ltd. is one of the leading toy manufacturing companies in India. It is promoted by the MRF group and the company's mission is to influence parents for spending on toys, which assist in children's growth and contribute to their healthy development. It offers a wide range of toys, such as Beyblades, Asmodee Games, Endless Games, Othello, Rubiks, Rummikub, University Games, USA Opoly Games, Dora, Engino, Fundough, Giggles, Handycrafts, Leap Frog, Play and Learn, Schleich, Siku, Superman, Tomy and Warner Bros., for best learning and entertainment of children.
Lego System A/S (The Lego Group)
Establishment: 1932
Headquarters: Billund, Denmark
Lego System A/S (The Lego Group) is the holding company that represents the world's fifth-largest toy manufacturer. Its primary product is LEGOS, which can be used to form a variety of structures using either imagination or following the manufacturer's plans to assemble specific toys. The company operates 24 subsidiary companies to cover different national markets and runs ten manufacturing plants.
Mattel, Inc.
Establishment: 1945
Headquarters: California, United States
Mattel, Inc. is primarily engaged in designing, manufacturing, marketing, and distributing a wide variety of toy products in around 150 countries. The company offers numerous core toy lines, including Barbie dolls, clothing, and accessories; Hot Wheels toy die-cast vehicles; Warner Bros. merchandise, including Batman, Superman, Harry Potter and Looney Tunes; the American Girls Collection of books, dolls, clothing, and accessories; Fisher-Price infant and preschool toys, including Little People figures and playsets and toys based on various licensed characters, such as Disney and Sesame Street; and games like Scrabble and UNO.
Hasbro, Inc.
Establishment: 1923
Headquarters: United States
Hasbro, Inc. engages in the production of toys that offer children and families leisure time. The company operates under the following brands: Littlest Pet Shop, Magic: The Gathering, Monopoly, My Little Pony, Nerf, Play-Doh, and Transformers. It operates through the following segments: the United States and Canada, International, and Entertainment, Licensing, and Digital.
About IMARC Group: IMARC Group is a leading market research and consulting company that offers management strategy and market research worldwide. The company has done multiple projects in regions wise such as the Indian toys market, and China Toys Market, which has enabled the clients to set up and expand their businesses successfully. Some of the company's offerings include:
Market Research
Plant setup
Plant Expansion
Marketing and sales
Procurement and Distribution
Innovation and Product Development