Market Overview:
The global kombucha tea market exhibited strong growth during 2015-2020. Looking forward, IMARC Group expects the market to grow at a CAGR of around 18% during 2021-2026. Keeping in mind the uncertainties of COVID-19, we are continuously tracking and evaluating the direct as well as the indirect influence of the pandemic. These insights are included in the report as a major market contributor.
Kombucha tea refers to a fermented tea beverage that is prepared by mixing black/green tea and sugar with a microbial culture of a symbiotic colony of bacteria and yeast (SCOBY), along with additional flavorings and fruit juice. It is available in a wide variety of flavors, such as lemon, ginger, apple, berries, coffee, herbs and spices. Regular consumption of kombucha can aid in weight management, along with detoxifying the digestive tract, building immunity, boosting energy levels, rebuilding connective tissues, and minimizing pancreatic load.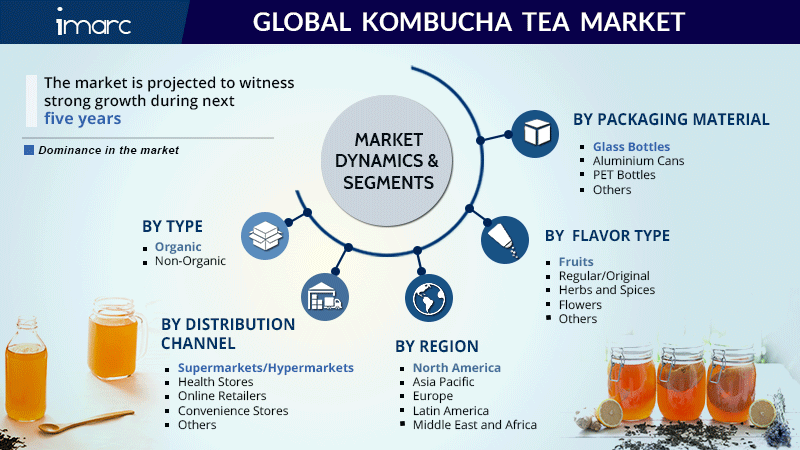 Significant growth in the food and beverage industry, along with rising health consciousness among the masses, is one of the key factors driving the growth of the market. Furthermore, various functional beverages that are fortified with nutrients are gaining rapid consumer preference over carbonated drinks and high-sugar juices across the globe. Since kombucha is a rich source of amino acids, probiotics, antioxidants, enzymes and vitamins that aid in preventing various critical ailments, it is consequently being offered in food establishments such as restaurants and cafes. Additionally, increasing utilization of natural flavors and kombucha-based extracts in the manufacturing of other food and beverages, including flavored candies, breakfast meals and ice cream toppings, is also providing a boost to the market growth. Apart from this, advancements in bottling technology and the development of aesthetically appealing labels to attract the consumers' attention, are also creating a positive impact on the market. Other factors, including the easy availably of the product, changing lifestyles of the individuals and rising consumer expenditure capacities, are projected to drive the market further.
Key Market Segmentation:
IMARC Group provides an analysis of the key trends in each sub-segment of the global kombucha tea market, along with forecasts at the global, regional and country level from 2021-2026. Our report has categorized the market based on type, tea type, flavour type, packaging type and distribution channel.
Breakup by Type:
Breakup by Tea Type:
Green Tea
Black Tea
Oolong Tea
Others

Breakup by Flavour Type:
Fruits
Regular/Original
Herbs and Spices
Flowers
Others

Breakup by Packaging Type:
Glass Bottles
Aluminium Cans
PET Bottles
Others

Breakup by Distribution Channel:
Supermarkets and Hypermarkets
Convenience Stores
Health Stores
Online Retailers
Others

Breakup by Region:
North America
Asia Pacific

China
Japan
India
South Korea
Australia
Indonesia
Others

Europe

Germany
France
United Kingdom
Italy
Spain
Russia
Others

Latin America
Middle East and Africa

Competitive Landscape:
The competitive landscape of the industry has also been examined with some of the key players being Brew Dr. Kombucha, Buchi Kombucha, Carpe Diem, Equinox Kombucha, GT's Living Foods, Humm Kombucha LLC, KeVita, Inc., Kombucha Wonder Drink, Reed's, Remedy Kombucha Pty Ltd, etc.
Report Coverage:
Report Features
Details
Base Year of the Analysis
2020
Historical Period
2015-2020
Forecast Period
2021-2026
Units
US$ Billion
Segment Coverage
Type, Tea Type, Flavour Type, Packaging Type, Distribution Channel, Region
Region Covered
Asia Pacific, Europe, North America, Latin America, Middle East and Africa
Countries Covered
United States, Canada, Germany, France, United Kingdom, Italy, Spain, Russia, China, Japan, India, South Korea, Australia, Indonesia, Brazil, Mexico
Companies Covered
Brew Dr. Kombucha, Buchi Kombucha, Carpe Diem, Equinox Kombucha, GT's Living Foods, Humm Kombucha LLC, KeVita, Inc., Kombucha Wonder Drink, Reed's and Remedy Kombucha Pty Ltd.
Customization Scope
10% Free Customization
Report Price and Purchase Option
Single User License: US$ 2299
Five User License: US$ 3399
Corporate License: US$ 4499
Post-Sale Analyst Support
10-12 Weeks
Delivery Format
PDF and Excel through Email (We can also provide the editable version of the report in PPT/Word format on special request)