The global liquid detergent market size reached US$ 28.7 Billion in 2020. As per the analysis by IMARC Group, the top liquid detergent companies are focusing on manufacturing eco-friendly and organic variants, which are made from biodegradable components and do not contain harsh chemicals or raw materials such as chlorine, phosphates, petrochemicals and allergens. They are also expanding their product lines by introducing a wide range of liquid detergents with different fragrances to increase profitability and reach a broader consumer base. Looking forward, the market is expected to exhibit moderate growth during the forecast period (2021-2026).
Discover opportunities, challenges, and trends in the global liquid detergent market? Try a free sample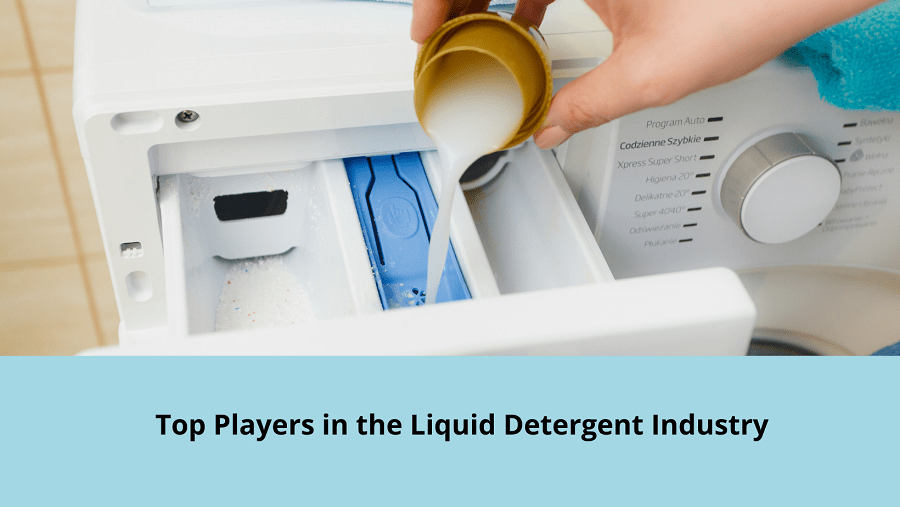 IMARC Group offers a list of top manufacturers and suppliers in the liquid (Laundry) detergent industry worldwide: They are as follows:
Henkel AG & Co. KGaA
Establishment: 1876
Headquarter: Düsseldorf, Germany
Henkel Adhesive Technologies is the global leader in the adhesives market across all industry segments across the globe. The laundry, home care and beauty care sectors of the company holds the leading positions in several markets and categories worldwide. In 2020, the company reported sales of 19.3 Billion euros and an operating profit of 2.6 Billion euros. Henkel holds top positions in many international indices and rankings as a recognized leader in sustainability. The preferred shares of the company are listed in the German stock index DAX. It operates with leading innovations, brands and technologies in three business areas globally, namely adhesive technologies, beauty care and laundry & home care.
Procter & Gamble Company
Establishment: 1837
Headquarter: Ohio, United States
P&G was founded as a simple soap and candle company over 180 years ago. However, today, it is the world's largest consumer goods company and home to iconic, trusted brands, including Always, Charmin, Braun, Fairy, Febreze, Gillette, Head & Shoulders, Oral B, Pantene, Pampers, Tide, and Vicks. The company's 65 individual brands are organized into 10 product categories, namely fabric care, home care, baby care, feminine care, family care, grooming, oral care, personal health care, hair care, and skin and personal care.
The Clorox Company
Establishment: 1913
Headquarter: Oakland, California, United States
The Clorox Company is a leading multinational marketer and manufacturer of consumer and professional products. It has about 8,800 employees worldwide with the sales of US$ 6.7 Billion in the fiscal year 2020. Clorox markets some of the most trusted and recognized consumer brand names, including its bleach and cleaning products; Pine-Sol cleaners; Liquid-Plumr clog removers; Poett home care products; Fresh Step cat litter; Glad bags and wraps; Kingsford charcoal; Hidden Valley dressings and sauces; Brita water-filtration products; Burt's Bees natural personal care products; and RenewLife, Rainbow Light, Natural Vitality Calm, NeoCell and Stop Aging Now vitamins, minerals and supplements. The company also markets industry-leading products and technologies for professional customers, including those sold under the CloroxPro and Clorox Healthcare brand names. More than 80% of the sales are generated from brands that hold the No. 1 or No. 2 market share positions in their categories.
Church & Dwight Co., Inc.
Establishment: 1846
Headquarter: Ewing, New Jersey
Church & Dwight Co., Inc., is one of the fastest-growing consumer packaged goods companies. It has a turnover of over US$ 4.15 Billion that was added to the S&P 500 in 2016. Furthermore, Church and Dwight is divided into three primary segments, namely consumer domestic, consumer international and specialty products. The consumer domestic segment includes twelve power brands, ARM & HAMMER, Trojan, Spinbrush, OxiClean, Orajel, First Response, Nair, Vitafusion, Batiste, XTRA, WaterPik, Flawless and other household and personal care products. The consumer international segment sells a variety of household and personal care products. Some of these use the same brands as their domestic product lines in international markets, including the United Kingdom, Mexico, Brazil, Canada, France, Australia and China. The specialty products segment has a growing global animal productivity business with more than a dozen different products that help improve the productivity and wellness of animal agriculture. This segment is also the largest U.S. producer of sodium bicarbonate, which it sells together with other specialty inorganic chemicals for a variety of industrial, institutional, medical, food and specialty cleaning applications.
Unilever N.V./PLC
Establishment: 1929
Headquarter: London, United Kingdom
Unilever is one of the world's largest consumer goods companies. The company's portfolio ranges from nutritionally balanced foods to indulgent ice creams, affordable soaps, luxurious shampoos and everyday household care products. It also produces world-leading brands including Lipton, Knorr, Dove, Axe, Hellmann's and Omo, alongside trusted local names and innovative-forward thinking brands like Ben & Jerry's, The Dollar Shave Club and Dermalogica.
Suggested Reading: Top Players in the Male Grooming Products Market