The global liquid detergent market reached a value of US$ 29.6 Billion in 2021. Liquid detergent is a cleaning agent that removes oil and dirt from fabrics and materials. It is made from complexation agents, zeolites, bleach, and enzymes and mixed with dry powder in a solution consisting of water and chemicals known as solubilizers.
As per the analysis by IMARC Group, the top liquid detergent companies are developing eco-friendly detergents manufactured from biodegradable components that do not contain harsh chemicals or raw materials such as chlorine, phosphates, petrochemicals, and allergens. They are also employing aggressive marketing and promotional techniques to attract consumers. Moreover, several leading detergent manufacturers are introducing product variants with innovative fragrances to increase profitability and reach a broader consumer base. On account of these factors, the market value is expected to reach US$ 41.1 Billion by 2027, exhibiting a CAGR of 5.75% during 2022-2027.
Discover opportunities, challenges, and trends in the global liquid detergent market? Try a free sample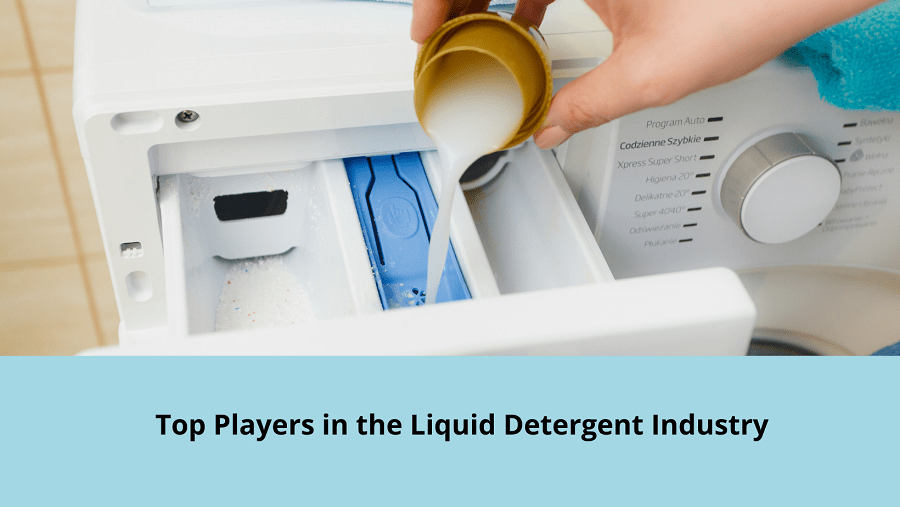 Top Manufacturing Companies in the liquid (Laundry) detergent industry worldwide:
Henkel AG & Co. KGaA
Establishment: 1876
Headquarter: Düsseldorf, Germany
The company operates globally with a well-balanced and diversified portfolio. In its laundry and home care, and beauty care businesses, it holds the leading positions in many markets and categories worldwide. The brand has grown into a globally active unit with well-known brands such as Persil, Purex, and Pril. These products have become an integral part of the daily lives of consumers around the world.
Procter & Gamble Company
Establishment: 1837
Headquarters: Ohio, United States
The Proctor & Gamble Company is an American multinational consumer goods corporation. Today, it is the world's largest consumer goods company and home to iconic, trusted brands, including Head & Shoulders, Oral B, Pantene, Pampers, Fairy, Always, Charmin, Braun, Febreze, Gillette, Tide, and Vicks. Moreover, the company deals in 65 individual brands that are organized into 10 product categories, namely fabric care, home care, feminine care, family care, baby care, hair care, grooming, oral care, personal health care, and skin and personal care.
The Clorox Company
Establishment: 1913
Headquarters: Oakland, California, United States
The company's portfolio is made up of diverse brands that sell across more than 100 countries and nearly every region of the world. It offers products that clean the toughest messes and help kill germs in and out of the home. The company is also known to market industry-leading products and technologies for professional customers, including those sold under the CloroxPro and Clorox Healthcare brand names.
Church & Dwight Co., Inc.
Establishment: 1846
Headquarters: Ewing, New Jersey
The company is one of the fastest-growing consumer packaged goods companies. It sells various household and personal care products across Canada, France, Australia, the United Kingdom, Mexico, and China. It is a growing business, a close-knit team, which is committed to providing products that consumers can rely on today, tomorrow, and for many more years to come.
Unilever N.V./PLC
Establishment: 1929
Headquarter: London, United Kingdom
Unilever Plc is one of the world's largest consumer goods companies, established over 100 years ago. Its portfolio ranges from nutritionally balanced foods to indulgent ice creams, affordable soaps, luxurious shampoos, and everyday household care products. It also produces world-leading brands, including Lipton, Dove, Knorr, Axe, Hellmann's, and Omo.

About IMARC Group: IMARC Group is a leading market research and consulting company that offers management strategy and market research worldwide. The company has done multiple projects on the liquid detergent industry which has enabled clients to set up and expand their businesses successfully.
Market Research
Plant setup
Plant Expansion
Marketing and sales
Procurement and Distribution
Innovation and Product Development