Tobacco is used in various products, such as cigars, cigarettes, snuff, chewing tobacco and dip. Nicotine, the psychoactive ingredient in tobacco, stimulates the adrenal glands that release epinephrine. This addictive hormone triggers the central nervous system and increases heart rate, blood pressure and breathing. Intake of tobacco can lead to several adverse health effects, which include chronic bronchitis, lung cancer, emphysema and increased risk of heart diseases. Despite its negative effects, there has been a rise in the demand for tobacco across the globe. The global tobacco market size reached 8.5 Million Tons in 2022. According to the estimate by IMARC Group, the market is expected to reach 9.3 Million Tons by 2028, exhibiting a growth rate (CAGR) of 1.45% during 2023-2028.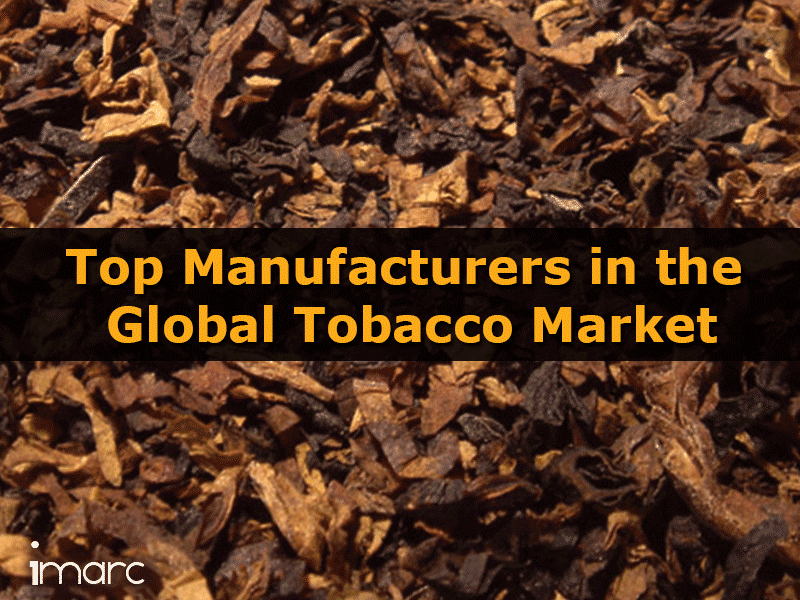 Download your Global Tobacco Market Report Sample for FREE!: https://www.imarcgroup.com/tobacco-processing-plant/requestsample
List of Top Tobacco Manufacturing Companies:

China National Tobacco Corporation
Founded in the early-1980s, China National Tobacco Corporation is a state-owned tobacco company, which is headquartered in Beijing, China. It is supervised by the State Tobacco Monopoly Administration, while the People's Republic of China acts as a shareholder. The company produces flue cured tobacco, cigarettes and other products. The majority of the products manufactured by China National Tobacco Corporation are distributed domestically. However, the company has recently announced that it plans to list its international unit, China Tobacco International, on the Hong Kong stock exchange. The initial potential offering (IPO) will help China National Tobacco Corporation to raise about $100 million. The company expects to use the raised money to acquire brands and expand distribution channels into global markets.
Philip Morris International
The US-based tobacco and cigarette company, Philip Morris International sells its products in over 180 countries. It was founded in 1900 and currently owns 7 of the top 15 tobacco brands in the world, with a workforce of approximately 77,000 people. The company operates nearly 48 production facilities in 32 countries.
Philip Morris has recently announced that it is shifting its focus on manufacturing 'smoke free' nicotine products. The campaign is called 'Year of Unsmoke', with which the company has launched new versions of IQOS, a heated tobacco unit. The new variants, namely IQOS 3 and IQOS 3 Multi, were launched with Dubai Duty Free in July 2019.
British America Tobacco
British American Tobacco (BAT) is a multinational tobacco company, which is headquartered in London, United Kingdom. Founded in the early-1900s, the company produces tobacco heating and vapor products. Other than this, it manufactures and supplies e-cigarettes, cigars, and a range of oral tobacco and nicotine products, including tobacco-free nicotine pouches, snus and moist snuff. The mentioned products are sold through various brands, such as Kent, Pall Mall, Newport, Natural American Spirit, Viceroy, Peter Stuyvesant, Benson & Hedges, State Express 555, Dunhill, Lucky Strike, Rothmans, Camel, Vogue, Kool, Craven A, John Player Gold Leaf, and Shuang Xi.
Japan Tobacco International
Japan Tobacco International, or JTI, is the international unit of a Japan-based tobacco company, JT Group, which was established in the mid-1980s. This division currently distributes its products across 130 countries with a workforce of more than 45,000 employees. It operates in reduced-risk products with the supply of vaping tobacco products through the brands Ploom and Logic.
Imperial Tobacco Group
Imperial Brands plc, formerly Imperial Tobacco Group plc, is a US-based company that produces a wide range of cigarettes, papers and cigars, and fine cut and smokeless tobaccos. Through its subsidiaries, the company distributes its tobacco-based products in nearly 160 markets across the globe. Currently, Imperial Tobacco is focusing on the expansion and development of Next Generation Products (NGP), which are significantly less harmful as compared to conventional cigarettes. Some of the subsidiaries operating under the umbrella of Imperial Brands include Fontem, Logista, Tabacalera, and ITG Brands.
About Author:
Shree Basu
Senior Content Writer at IMARC Services Private Limited
Shree Basu is an experienced content writer with a passion for researching about diverse markets, ranging from technology to chemistry to agriculture. She has around two years of experience in different aspects of market research and has worked with multiple startups and enterprises in the B2B, B2C, and retail industries. In her free time, Shree enjoys reading, feeding stray animals, and watching crime documentaries.