The global home security system market exhibited strong growth during 2015-2020. As per the analysis by IMARC Group, the top manufacturers in the home security system market are introducing innovative technologies to provide cost-effective, easy-to-install, and automatic security systems with improved performances. They are also consistently investing in research and development (R&D) activities to launch microprocessor-based security appliances that support wireless technology and a user-friendly interface. Wireless security systems comprise alarms, high definition (HD) and night vision cameras, infrared sound and motion sensors. These elements are connected over the Wi-Fi to smart devices through various applications. These technologies allow the user to operate and control the system without being physically present within the perimeter.
Apart from this, leading players are advancing the millimeter wave imaging technology, which is commonly utilized in security screening across airports and other public places to safely screen passengers for metallic and nonmetallic threats. These threats can be concealed under clothing or baggage. In the residential and commercial sectors, key players are engineering video doorbell, smart locks, and security cameras integrated with artificial intelligence (AI), machine learning (ML), and the Internet of Things (IoT). These technologies support the activation of cameras while sending an intelligent video activity notification to the owner whenever it captures an individual body heat. The video can also be saved and downloaded for future reviews and evidence. Other successful innovations include products with longer battery life, compatible design, and better connectivity. Looking forward, the market?is expected to grow at a CAGR of around 8% during 2021-2026.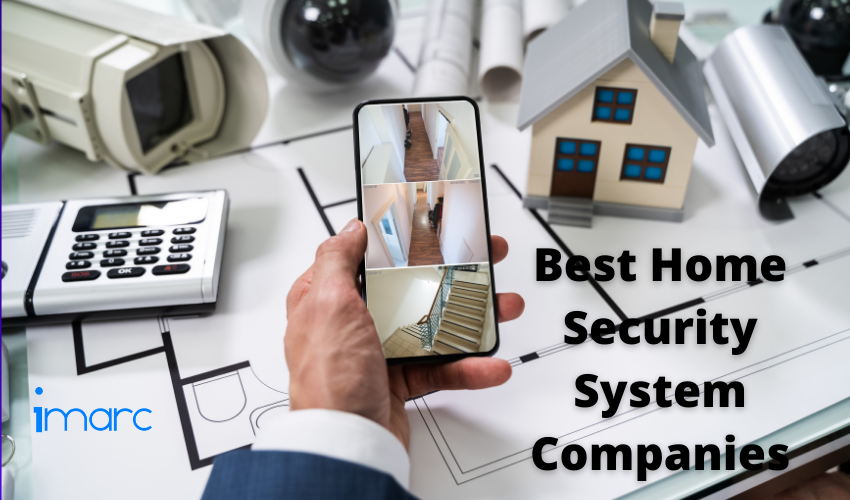 Request Free Sample Report: https://www.imarcgroup.com/home-security-system-market/requestsample
Best Home Security System Companies, Manufacturers and Brands:
Bosch Security Systems, Inc.
Establishment:?2003
Headquarter: Grasbrunn, Germany
Website:? https://www.boschsecurity.com
Bosch Security Systems Inc., designs, produces, and markets control, electronic detection, and communication equipment. Their product portfolio includes intrusion detection, video surveillance, fire detection, voice evacuation, and management systems. The company provides the Internet of Things- (IoT) and sensor-driven technologies to enhance flexibility and convenience. It also provides a safe, functional place for individuals to work and live. Under their sustainable policy, Bosch aims to use and manage spaces more efficiently to lower the carbon footprint of buildings while extending their shelf life.
Honeywell Security Group
Establishment:?1906
Headquarter: North Carolina, United States
Website:? https://www.security.honeywell.com
Honeywell Security Group is the leading global provider of electronic security, access control intruder detection, hybrid control panels, internet alarm communications, sensor-based glass break detectors, video surveillance, and integrated security solutions for both residential and commercial spaces. The company functions through four business segments, namely aerospace, building technologies, performance materials and technologies (PMT), and safety and productivity solutions (SPS). In addition to this, Honeywell produces sensing components that are utilized in military vehicles and launchers to control weapon systems. Some of the company's products, such as the Vindicator V5 security system, are extensively utilized by Homeland Security. These products are duly certified under the federal Support Anti-Terrorism by Fostering Effective Technology Act (the SAFETY Act 2002). In 2020, the organization acquired two artificial intelligence (AI)-enabled software-as-a-service (SaaS) companies to enhance life sciences and become a premium software-industrial company.
Johnson Controls, Inc.
Establishment:?1885
Headquarter: Cork, Ireland
Website:? https://www.johnsoncontrols.com
Johnson Controls, Inc., now known as Johnson Controls International (JCI) after the merger with Tyco International in 2016, produces electronics and heating, ventilating, and air conditioning (HVAC) equipment. It operates under two business groups, namely automotive systems and building management and control systems. Within these, the company offers fire detection, batteries, utility vehicles, instrument panels, and condensing units. JCI is focusing on controlling and enhancing building automation through a sustainable approach. They are employing a full range of smart systems and digital solutions to lower production costs and reduce the environmental footprint of their operations and supply chain.
Assa Abloy
Establishment:?1994
Headquarter: Stockholm, Sweden
Website:? https://www.assaabloy.com
Assa Abloy (AB) is one of the leading companies in high-performance entrance door systems. It develops, designs, manufactures, and markets a complete range of door opening solutions, such as mechanical and digital locks, cylinders, security doors, keys, tags, and automated entrances. They have operations across 70 countries and over 200 acquisitions, including Yale lock, Medeco, Chubb locks, Mul-T-Lock, Latour, and Fichet-Bauche. AB has been at the forefront of driving key innovations within the hospitality sector by providing contactless room access through keys, tags, and biometric verification systems. This has enhanced the overall market value of the company, particularly amidst the coronavirus disease (COVID-19) outbreak.
About IMARC Group: IMARC Group is a leading market research and consulting company that offers management strategy and market research worldwide. The company has done multiple projects on the home security system market and regional GCC, North America, , which has enabled clients to set up and expand their businesses successfully. Some of the company's offerings include:
Market Research
Plant setup
Plant Expansion
Marketing and sales
Procurement and Distribution
Innovation and Product Development