The global industrial wearable devices market exhibited strong growth during 2015-2020. Looking forward, IMARC Group expects the global industrial wearable devices market to grow at a CAGR of around 9% during 2021-2026. This can be accredited to the significantly increasing investments in R&D activities, along with the integration of virtual reality (VR) and augmented reality (AR) technology in these devices, which will expand the product application for recovering motor functions during rehabilitation. Moreover, the key players are introducing wearables for industry-specific applications, which is anticipated to strengthen the market growth.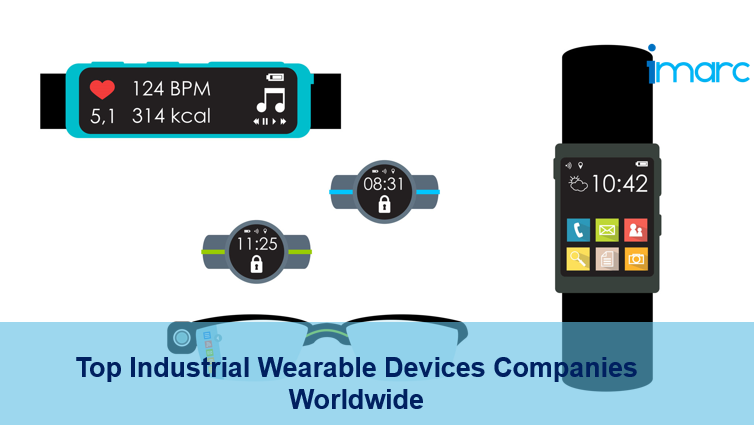 Request Free Sample Report: https://www.imarcgroup.com/industrial-wearable-devices-market/requestsample
Top Manufacturers in the Industrial Wearable Devices Industry:
Apple Inc.
Establishment: 1976
Headquarters: California, United States
Apple Inc. is a multinational technology firm that designs and offers consumer electronics, computer software, and online services, such as iPhone smartphones, iPad tablet computers, Mac personal computers, iPod portable media players, etc. It is the world's largest information technology company by revenue and the world's third-largest mobile phone manufacturer.
Seiko Epson Corporation
Establishment: 1942
Headquarters: Nagano, Japan
Seiko Epson Corporation is one of the world's largest manufacturers of computer printers and information and imaging related equipment. The company has manufacturing facilities in more than 25 countries and sales offices around the world. It generates more than a third of its sales in Japan and China.
Fujitsu Limited
Establishment: 1935
Headquarters: Tokyo, Japan
Fujitsu is a leading Japanese information and communication technology (ICT) company. The firm mainly manufactures computing products, and its subsidiaries also offer different products and services in personal computing, enterprise computing, including x86, SPARC and mainframe server products.
Google LLC
Establishment: 1998
Headquarters: California, United States
Google LLC specializes in Internet-related services and products. It includes online advertising technologies, cloud computing, search engine, software, and hardware. It is a leading Internet search engine that offers targeted search results from billions of web pages and results are based on a proprietary algorithm.
Microsoft Corporation
Establishment: 1975
Headquarters: Washington, United States
Microsoft Corporation develops, manufactures, licenses, supports, and sells computer software, consumer electronics, personal computers, and related services. The company's best software includes the Microsoft Windows line of operating systems, the Microsoft Office suite, and the Internet Explorer and Edge web browsers.
Vizux Corporation
Establishment: 1997
Headquarters: United States
Vuzix Corporation is a leading supplier of smart-glasses and augmented reality (AR) technologies and products. The company's products include personal display and wearable computing devices, which offer portable high-quality viewing experience, provide solutions for mobility, wearable displays, and virtual and augmented reality.
AsusTek Computer Inc.
Establishment: 1989
Headquarters: Taipei, Taiwan
AsusTek Computer Inc. is best known for its massive motherboard production. It also produces desktop and notebook computers, mobile phones, LCDs, optical drives, servers, wireless routers, and an array of multimedia devices.
Fitbit, Inc.
Establishment: 2007
Headquarters: California, United States
Fitbit, Inc offers wrist-worn fitness tracking devices across the globe. All their devices are synced with computers and some are synced with apps on mobile devices to show feedback.
Garmin Ltd.
Establishment: 1989
Headquarters: Kansas, United States
Garmin Ltd. specializes in GPS technology for automotive, aviation, marine, outdoor, and sports activities. The company provides a host of solutions ranging from embedded infotainment systems that provide a range of functionality to integrated camera solutions, embedded navigation solutions and positioning technology solutions.
Honeywell International Inc.
Establishment: 1906
Headquarters: North Carolina, United States
Honeywell International Inc. is organized across four segments, including aerospace, performance materials and technologies, home and building technologies, and safety and productivity solutions.
Jawbone Health Hub, Inc.
Establishment: 2017
Headquarters: San Francisco, California
Jawbone Health Hub, Inc. produces consumer technology products. The company offers wearable devices, carry cases, cable kits, tees, caps, stereo cables, ear loops, speakers, and accessories.
Motorola Solutions, Inc.
Establishment: 1928
Headquarters: Illinois, United States
Motorola Solutions, Inc. provides mission-critical communication infrastructure, devices, accessories, software, and services internationally. The firm primarily operates in two segments, including products and services. Its product segment provides a communications portfolio of infrastructure, devices, accessories, software and systems, and accounts for about 60% of sales.
Nike, Inc.
Establishment: 1964
Headquarters: United States
Nike, Inc. offers a variety of products and services for sports, as well as in running, men's and women's training, and other actions. The company offers a line of performance equipment and accessories, including eyewear, timepieces, digital devices, protective equipment.
Samsung Electronics Co., Ltd.
Establishment: 1938
Headquarters: Seoul, South Korea
Samsung Electronics Co., Ltd. engages in the production and selling of consumer electronics, information technology, mobile communications, and device solutions. It offers digital TVs, monitors, printers, mobile phones, smartphones, tablets, wearables, accessories, communication systems, computer memory and others.
SAP SE
Establishment: 1972
Headquarters: Germany
SAP SE offers SAP HANA that helps businesses to process and analyze live data. The company also provides SAP Data Hub, a solution for businesses to manage data from different sources; SAP Cloud Platform that enables businesses to connect and integrate applications; SAP BW/4HANA, a data warehouse solution; SAP Leonardo, which helps customers make business sense and opportunity of disruptive technologies; and SAP Analytics Cloud.
Sony Corporation
Establishment: 1946
Headquarters: Tokyo, Japan
Sony Corporation is primarily engaged in the manufacturing and selling of electronic equipment, instruments, and devices for the consumer, professional, and industrial markets. The company sells network services related to games, videos, music contents, home and portable game consoles, packaged software, peripheral devices, as well as broadcast/professional, integrated circuit card technology, medical imaging device solutions.
Xiaomi Corporation
Establishment: 2010
Headquarters: Beijing, China
Xiaomi Corporation is a Chinese electronics company that manufactures communication equipment and parts. It also produces and sells mobile phones, smartphone software, set-top boxes, and related accessories.
The Eurotech Group
Establishment: 1992
Headquarters: Italy
The Eurotech Group is an Italy-based company active in the field of embedded computer technology (ECT). The company also participates in the research, development, and marketing of miniaturized nano personalized computers (NanoPCs) and high-performance computers (HPCs).
About IMARC Group: IMARC Group is a leading market research and consulting company that offers management strategy and market research worldwide. The company has done multiple projects on the global industrial wearable devices market and regional North America, which has enabled the clients to set up and expand their businesses successfully. Some of the company's offerings include:
Market Research
Plant setup
Plant Expansion
Marketing and sales
Procurement and Distribution
Innovation and Product Development