The global Portland cement market exhibited moderate growth during 2015-2020. As per the analysis by IMARC Group, the top Portland cement companies are focusing on making significant improvements in the production process to reduce the associated environmental impact. Saving material and energy resources, as well as reducing CO2 emissions, are some of the major challenges currently faced by market players. Looking forward, the market is further projected to grow at a CAGR of around 4% during 2021-2026.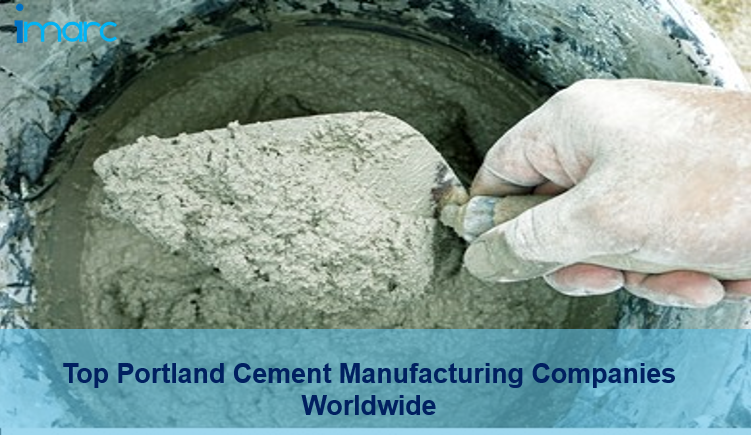 Request Free Sample Report: https://www.imarcgroup.com/portland-cement-market/requestsample
Top Portland Cement Association, Companies, Suppliers and Manufacturers:
Mitsubishi Cement Corporation
Establishment: 1988
Headquarter: Lucerne Valley, California
Renowned industrialist Henry J. Kaiser originally developed the Cushenbury limestone quarry to supply his steel-making operations in Fontana, California, during World War II. He built the cement plant in 1957. The facility was modernized in 1982 and Mitsubishi Cement Corp. (MCC) purchased the plant in 1988. Today the MCC Cushenbury plant is one of the leading industries in the Victor Valley. It implements the industry's best practices to minimize environmental impacts.
Alamo Cement Company
Establishment: 1880
Headquarter: San Antonio, United States
Alamo Cement Company Ltd. produces and distributes cement in the United States. The company deals in a wide range of products such as type I/II LA, type III, type S masonry, type N masonry, white Portland cement and alamo white masonry cement.
Lafarge Holcim
Establishment: 2015
Headquarter: Switzerland
Lafarge Holcim was born of the merger of Lafarge and Holcim. With over 180 years of combined experience, the Group aims to usher in a new era of leading-edge technologies and innovations in the building materials industry to address the challenges of the 21st century. As the world's global leader in building solutions, Lafarge Holcim is reinventing how the world builds to shape a world that is greener, smarter and that works for all. Today, the company deals in different business segments, including cement, ready-mix-concretes, aggregates, solutions and products, and firestone.
Martin Marietta Materials, Inc.
Establishment: 1993
Headquarter: North Carolina, United States
Martin Marietta is an American-based company and a leading supplier of building materials that supply the resources necessary for building solid foundations. The company also manufactures and markets various products, including aggregates, cement, ready mix concrete, asphalt, magnesium hydroxide, magnesium oxide, and dolomitic lime. It produces these products for the construction industry, including highways, infrastructure, commercial, and residential sectors.
Heidelberg Cement Ltd. (Italcementi)
Establishment: 1873
Headquarter: Berlin, Germany
HeidelbergCement is one of the world's largest building materials companies and operates on five continents. It manufactures products that are used for the construction of houses, infrastructure, and commercial and industrial facilities, thus meeting the demands of a growing world population for housing, mobility, and economic development. The core activities of the company include the production and distribution of cement, aggregates, ready-mixed concrete, and asphalt. Furthermore, HeidelbergCement offers services such as worldwide trading in cement and coal by sea.
National Cement Company
Establishment: 1968
Headquarter: Dubai, United Arab Emirates
National Cement is one of the largest cement manufacturers in the UAE. The company was established under the guidance of the late ruler of Dubai, H.H. Sheikh Rashid. It was set up to produce the base material to fuel the anticipated construction boom in the UAE and the region. National Cement primarily servers the UAE and GCC markets with an array of branded cement products such as ordinary Portland cement, high sulfate resisting Portland cement, moderate sulfate resisting Portland cement, Portland blast furnace cement, high slag Portland blast cement and white aggregates. Today with an annual production capacity of more than 1.5 million tons of cement.
American Cement Company
Establishment: 2006
Headquarter: Los Angeles, United States
Suwannee American Cement (SAC) Company is one of the world's leading quality-driven manufacturers of Portland cement. The company produces a wide variety of products, including Portland Type I/II, Portland Type IL, Portland Type III, High Strength Masonry, and Stucco Cement. Moreover, it also focuses on green building, which is a construction process that focuses on creating environmentally responsible and resource-efficient structures through its entire lifecycle, from design to construction, operation, maintenance, renovation, and ultimately, demolition.
Argos Cement LLC
Establishment: 2011
Headquarter: Colombia, United States
Argos offers a variety of Portland cement, blended cement and masonry cement, as well as supplementary cementitious materials like slag cement and fly ash. All Argos cement and supplementary cementitious materials (SCMs) meet or exceed applicable specifications and are ideal for use in ready-mixed concrete, precast concrete, mortars, grouts, soil stabilization, full-depth reclamation (FDR), concrete masonry units and other applications. The company also offers both bulk and packaged cement products, backed by a robust footprint and logistics capabilities.
China National Building Material (CNBM) Co. Ltd.
Establishment: 2018
Headquarter: Beijing, China
China National Building Material Group Co., Ltd. (CNBM) was founded through the merger of the China National Building Materials Group Corporation and China National Materials Group Corporation. Having integrated its scientific research, manufacturing and logistics, CNBM is the largest manufacturer for building materials and an integrated service provider leading throughout the world. It has been listed in the Fortune Global 500 for nine consecutive years.
Salt River Materials Group (SRMG)
Establishment: 1959
Headquarter: Scottsdale, Arizona
In 2003, the marketing activities of Phoenix Cement Company and Salt River Sand and Rock were integrated under the Salt River Materials Group (SRMG) commercial trade name to better capitalize on the synergies of related products for the concrete products industry. SRMG is also a leader promoting sustainable products and practices in its industries. With over two decades of experience producing and marketing blended cement and coal combustion products to the concrete industry, SRMG has helped pioneer the use of recycled materials, using its uniquely integrated experience and expertise in the development of new applications.
Anhui Conch Cement Co. Ltd.
Establishment: 1997
Headquarter: Wuhu, China
Anhui Conch Cement Company Limited mainly engages in the production and sales of cement and commodity clinker. Currently, Conch Cement has more than 160 subsidiaries in 18 provinces and autonomous regions in China, as well as Indonesia, Myanmar, Laos, Cambodia and other foreign countries along the "Belt and Road" Initiative, with a total cement capacity of 353 million tons. The production lines all adopt advanced technology, with low energy consumption, high automation level, high labor productivity and good environmental protection.
Ash Grove Cement Company
Establishment: 1882
Headquarter: Kansas, United States
Ash Grove, a CRH company, is a leader and pioneer in the cement industry. For over 137 years, it has provided Portland and masonry cement to construct highways, bridges, commercial and industrial complexes, homes, and other structures fundamental to the nation's economic vitality and quality of life. Moreover, since 2019, Ash Grove is one of the largest cement producers in North America, with the addition of operations in Florida, the US Great Lakes and Canada.
Tanzania Portland Cement Company
Establishment: 1966
Headquarter: Dar es Salaam, Tanzania
Tanzania Portland Cement Public Limited Company (TPCPLC) was established by Cementia Holdings AG of Switzerland in 1959. In 1962, Cementia Holdings AG, in collaboration with Tanganyika Development Company (now Tanzania Development Corporation), started to build the cement factory at Wazo Hill in Dar es Salaam. Due to the consolidation of Scancem International ANS into the HeidelbergCement Group of the Federal Republic of Germany, the former is now known as HeidelbergCement Africa (HC Africa).
Quikrete Holdings, Inc.
Establishment: 1940
Headquarter: Georgia, United States
An industry pioneer known for its iconic and unmistakable yellow bag of concrete, Quikrete companies evolved from a fledgling building material supplier in Columbus, Ohio, to the largest manufacturer of pre-blended, packaged concrete and cementitious products in North America. Today, the Quikrete Companies is a scalable, single source for commercial, residential and industrial building, repair and rehabilitation products in the United States.
CalPortland Company, Inc.
Establishment: 1891
Headquarter: California, United States
CalPortland is the largest building materials company that produces cement and construction material products on the west coast of the United States. Since 1891, CalPortland has been producing quality unsurpassed cement-based products and delivering material on time and uninterrupted with integrity, reliability and consistency. It has operations in Alaska, Washington, Oregon, California, Nevada and Arizona, as well as in British Columbia and Alberta.
Capitol Aggregates Inc.
Establishment: 1957
Headquarter: San Antonio, Texas
The company focuses on supplying consistent, high-quality construction materials, such as cement, stone, sand and gravel, for roads, highways and homes. Green cement building is a construction process that focuses on creating environmentally responsible and resource-efficient structures through its entire lifecycle: from design to construction, operation, maintenance, renovation, and ultimately, demolition.
CEMEX S.A.B. de C.V.
Establishment: 1906
Headquarter: Mexico
CEMEX is one of the leading global building materials companies, with annual sales of US$ 14.38 Billion and an EBITDA of US$ 2.6 billion in 2018. It provides high-quality, branded cement products for various construction needs. The company is one of the leaders in each of its core businesses: cement, ready-mix concrete, aggregates and other related products. Moreover, it is focused on creating sustainable value by providing industry-leading products and solutions to satisfy the construction needs of its customers around the world.
GCC of America, Inc.
Establishment: 1941
Headquarter: Denver, United States
GCC of America, Inc. is a leading producer of cement, ready-mixed concrete, aggregate and innovative solutions for the construction industry. With leading-edge products and state-of-the-art technologies, its passionate team of nearly 3,000 employees drives the company's growth. It deals in various business segments, cement, ready mix concrete, specialty products, energy, building materials and asphalt. Its operations stretch from the state of Chihuahua in northern Mexico through the US while the distribution network reaches Canada and spreads throughout Latin America.
Lehigh Hanson, Inc.
Establishment: 1897
Headquarter: Texas, United States
Lehigh Hanson is one of North America's leading producers of construction aggregates. The parent company, HeidelbergCement, is the largest aggregate producer in the world. In North America, most of the aggregate facilities operate under the Hanson Aggregates brand, with the exception of some locations in Western Canada and in the Washington/Oregon market, which operates under affiliated company names.
National Cement Company of Alabama, Inc.
Establishment: 1910
Headquarter: Birmingham, United States
The National Cement Company of Alabama, Inc. has been producing cement in St. Clair County, Alabama, for over 100 years. The cement operations began at the current plant site in Ragland, Alabama. The plant ships manufactured cement products via truck and rail to a diverse customer base across Alabama, Georgia, North Carolina, South Carolina, Tennessee, Mississippi and Florida. In addition to manufacturing cement, National Cement of Alabama's ready-mix subsidiaries (Hodgson, Kirkpatrick and Walker) serve the Southeast region's needs for high-quality residential and commercial concrete products from numerous batch plants covering the diverse markets of Alabama and Georgia.
Ultratech Cement
Establishment: 1983
Headquarter: Mumbai
UltraTech Cement Ltd. is the largest manufacturer of grey cement, ready mix concrete (RMC) and white cement in India. It also represents the third-largest cement producer in the world, excluding China, with a capacity of 117.35 MTPA. The company provides a range of products that cater to the various aspects of construction, from foundation to finish. This includes Ordinary Portland Cement, Portland Blast Furnace Slag Cement, Portland Pozzolana Cement, White Cement, Ready Mix Concrete, building products and a host of other building solutions. The company's building products business is an innovation hub that offers an array of scientifically engineered products to cater to new-age constructions.
BuzziUnicem USA
Establishment: 2004
Headquarter: Bethlehem, Pennsylvania
Buzzi Unicem USA, Inc. is one of the leading cement manufacturing companies in the US. The company's seven cement plants have a production capacity of approximately 9 million metric tons. Buzzi Unicem is a modern industrial group specialized in the integrated production of cement, ready-mixed concrete, cement mixer, natural aggregates and related marketing. It supplies a wide range of products, from the most traditional cement to special binders and is able to provide the most suitable solution for any work or site.
About IMARC Group: IMARC Group is a leading market research and consulting company that offers management strategy and market research worldwide. The company has done multiple projects on the Portland cement industry, which has enabled clients to set up and expand their businesses successfully. Some of the company's offerings include:
Market Research
Plant setup
Plant Expansion
Marketing and sales
Procurement and Distribution
Innovation and Product Development