The global dairy industry is currently experiencing moderate growth owing to the increasing demand for healthy and nutrient-rich food products. As consumption of milk and other dairy products provide calcium, protein, potassium, phosphorus, magnesium, and vitamin A, B12 and D to the human body, their sales are boosting around the world. Some of the other growth inducing factors include unrelenting population growth, inflating income levels, rising health consciousness among consumers and the burgeoning food and beverage (F&B) sector. According to the global dairy market report by IMARC Group, the market reached a value of US$ 673.8 Billion in 2018. Looking forward, the global dairy market size is further projected to reach a strong double digit growth during the forecast period 2021-2026.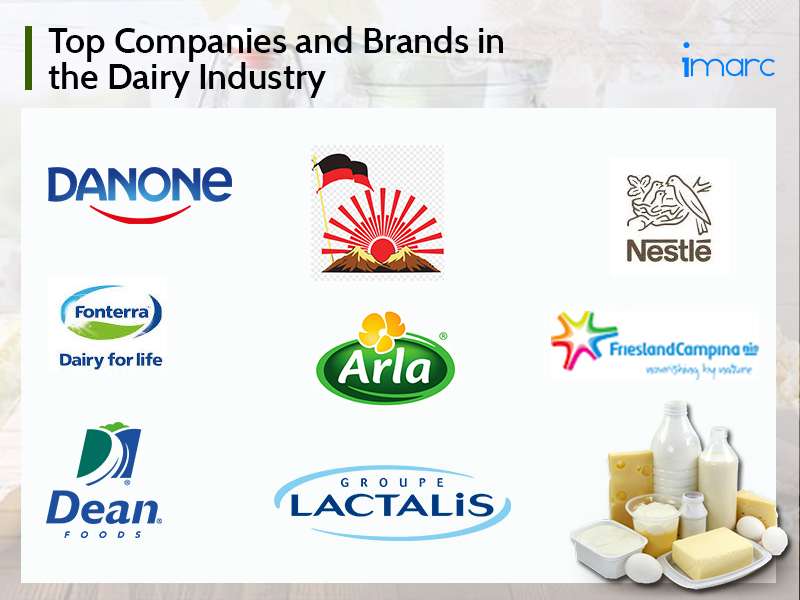 Request Free Sample Report: https://www.imarcgroup.com/global-dairy-market/requestsample
Top Companies and Brands in the Dairy Industry Worldwide:
Nestlé
Nestlé is a leading nutrition, health and wellness company that works towards enhancing the lives of consumers. It provides seven categories in its product portfolio which include water, pet care, confectionery, nutrition and health science, milk products and ice cream, powdered and liquid beverages, and prepared dishes and cooking aids. In addition to this, the brand also provides affordable dairy products that assist in addressing local micronutrient deficiencies, especially in developing countries. Further, milk products and ice-cream hold a significant share in the product portfolio of the company.
Fonterra
Fonterra Co-operative Group Ltd. is a multinational dairy cooperative that is owned by nearly 13,000 New Zealand farmers. Being the largest company in the country, it is responsible for approximately 30% of the world's exports. With consumers in over 140 countries, the Fonterra team manufactures around two million tons of dairy ingredients, specialty ingredients and consumer products every year. Moreover, the company aims at growing volumes by focusing on emerging regions and producing products that meet the growing consumer demand for dairy nutrition. In addition to this, Fonterra offers a vast range of dairy products, such as milk, cheese, flavored milk, table butter, milk powder, yogurt and ice-cream.
Friesland Campina
Friesland Campina is one of the world's largest dairy companies which focuses on manufacturing value-added dairy-based ingredients that are sold to food, drink and nutrition industries. Presently, the company owns the entire supply chain, thereby guaranteeing high-quality products. Its product portfolio comprises numerous strong commercial brands all over the globe. The company is owned by Zuivelcoöperatie Friesland Campina U.A, with over 19,000 dairy farmers in the Netherlands, Germany and Belgium.
Arla Foods
Arla Foods is an international cooperative which is based in Aarhus, Denmark and represents one of the biggest dairy companies across the globe. Additionally, with Arla's farm quality program, traceability and quality control, its food safety system represents one of the best in the world. Employing traditional craftsmanship with new technology, the company produces several natural products that have high standards in terms of the environment and climate, responsibility and food safety. The company has a vast product portfolio of dairy products and describes its products as 'naturally delicious'.
Danone
Danone represents the leading food company in Italy, Spain and France, and is ranked third in Europe. It primarily operates through four segments which include fresh dairy products division, waters division, early life nutrition division and medical nutrition division. Amongst these, the fresh dairy products division is engaged in the production and distribution of yogurts, fermented dairy products and other fresh dairy specialties. The waters division is involved in the manufacturing and distribution of packaged natural, flavored and vitamin-enriched water. The early life nutrition division is involved in the production and distribution of specialized food for babies and young children to complement breastfeeding. Further, the medical nutrition division is engaged in the production and distribution of specialized food for aged people or people afflicted with certain illnesses.
Lactalis
Lactalis is a family-owned dairy group which is based in Laval in the West of France. It represents the leading cheese producer with around 220 industrial sites across the globe. It is also the European leader in milk, table butter and cream. Moreover, it represents a major player in the chilled dairy, milk ingredients and foodservice businesses as well as a leading player in clinical and infant nutrition.
Dairy Farmers of America
Dairy Farmers of America, Inc. was formerly known as Mid-America Dairymen, Inc. and the firm changed its name in 1998. Based in Kansas City, Missouri, the firm was founded in 1967 and has manufacturing plants across the United States of America. Moreover, it is a national milk marketing cooperative in the country. It serves nearly 15,000 dairy farmer members that represent more than 9,000 dairy farms in 48 states.
Dean Foods
Dean Foods represents a leading food and beverage company in the United States of America. The company is one of the nation's largest processors and direct-to-store distributors of fluid milk, marketed under more than 50 local and regional dairy brands. Other than the fluid milk, the company's Fresh Dairy Direct business markets ice cream, cultured dairy products and beverages.
DMK
DMK Deutsches Milchkontor GmbH is a German dairy firm which employs around 7,500 people at 26 sites in 10 different German regions. It is one of Europe's leading dairy companies that manufactures top quality dairy products. Its customers include German and international retail companies, food manufacturers and bulk consumers. Further, the company offers a wide range of products from basic milk products, cheese and dairy ingredients for food manufacturing to baby food, ice cream and health products.
About IMARC Group: IMARC Group is a leading market research and consulting company that offers management strategy and market research worldwide. The company has done multiple projects on the global dairy industry and regional India, GCC, which has enabled clients to set up and expand their businesses successfully. Some of the company's offerings include:
Market Research
Plant setup
Plant Expansion
Marketing and sales
Procurement and Distribution
Innovation and Product Development