The Saudi Arabia perfume market size reached US$ 2.0 Billion in 2020. The market is expected to grow at a CAGR of 7.3% during 2021-2026. As per the analysis by IMARC Group, the top perfume companies in Saudi Arabia are emphasizing on research and development (R&D) to reduce the incubation time of the Oudh tree from 25-30 years to 10 years. They are also recognizing the need to conserve natural resources and embarking upon a comprehensive afforestation program under which over 1,000,000 trees have been adopted to provide a consistent supply of Oudh in terms of quality and quantity. A large number of companies are expanding their product lines by creating a range of customized perfumes for exclusive use and for those who prefer all-natural scents made traditionally. Besides this, several reputed organizations in the region have commissioned the leading perfume manufacturers to create unique, signature fragrances for them. For instance, Burj Al Arab, the world's only 7-star hotel, has a signature fragrance created for them exclusively by Ajmal Perfumes.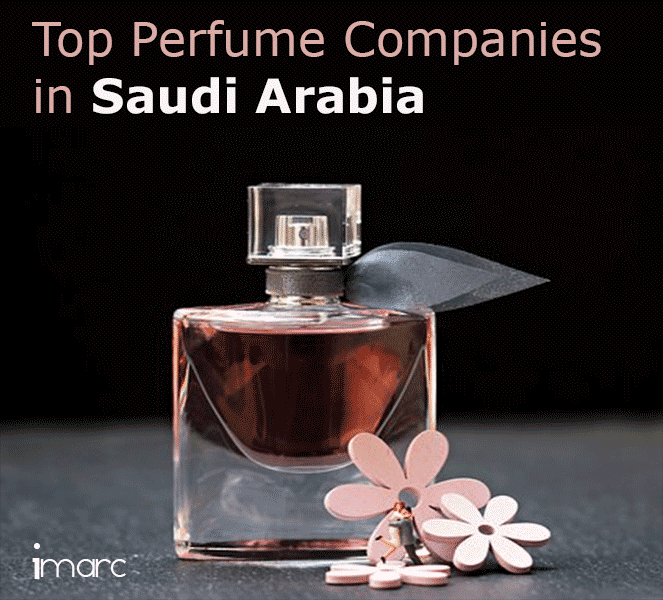 Download your Saudi Arabia Perfume Market Report Sample for FREE!: https://www.imarcgroup.com/saudi-arabia-perfume-market/requestsample
Top Perfume Companies in Saudi Arabia:

Ajmal
Establishment: 1951
Website: https://www.ajmalperfume.com/
Ajmal Ali has emerged as the premier supplier of fragrances in the Middle East. In 1976, the company's operations were moved to the Middle East and the first Ajmal outlet was opened in Dubai. Almost after ten years, Ajmal became the first company to bring the magical notes of Dahn-Al-Oudh to a broader, global audience by launching it as an Eau de Parfum. The mission of the company is to encourage creativity, innovation and continual improvement; and adopt practices that are ethically, socially as well as environmentally responsible. Ajmal is renowned in the industry as a leading maker of oriental perfumes. It is also one of the first companies in the region to work closely with local and regional bodies, such as Gulf Metallurgical Standardization Association, towards creating a viable and effective quality standard mechanism in the GCC region.
Rasasi
Establishment: 1979
Website: http://www.rasasi.com/
Rasasi Perfumes Industry LLC is a family-owned business in Dubai, founded by the visionary Abdul Razzak Kalsekar. Over almost four decades, the company has built a solid foundation of pioneering entrepreneurial vigor. It has created some of the best and most exclusive fragrances, establishing a worldwide reputation for quality, luxury and elegance. Today, Rasasi ranks amongst the UAE's foremost fragrance companies, driven by a global vision. The Oriental and Occidental perfume lines of the company have found greater acceptance and preference across the world. Rasasi is aggressively growing its geographical footprint in 165 elegantly-designed stores in leading malls and prime market locations across the GCC region (UAE, KSA, Oman, Kuwait, Bahrain and Qatar). Moreover, it exports products in more than 60 countries across the globe through a strong distribution network supported by a state-of-the-art manufacturing facility in Jebel Ali Free Zone, Dubai.
Arabian Oud
Establishment: 1982
Website: https://www.arabianoud.com/
Arabian Oud is the largest fragrance manufacturer and retailer around the world specializing in incense, oriental and oil perfumes. Arabian Oud is a prominent and trusted name with over 30 years of expertise in the production of authentic scents. With the mission to thrive for perfection, diversity, sophistication and excellence in all its products, the company manages a retail chain of 900 stores, selling over 400 luxurious and unique fragrances worldwide. Arabian Oud has more than 3,700 employees serving customers in over 150 cities and 35 countries worldwide, from London to Paris and all across the Middle East with a dedication to quality and perfection in the art of perfumery. The production of the company's finest Oriental and distinctive Western fragrances have been awarded international and local awards against the most prestigious international companies in the perfume industry.
Abdul Samad Al Qurashi
Establishment: 1852
Website: http://new.asqgrp.com/
Abdul Samad Al Qurashi has developed a range of premium fragrances, witnessing a significant boom by keeping up with new technologies. After being ISO 9001 certified, the company manufactures all its products according to the latest quality standards. Thousands of products developed by Abdul Samad Al Qurashi are supplied to hundreds of distribution points and retail stores all over the world.
The Fragrance Kitchen (TFK)
Establishment: 2005
Website: http://www.tfk.com.kw/
The Fragrance Kitchen (TFK) is a Kuwait-based fragrance house started by Sheikh Majed Al-Sabah. He skillfully combined the fragrances using oud, Taif rose and agarwood, which was frequently used by his grandmother. Over time, the company produced a variety of 92 perfumes, with the earliest edition developed in 2012 and the latest created in 2018.