Aquaculture, also known as aquafarming, is defined as the production of aquatic plants and animals under partially controlled and managed conditions. The fisheries sector in Vietnam has remained an integral part of the country's economy and has witnessed significant growth over the past few years. This growth can be accredited to the extensive coastline of Vietnam which spans to approximately 3260 km. The country has a maritime territory of 226,000 km2 and over 4000 inhabited islands and islets along with several bays, rivers, inlets, etc. Moreover, the climatic conditions of the country are also favorable for high-quality aquatic production. With an overall tropical climate and more than 2000 hours of sunlight, the northern provinces of Vietnam are humid, whereas, the southern and central parts are slightly warmer. Some of the vital aquaculture sectors include shrimp, pangasius and tilapia as well as marine fishes and bivalves such as seabass, grouper, cobia, etc. The recent report by IMARC Group estimates that the aquaculture market in Vietnam exhibited moderate growth during 2015-2020, Vietnam aquaculture market is expected to reach a volume of around 6 Million Tons by 2026, exhibiting moderate growth during the forecast period (2021-2026).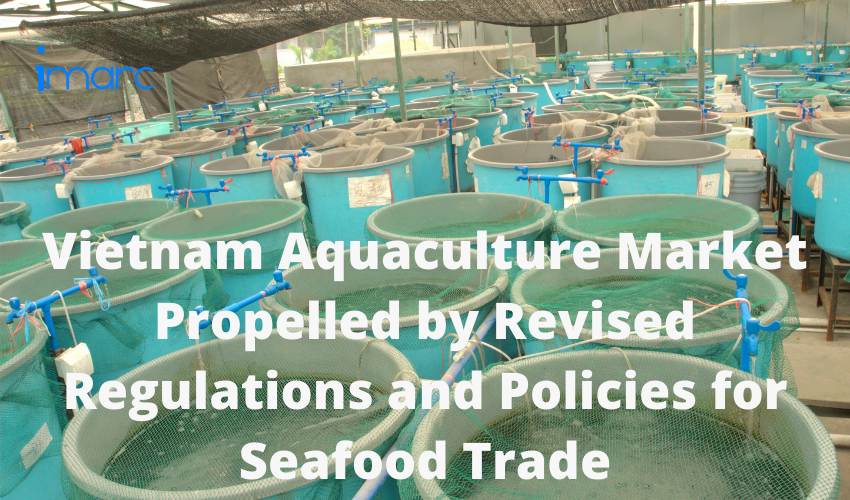 Vietnam Fish Farming (Aquaculture) Industry: Growth, Types and Policies
Increasing government support inducing market growth
In recent years, the Ministry of Agriculture and Rural Development (MARD), with financial backing from the Government and foreign businesses, has approved the revision of the regulations for seafood imports, certificates of origins, and rules and customs policies according to international standards. This project will lead to an increase in the number of foreign investments in the saline, brackish and freshwater aquaculture sectors. Additionally, aquaculture production has overtaken capture fisheries in terms of both volume and value. This growth can be attributed to the adaptation of practices that focus on the production of exportable species. Apart from this, increasing environmental concerns regarding the consequences of specific fishing techniques have given rise to the adoption of sustainable aquaculture practices which is further expected to provide a boost to the market growth.
Freshwater fish are the most popular product type
At present, there are several types of aquaculture products available in the market, including freshwater fish, crustaceans and mollusks. Amongst these, freshwater fish accounts for the majority of the aquaculture production in the country, with the Mekong River Delta representing the leading source of these fishes. Currently, the country has an approximate freshwater fish production of 2,229,000 MT with a farming area of nearly 431,659 ha. Some of the freshwater fish species include catfish, silver barb, carp, tilapia and gourami.
Consumers prefer specialized retailers for purchasing aquaculture products
There are various distribution channels in Vietnam which include specialized retailers, traditional retail, supermarkets and hypermarkets, and online retail. Amongst these, consumers prefer specialized retailers for purchasing aquaculture products. Specialized retailers have appropriate storage capacities, cold chain facilities and depuration establishments. These distributors also ensure that the consumers are offered with high-quality products which cater to their specified requirements. Moreover, the rising prevalence of food-borne diseases has prompted these retailers to follow stringent hygiene standards and use quality tools and chemical monitoring to rid the products from any contamination.
The Southern region represents the largest aquaculture market
Geographically, the Southern region holds the majority of the aquaculture market share in Vietnam, followed by the Northern and Central regions. Mud crab, bivalves and shrimp are some of the most popular species in this region and are majorly produced in brackish water areas. The Southern region has the most varied range of farming activities including fence, pond and cage culture of catfish. Farmers also practice integrated cultures of rice-cum-prawn, rice-cum-fish and mangrove-cum-aquaculture as well as different intensification levels of giant tiger prawn culture.
The market is highly fragmented in nature and is characterized by the presence of several small and large players who compete in terms of quality and prices. Some of the key players operating in the market include Ca Mau Seafood Processing & Service Joint Stock Corporation, Hung Vuong Corporation, Minh Phu Seafood Corporation, Vinh Hoan Corporation, Quoc Viet Seafood, Dong Nam Seafood, Phuong Dong Seafood, Ngoc Sinh Seafood, Soc Trang Seafood Joint Stock Company, and Thuan Hung Fisheries Company Ltd.
Request Free Sample Report: https://www.imarcgroup.com/vietnam-aquaculture-market/requestsample
About IMARC Group:
IMARC Group is a leading market research and consulting company that offers management strategy and market research worldwide. The company has done multiple projects on the aquaculture industry in Vietnam, which has enabled clients to set up and expand their businesses successfully. Some of the company's offerings include:
Market Research
Plant Setup
Plant Expansion
Marketing and sales
Procurement and Distribution
Innovation and Product Development