Virtual reality gaming has revolutionized the gaming industry as it embraces technology and innovation. It refers to a three-dimensional (3D) environment created by VR software that makes the virtual world appear real to the users. The rising disposable incomes coupled with growing internet penetration has resulted in the growing adoption of virtual reality games by children as well as adults. Apart from this, many virtual reality gaming companies are setting up gaming clubs or special zones at malls and shopping- or business centers in order to attract gamers. They are also spending on the development of VR equipment and applications to increase their sales and profitability which is expected to increase the growth of the virtual reality gaming market. For instance, they have launched VR-compatible consoles and introduced bio-sensing technology, interactive graphics, and three-dimensional (3D) effects for providing a real-time experience to gamers. According to IMARC Group, the global virtual reality gaming market reached US$ 22.2 Billion in 2021 and expects the market to reach 106.4 Billion by 2027, expanding at a CAGR of 29.18% during 2022-2027.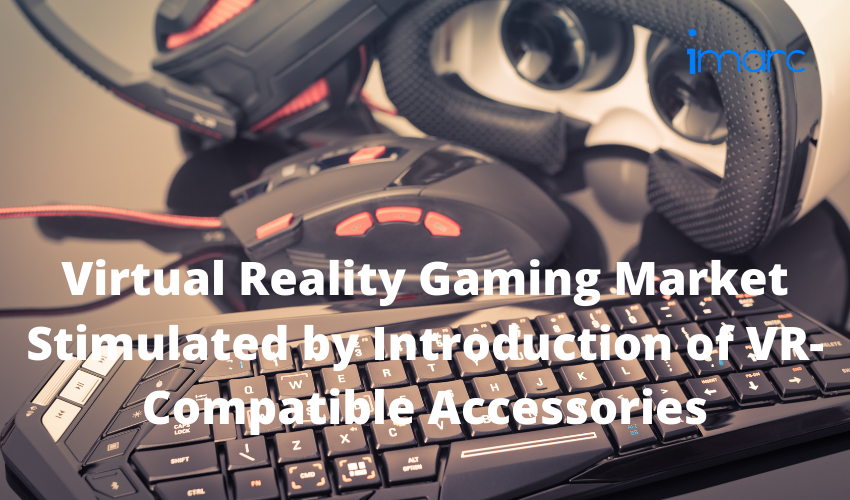 Request Free Sample Report: https://www.imarcgroup.com/virtual-reality-gaming-market/requestsample
Virtual Reality (VR) Gaming Segments:
Software represents the leading segment
On the basis of segments, software dominates the global virtual reality gaming industry. It is used to create virtual reality environments that supersede the real world. Nowadays, the developers use a wide collection of software, such as CAVE, Alice, Avocado, and IRIS Performer, to create native application experiences. On the other hand, hardware deals with the physical aspects of computers and related devices. Some of the commonly used hardware devices in virtual reality gaming are joysticks, force balls/tracking balls, controller wands, data gloves, trackpads, on-device control buttons, motion trackers, bodysuits, treadmills, and motion platforms.
Personal computers dominate the market
Virtual reality gaming is experienced as 3D graphics, images, or 360-degree videos on personal computers, gaming consoles, and mobile devices. Currently, personal computers account for the largest share as the more elaborate VR systems use wraparound high-resolution computer displays integrated into the walls. Apart from this, gaming consoles include Sony PlayStation, Microsoft Xbox, Nintendo Wii and Nintendo GameCube which are designed for interactive video display and gameplay. Whereas, mobile phones represent a cost-efficient platform for gaming. Nowadays, the manufacturers are developing smartphones with VR peripherals like Google cardboard which are compatible with VR gaming devices.
Adults most likely to engage in VR gaming
Virtual reality games offer a wide variety of games to both children and adults. Amongst these, adults hold the majority of the global virtual reality gaming market share as these games provide a superior immersive experience to them as compared to desktops and smartphones. On the other hand, children are attracted to VR games as they involve artificial simulation effects.
Shooting games are the most popular segment
On the basis of types, the market has been segregated into racing, fighting, mystery, thriller, puzzle, science and fiction, and other games. Presently, shooting games are the most popular type of VR game. They often test the player's speed and reaction time and include many subgenres that have the commonality of focusing on the actions of the avatar using some sort of weapons. On the other hand, with 3D detailed graphics, controllers, and sensors in adventure games, adults and children find them more fascinating and interactive.
North America exhibits a clear dominance in the market
Currently, North America enjoys the leading position in the global virtual reality gaming market. The high purchasing power of the consumers, coupled with rapidly growing sales of console gaming market, makes the region a very lucrative market for VR-based games.
The competitive landscape of global virtual reality gaming has also been analyzed with some of the key players being FOVE, Google, HTC, Facebook, Razer, Samsung, Sony, Zeiss International, AMD, GoPro, and Largan Precision, Nvidia Corporation, and Qualcomm Incorporated.
About IMARC Group: IMARC Group is a leading market research and consulting company that offers management strategy and market research worldwide. The company has done multiple projects in the virtual reality gaming industry and the region of the United States, Asia Pacific, Europe, Japan, and South Korea, which has enabled the clients to successfully set up and expand their businesses. Some of the company's offerings include:
Market Research
Plant Setup
Plant Expansion
Marketing and sales
Procurement and Distribution
Innovation and Product Development