Injectables refer to drug delivery system which acts as an alternative to oral drugs. As injectables are rapidly inserted into the human body using a syringe, they bypass the first-pass metabolism. In tablet form, some of the drugs become ineffective as they get dismantled in the stomach owing to the digestive enzymes. Generic injectables are pharmaceutical drugs that are bio-equivalent of a branded injectable in terms of dosage, strength, performance, intended use, side-effects and route of administration. After the expiration of the patent of branded injectables, the manufacturing of generic injectables starts, after which they are made available in the market for consumers.
While branded injectables are expensive due to high expenditure incurred on research and development, generic injectables are comparatively inexpensive in nature. Generic injectables are widely used for treating various chronic diseases such as diabetes, cancer, respiratory diseases, osteoarthritis, cardiovascular diseases, etc. According to the report by IMARC Group, the US generic injectables market reached a value of US$ 16.3 Billion in 2021, expects to reach US$ 29.6 Billion by 2027, exhibiting a CAGR of 10.21% during 2022-2027.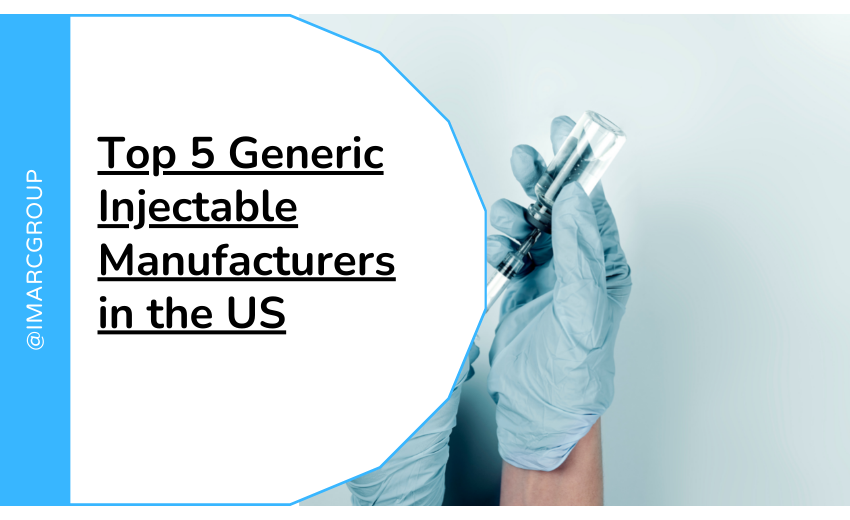 The top 5 US generic injectable manufacturers have been mentioned below:
Hospira (Pfizer Inc.)
Hospira is one of the top suppliers of injectable drugs and infusion technologies. Apart from this, it is a worldwide leader in biosimilars. In September 2017, Hospira was acquired by Pfizer for US$ 17 Billion. The firm is known particularly for injectable pharmaceuticals, primarily generic including anesthesia, oncology, cardiovascular and anti-infective therapies. Moreover, Hospira also manufactures IV nutritional solutions and offers contract manufacturing services. Some of the major products include Ibrance, Lyrica, Prevnar 13, Xeljanz, and Eliquis.
Hikma Pharmaceuticals PLC
Based in London, Hikma Pharmaceuticals PLC is a multinational company which manufactures branded as well as generic products. Currently, the firm is focusing on developing, manufacturing and marketing a range of products, including branded, injectables, generics and others. The company is selling specialized generic injectables across the world. Apart from this, it is also selling non-injectable generic products, supplying around 260 products in 110 varying dosage strength and form in the United States.
Want more information about this market? Request a free report sample
Fresenius Kabi Ag
Fresenius Kabi AG is a completely acquired subsidiary of Fresenius SE & Co. KGaA healthcare group. It is a global healthcare company which specialises in lifesaving medicines in technologies for infusion, transfusion, lifesaving medicines and clinical nutrition. Services and products offered by the firm are used for severely and persistently ill patients. In addition to this, the firm has an oncological arm, known as Fresenius Kabi Oncology plc, which manufactures generics of intravenous oncology products. Currently, the company employs around 33,000 people and operates in 36 countries worldwide.
Sagent Pharmaceuticals, Inc. (Nichi-Iko Pharmaceutical Co. Ltd.)
Sagent Pharmaceuticals is a biopharmaceutical firm which was founded in the year 2007 but was later acquired by Nichi-Iko Pharmaceutical Co. Ltd. for US$ 736 Million in 2016. It develops and markets a vast variety of generic injectables that are mostly used by hospitals in the United States and other healthcare organisations. Their products are anti-infection drugs and oncology, and critical-care treatments, used as anesthesia or for stabilizing cardiac conditions. It includes 30 ready-to-use prefilled syringes, single and multiple-dose vials, and premixed bags. The company develops its products by using active pharmaceutical ingredients (APIs) as well as finished drugs supplied by partner pharmaceutical firms.
Sandoz (Novartis)
Previously known as Sandoz, Novartis is a pharmaceutical company which manufactures pharmaceutical, generic medicines and biotechnological active ingredients. Initially, the company was started as a dyestuff factory in the year 1886 but currently it is one of the leading manufacturers of generic drugs. Gradually, Sandoz also diversified itself into sectors of agribusiness and nutrition. In the year 1996, Sandoz merged with Ciba to form Novartis. However, in the year 2003, the historical name Sandoz returned, uniting all Novartis generic firms under one brand name.
About IMARC Group: IMARC Group is a leading market research and consulting company that offers management strategy and market research worldwide. The company has done multiple projects on the global generic injectables industry and regional GCC, India, Europe, Latin America, which has enabled clients to set up and expand their businesses successfully.
Market Research
Plant setup
Plant Expansion
Marketing and sales
Procurement and Distribution
Innovation and Product Development